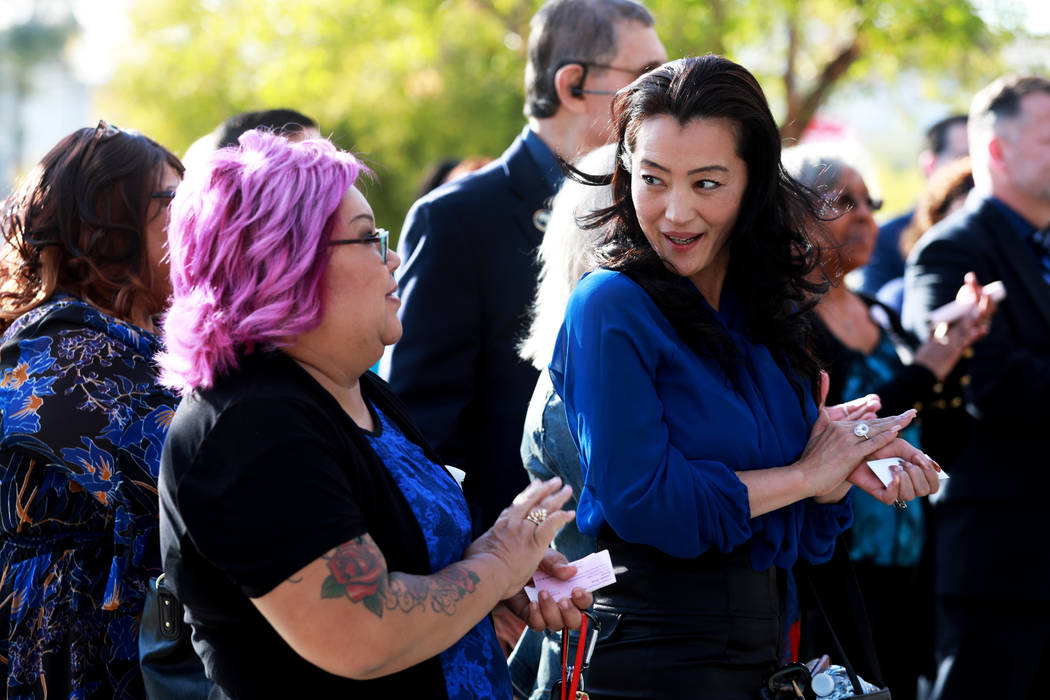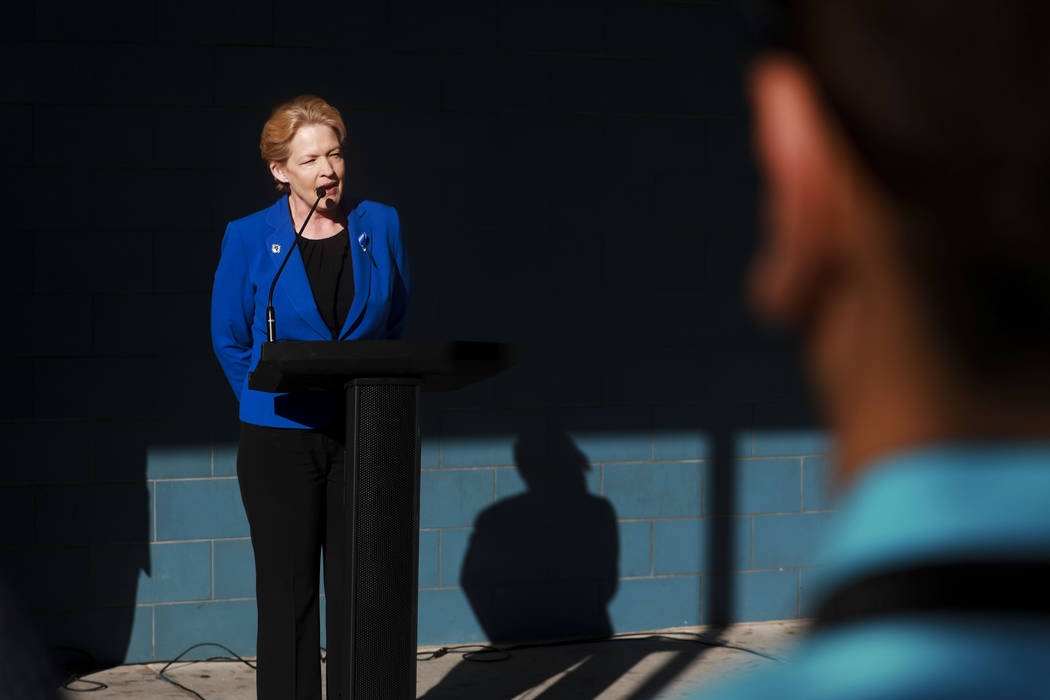 About a decade ago, a Swedish woman traveling to Las Vegas met a man and fell in love. But he turned out to be a pimp, and he held her hostage for two years.
"That really opened my eyes," said Lena Walther, a Swedish consul to Nevada who attended a National Human Trafficking Awareness Day event Thursday.
Walther, who runs an organization that helps human trafficking victims, said she managed to get the woman and her baby out of their situation. But there are millions of others like her.
At the event outside the Nevada Department of Motor Vehicles on East Sahara Avenue, employees wore blue in solidarity with human trafficking victims.
Approaching the lectern, Gov. Brian Sandoval donned a blue tie and ribbon with the words "No Child for Sale."
The slogan belongs to the Nevada DMV. On Thursday, officials announced the DMV was the first in the nation to partner with the Department of Homeland Security's Blue Campaign.
"I am so proud," Sandoval said.
Amid applause, the governor proclaimed January as Human Trafficking Awareness and Prevention Month.
"We cannot meet this challenge alone," he said, adding it begins with education and continues with discussion. "It will end with giving the victims their lives back."
As part of the pilot program, the Department of Homeland Security will train state employees to spot signs of human trafficking and to raise awareness about the Blue Campaign, launched in 2010 to serve as a unified voice to combat human trafficking, a crime that affects more than 20 million victims worldwide.
"Human trafficking has been called modern slavery," Sandoval said. "It's happening everywhere, and it's time we give these victims a voice and a place to reach out and to seek help."
"Every life has a purpose, and every soul has a story."
As part of the initiative, the Nevada Driver's Handbook and the Parent's Supervised Teen Driving Guide will include Blue Campaign awareness facts and tips, including a page on human trafficking education.
Staff will be trained to recognize the signs and indicators of human trafficking and to take steps when encountering suspicious activity.
DMV Nevada Director Terri Albertson said the division reached out to the Department of Homeland Security in September about how it could help the cause.
Since the summer, the DMV has handed out "Truckers Against Trafficking" cards to commercial drivers detailing ways they can report conduct they see on the roads, at gas stations, motels and other areas.
"It is my goal as DMV director that we will serve as the pilot for the rest of the nation," she said.
Sandoval cited the DMV's reach.
"The DMV is unique that it touches the lives of nearly 100 percent of our state's population," he said. "This provides an incredible platform to help victims of human trafficking."
Mick McKeown, executive director of the DHS Blue Campaign, said education and awareness will help eradicate the crime.
"We are excited to see the enthusiasm from the front-line workers," he said. "If you see something, say something."
Sex Trafficking Red Flags
— Lack of knowledge of their community or whereabouts
— Not in control of own identification documents (ID/Passport)
— Restricted or controlled communication — not allowed to speak for themselves
— Demeanor: Fear, anxiety, depression, submissive, tense, nervous
Reporting and Help for Victims
To report suspicious activity or get help, call or text the National Human Trafficking Hotline at 1-888-3737-888 or Text HELP or INFO to BeFree (233733).