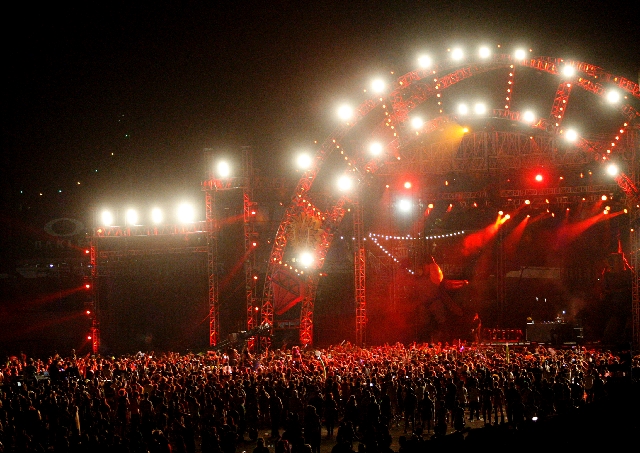 CARSON CITY — Assembly Speaker Marilyn Kirkpatrick introduced her long-awaited Nevada Entertainment and Admissions Tax bill Wednesday that would levy an 8 percent fee on virtually all admissions, including the tickets to your local movie theater.
"Whoever charges an admission is in (subject to the tax)," she said.
Kirkpatrick, D-North Las Vegas, said the tax would bring in at least $50 million more a year for the state, although it could be more since legislators are not clear which businesses pay the current Live Entertainment Tax. They hope to have a report showing what businesses pay the tax before the end of the session June 3.
Under Assembly Bill 498, the 8 percent tax would be collected on virtually everything offered by for-profit entertainment businesses, including private golf, tennis, and swim and health clubs, Burning Man, Las Vegas Motor Speedway races, minor league baseball, the Electric Daisy Carnival and any place of amusement, sport, recreation and other entertainment.
Brothels would not be taxed unless they have admission charges. But strip clubs, which typically charge admission fees, would be subject to the 8 percent tax.
In most gaming entertainment venues, the tax also would apply to food, beverage and merchandise purchases, which is the case under current law.
However, Kirkpatrick said the tax would not be collected on popcorn, hotdogs and foods purchased at movie theaters.
The first hearing on the bill is scheduled Tuesday in the Assembly Taxation Committee.
Despite her optimism that the bill will pass, it faces virtually insurmountable odds since Gov. Brian Sandoval and Republicans are on record as opposing any new taxes. Democrats need at least one Republican senator and three Republican Assembly members to pass the bill and overcome a governor veto.
Sandoval almost immediately expressed his opposition.
"The governor does not support the admissions tax introduced today," said Mary-Sarah Kinner, his press secretary.
Senate Minority Leader Michael Roberson, R-Las Vegas, expressed his doubts about the bill.
"In its current form, I have serious concerns with the disproportionate burden this could place on hardworking Nevada families," he said. "Having said that, I remain willing to work with Speaker Kirkpatrick and other Democratic legislative leaders to identify solutions that work for the people of Nevada."
Assembly Minority Leader Pat Hickey, R-Reno, also expressed reservations.
"At first glance, there are elements of the speaker's proposals — getting rid of loopholes and unnecessary exemptions — that seem like a reasonable attempt to broaden and make fair, taxes that should be paid on entertainment activities," he said.
But Hickey said Republicans will have problems with "new taxes applied to movie-goers and others." Instead of increasing taxes, he said savings could be secured by reforming the Public Employees Retirement System and the prevailing wage law.
In a news conference, Kirkpatrick said she was "willing to take it" if residents come out strongly against the tax on movie admissions. She said the tax would not apply to Mexican restaurants that offer live mariachi bands, or on admissions to events by nonprofit organizations or those offered by government agencies, such as high school and college sports.
"I am up to the task of taking on hard projects," Kirkpatrick said. "This is about the process, about putting in one rate, about having the (current) exemptions brought in. This is about making it clear what should be collected."
An attempt to tax movie admissions and video rentals failed miserably in the 2003 legislative session because of strong public opposition.
At that session legislators did approve the live entertainment tax which now brings in $135 million a year.
Under the current law, a 10 percent entertainment tax is collected on admissions, food and beverage and merchandise purchases on places with 200 seats to 7,499 seats. For places with more than 7,500 seats, the tax is just 5 percent on the admission charge.
The minimum seat requirement would be dropped to 50 and the 8 percent charge would be applied across the board under AB498.
Kirkpatrick said her bill is patterned after a Florida law and that the Florida economy is a lot that in Nevada.
While she does not golf or ski or even know what green fees and lift tickets cost, Kirkpatrick said such activities use "discretionary income" that should be taxed.
"Not every person can afford skiing," she said.
Lift tickets at some Lake Tahoe resorts were $85 this past winter. An 8 percent tax would bring in almost $7 per ticket.
Kirkpatrick said exemptions will be considered in the coming hearing, but that her goal is to create a fair tax policy where everyone has to pay the same tax rate.
The 8 percent tax is competitive with entertainment tax rates in other western states, she said.
Contact Capital Bureau Chief Ed Vogel at evogel@reviewjournal.com or 775-687-3901.