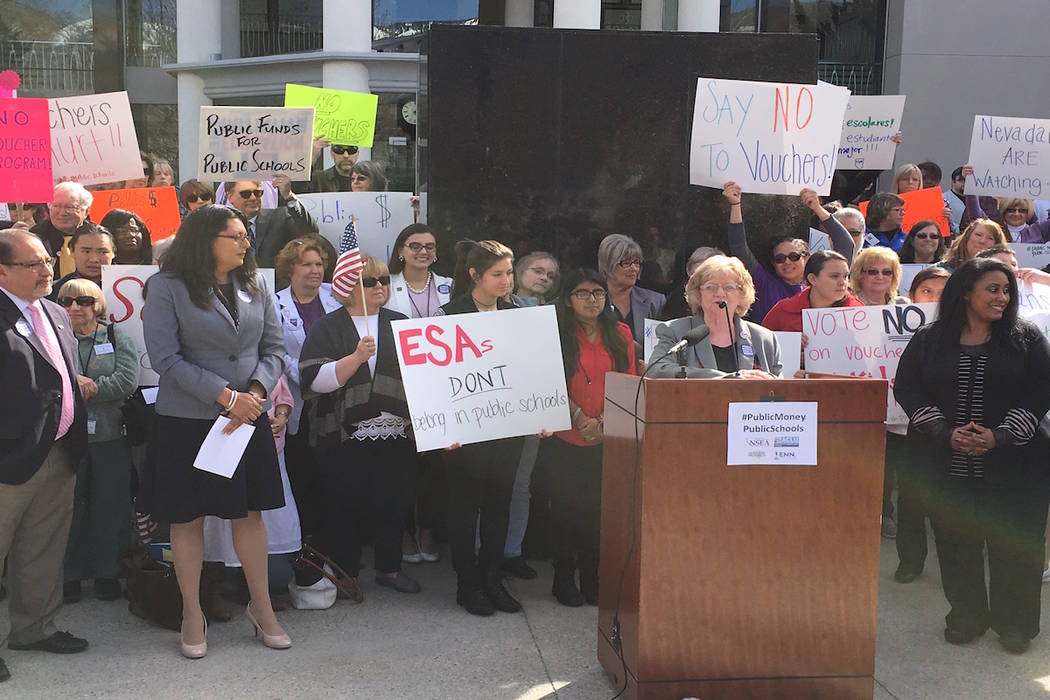 CARSON CITY — As a bill revising a program to give parents state funds to educate their children in private schools was introduced in the Legislature on Monday, opponents rallied outside the Legislative Building.
Senate Bill 359, the Education Savings Account bill sponsored by state Senate Co-Minority Whip Scott Hammond, R-Las Vegas, would make several changes to the measure passed by Republican lawmakers in 2015. The 2015 measure was not funded due to a decision by the Nevada Supreme Court that found the funding mechanism unconstitutional.
The latest bill would move the administration of the program from the treasurer's office to the state Department of Education in a new Office of Educational Choice that would also oversee the Opportunity Scholarship program approved in 2015.
The bill also would cap enrollment in the program at 5 percent of the average daily enrollment of pupils in a school district in any given school year. A draft obtained by the Review-Journal also says that when more applications are received than money is available, the funding will be distributed in the order the applications are approved.
The bill would appropriate the $60 million for the program that Gov. Brian Sandoval has included in his 2017-19 budget. That is not expected to be enough to cover the nearly 8,000 parents who signed up under the 2015 bill.
"I am proud to be introducing the Education Savings Account legislation that will finish the work we started two years ago," Hammond said. "Soon, Nevadans will have the most expansive school choice options of any state in the country and we must work to ensure the processes and opportunities are as streamlined as possible."
Treasurer Dan Schwartz is endorsing Hammond's legislation, despite the change in administration.
"We fully support his efforts to continue providing Nevada families with educational choice options that will set the stage for their child's success," Schwartz said in a statement.
The bill has a rough road ahead, however.
Democrats uniformly opposed the ESA program in 2015, and they now control both houses of the Legislature.
Several dozen critics of the program rallied with supportive lawmakers on Monday, calling the ESA program a "voucher scheme" that would divert tax dollars away from public schools.
Nevada's scarce public funds should be used to make targeted investments in the public schools that serve the vast majority of Nevada's 460,000 students, said the newly formed coalition comprised of Educate Nevada Now, the Nevada State Education Association, the ACLU of Nevada and Battle Born Progress.
Contact Sean Whaley at swhaley@reviewjournal.com or 775-461-3820. Follow @seanw801 on Twitter.