Nevada governor candidate Adam Laxalt has outgrown his 'shy side'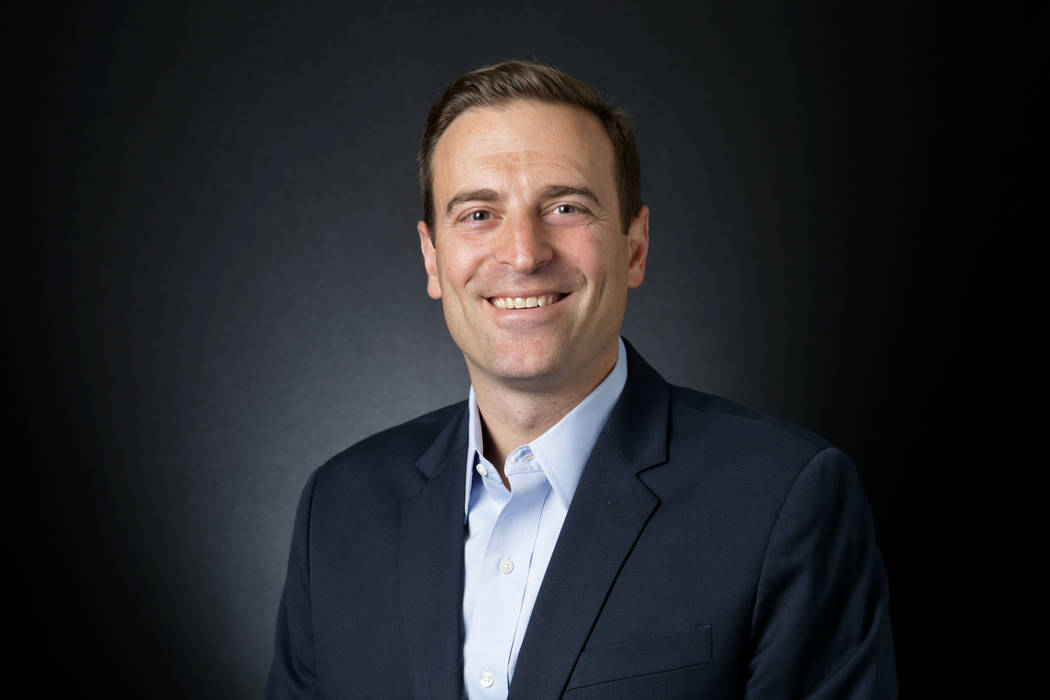 Nevada Day, 2014. That's the day Bob List knew that Adam Laxalt would become Nevada's attorney general.
List, the former Republican governor of Nevada, was in Carson City for the annual Nevada Day parade with Laxalt just days before the final ballots would be cast in the 2014 elections. Despite having a last name that is rooted deep in Nevada political lore, Laxalt was not exactly holding court with the crowd at the start of their day, List recalled.
"There's a shy side to Adam," List said.
Laxalt, then running as a first-time candidate against two-term Secretary of State and rising Democratic star Ross Miller, was more reluctant to approach people in his early days on the campaign trail and was hesitant to talk about his background or his accomplishments, List said.
But he watched over the course of the campaign as Laxalt gained the confidence needed to win. And as the two worked the crowd that Nevada Day back in 2014, List saw a more-confident Laxalt, and he knew the election was theirs.
"He just lit up," List said. "There's no question in my mind that that's the day that both of us felt we were going to win."
They were right. Laxalt edged out Miller by less than 1 percentage point to win the office that year. Four years later, Laxalt's sights have turned from the attorney general's office to the governor's seat once held by his grandfather.
Repeated attempts to speak with Laxalt for this story were unsuccessful.
Laxalt is an avid supporter of school choice and wants to fund Education Savings Accounts, a voucher-like program that provides families with money for private school tuition, home-school expenses and other educational services.
In written responses for the Review-Journal's voter guide, Laxalt said that his top priority if elected would be "ensuring all Nevada children have access to the quality education they deserve."
Laxalt has also been an vocal opponent of the Affordable Care Act, but his health care platform indicates he would not roll back the expansion of Medicaid under Obamacare, which was championed by current Gov. Brian Sandoval to provide health insurance to more than 200,000 Nevadans. Laxalt's platform also notes that he supports adopting work requirements for Medicaid recipients.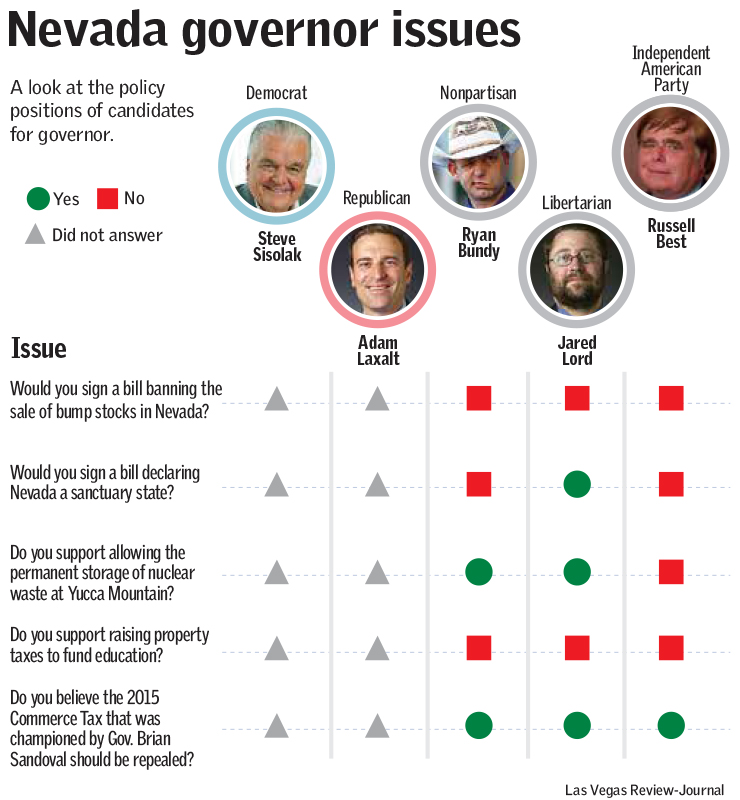 Political legacy
Laxalt was born in Reno and raised in Alexandria, Virginia. by his mother, longtime Washington D.C. lobbyist and former senate staffer Michelle Laxalt. He is the grandson of Paul Laxalt, who served as governor from 1967 to 1971, as a U.S. Senator from 1974 to 1987 and was one of former President Ronald Reagan's closest confidants. Paul Laxalt died in August.
On the campaign trail, Laxalt has spoken about growing up with a single parent and not meeting his father until much later in life. Laxalt's father is the late Pete Domenici, a six-term U.S. senator from New Mexico, who revealed in 2013 that he had an affair with Michelle Laxalt in the 1970s.
Laxalt has also been open about his struggles with alcohol as a teenager, including a 1997 DUI arrest, and the rehabilitation that followed.
He earned his bachelor's and law degrees from Georgetown University before joining the Navy in 2005, and was deployed to Iraq, where he served as a judge advocate.
Laxalt moved back to Nevada in 2011. In the early days of his move to Nevada there was little talk about running for office, but plenty about the man they called Tall Paul, according to longtime family friend and Republican political consultant Sig Rogich.
"He always asked about Paul. He wanted to soak up all that he could about his grandfather," Rogich said. "I don't remember ever having long conversations with him, or in the early day, any conversations about running for office. I think that was an evolution."
Talk of a run for office started in 2013, about the same time Domenici and Laxalt's mother publicly acknowledged their affair, effectively introducing the political world to the younger Laxalt.
List said he and Laxalt started talking extensively about running for attorney general in 2014, and List said Laxalt had plans to do "some new things with the office" if elected.
That included looking for ways the office could help veterans returning to civilian life, addressing Nevada's rape kit backlog, and tackling "the Obama administration, particularly on public lands and resource related issues that he felt were abusive to those of us who live here," List said.
Paul Enos remembers that 2014 election well. Enos is the CEO of the Nevada Trucking Association and his organization had backed Miller in the race.
Enos, who now counts himself as one of Laxalt's supporters and is president of Laxalt's Morning in Nevada PAC, said he was surprised back then when Laxalt had agreed to come on to his radio show on Valentine's Day for an interview.
"Even though we weren't supporting him, Adam still wanted to come in and get to know our issues," Enos said. "It told me that he cares more about policy than politics."
Contact Capital Bureau Chief Colton Lochhead at clochhead@reviewjournal.com or 775-461-3820. Follow @ColtonLochhead on Twitter.