Nevada gun background checks bill clears Senate Finance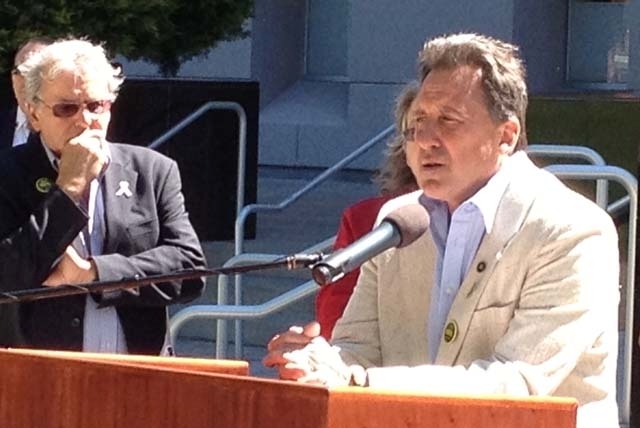 CARSON CITY — A bill requiring universal background checks for gun purchases won approval Tuesday in the Senate Finance Committee.
The vote to amend and pass Senate Bill 221 was on party lines with four Democrats in support and three Republicans opposed.
Sponsor Sen. Justin Jones, D-Las Vegas, said concerns about the process to require private-sale gun background checks were resolved for enough lawmakers to win support for the bill in committee.
The vote came after a rally in front of the Legislative Building where family members of the Newtown, Conn., and the Carson City IHOP shootings asked Nevada lawmakers to support the bill.
At the rally, Gilles Rousseau, whose daughter Lauren, was among six educators and 20 first-graders killed in the Sandy Hook Elementary School shooting in December, asked the Legislature to approve the bill.
"Lauren died doing what she loved, teaching young children," he said. "And she died in her classroom, while bravely trying to protect her children from danger."
Nevada lawmakers have the chance to do something historic, Rousseau said.
He was joined by other speakers, including Neil Heslin, whose 6-year-old son Jesse was also killed in Newtown, in asking for Nevada state lawmakers to pass the bill.
Background checks are critical to keep guns out of the hands of the wrong people, he said.
"You are never going to be able to stop all the gun violence or prevent every shooting that occurs," Heslin said. "But anything we can do to cut down the odds and the percentage and the chances of it occurring again is something that needs to be done."
Tracy Kelly, whose husband and Nevada National Guardsman Heath Kelly was killed in the 2011 Carson City IHOP shooting, said her late husband's birthday was May 20 and she celebrated it with her two children with handmade cards tied to a few balloons.
"I'm standing here today not to advocate any infringement to your rights regarding the Second Amendment, or to hinder the ability for law-abiding Americans to obtain firearms," she said. "I'm here to support this legislation that perhaps may spare another family from having to go through what my family is going through every day."
The bill still has a long way to go. To become law, it will require a favorable vote from the full Senate and then the Assembly with less than two weeks left in the session. Democrats have an 11-10 majority in the Senate, and a 27-15 majority in the Assembly.
Gov. Sandoval has not taken a stand on the bill, but did issue a statement Tuesday:
"The tragic loss of innocent lives at the Carson City IHOP, Sandy Hook Elementary, and in Arizona were terrible, heart-breaking events which left no one untouched. While we continue to work toward keeping firearms out of the hands of criminals and those who are mentally ill, we must also strike a balance to protect the Second Amendment rights of law abiding citizens. The governor's office has been in contact with Senator Jones and continues to monitor this bill."
Jones said his bill would require federally licensed gun dealers to run the background checks and the fee will be limited to $30. The process will bypass the state Department of Public Safety and go directly to the National Instant Criminal Background Check System. This will eliminate any state cost.
More than 500 federally licensed firearms dealers operate around the state.
Jones said the background check could be performed within five minutes in 95 percent of the cases, allowing the sale to proceed immediately.
In cases where the check cannot be performed right away, Jones said the buyer and seller could just decide not to complete the check. Or they could leave the gun with the dealer until the check is complete, he said.
Senate Minority Leader Michael Roberson, R-Las Vegas, who sits on Senate Finance, expressed concerns about the background check process. He asked what enforcement mechanism is in the bill to go after private sellers who do not perform the sale using a licensed firearms dealer.
"What crimes are we stopping here," he said.
Jones acknowledged that there is no provision in the bill to ensure that those types of sales will not occur.
"I'm not here to tell you or tell anybody else that this bill is going to solve every problem," he said. "It won't."
Roberson asked Jones to keep working with him to generate bipartisan support for the measure.
Finance Chairwoman Debbie Smith, D-Sparks, said she did not know if a perfect bill could be created to deal with the issue.
But it is time to make some hard decisions, she said.
Lawmakers need to figure out how to keep guns out of the hands of criminals and those with mental health issues, Smith said.
Senate Majority Leader Mo Denis, D-Las Vegas, said he is tired as a lawmaker of pushing issues down the road. It is time to move forward, he said.
Contact Capital Bureau reporter Sean Whaley at swhaley@reviewjournal.com or 775-687-3900.