Nevada mentally ill inmates routinely were placed in segregation units, senators told
February 9, 2017 - 5:26 pm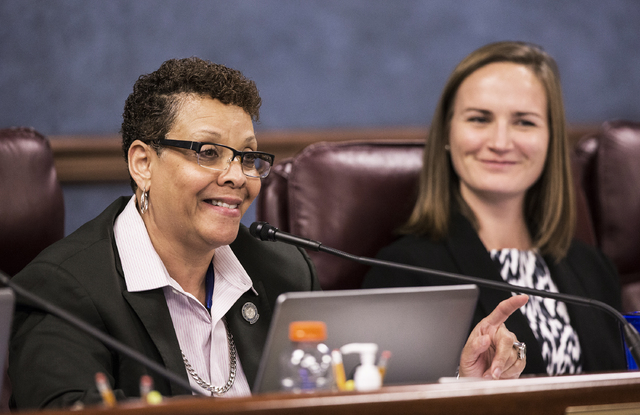 CARSON CITY — Seriously mentally ill inmates housed in Nevada prisons routinely were placed in segregation units, sometimes for as long as five years at a time, a Senate panel heard Wednesday.
Stunned lawmakers called the revelations troubling and openly questioned whether the past practice violated inmates' civil rights. The Senate Committee on Health and Human Services heard about the state's past treatment of mentally ill inmates from David Tristan, deputy director of programs for the Nevada Department of Corrections.
Sen. Pat Spearman, chairwoman of the committee, asked if there may have been civil rights violations, given the length that inmates were in segregation housing. In response, Tristan said the prior housing conditions for the inmates were "unconstitutional."
The disclosure comes after the installation of new leadership at the department. Director James Dzurenda joined the department in April 2016. He previously spent nearly 30 years working in the corrections field in Connecticut and New York City. Tristan arrived in June 2016.
Lawmakers thanked Tristan for his openness and the department's willingness to tackle the issue head-on.
Sen. Julia Ratti, D-Sparks, called the department's past practices "incredibly disturbing." She added it's important to make institutional changes that will stay with the system.
Spearman, D-North Las Vegas, stressed that now is the time to act.
"I'm not one that's interested in kicking the can down the road to the next session," she said.
Reforms in the pipeline include consolidating and centralizing mental health services and transitioning the seriously mentally ill population to the Northern Nevada Correctional Center and Warm Springs Correctional Center.
The department is in the process of moving mentally ill inmates out of segregation units. Other measures include a unit to help inmates transition back into the general population and improved practices and training for corrections staff.
Nevada's corrections system has about 2,400 mentally ill inmates, which is about 17 percent of the 14,00 inmate population.
Tod Story, executive director of the ACLU of Nevada, told the Review-Journal Thursday that the revelation "tracks very closely to what we have discovered."
The civil rights organization has been researching the state's use of solitary confinement, not just for mentally ill inmates but for all inmates.
Later this month, the group will be issuing a report for lawmakers about solitary confinement in Nevada.
"You will see a lot of the same issues raised in that report," Story said.
Story said the ACLU of Nevada is pleased to see the administration take a different approach than the past, adding that his organization will continue to press the state on reforms.
Spearman said it's important to remember those who are victimized.
"If it's your family member, you can't put a pricetag on it," she said.
Contact Ben Botkin at bbotkin@reviewjournal.com or (775)461-0661. Follow @BenBotkin1 on Twitter.