Nevada officials bracing for details on Obamacare replacement plan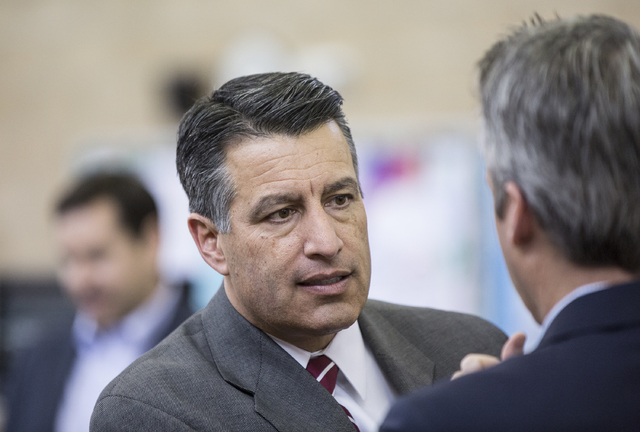 WASHINGTON — With costs and specific coverages unknown, Nevada officials were still bracing Wednesday for more details to determine how the new Republican health care replacement bill would impact the state and its residents.
Two House committees went to work Wednesday on the proposed replacement of the Affordable Care Act, commonly known as "Obamacare." The proposal was met with opposition from Republican hard-liners and some moderates.
But even with politics aside, Nevada officials were waiting for specifics to determine just how much spending the state could be asked to shoulder with changes to Medicaid expansion that occurred under Obamacare, and how much people who currently use public health care exchanges would be forced to fork out for coverage plans.
Gov. Brian Sandoval, a Republican, has asked his Department of Health and Human Services to assess the statewide fiscal impacts of the U.S. House proposal, said spokeswoman Mari N. St. Martin in Carson City.
She said it was the governor's priority to protect those who now have access to health care and ensure they are able to maintain coverage.
Last year, 71,472 Nevadans received Obamacare tax subsidies to purchase insurance on the public exchange created by the ACA in 2010, according to the Scholars Strategy Network, a national public policy and research group.
There were 1.5 million people in Nevada who received insurance through employers and 620,757 who received care through Medicaid and it's Children's Health Insurance Program, according to the group.
A RECIPE FOR FAILURE
Democrats said disruption of the current system, and the replacement plan that provides tax credits instead of subsidies, was a recipe for failure.
"The Republicans' health care proposal is a disaster for the many Nevadans who benefit from the Affordable Care Act," said Rep. Dina Titus, D-Nev., whose congressional district includes Las Vegas.
Titus said that Nevada's uninsured rate dropped from 23 percent to 12 percent under the ACA, one of the largest declines in the country.
Nevada joined 30 other states in expanding Medicaid under Obamacare, which added 291,014 people in the state to the program.
The new GOP bill would allow states to keep Medicaid expansion, and receive funding as they do now under the ACA until 2020. Then, the Republican plan calls for capping federal spending per enrollee based on 2016 spending.
Sandoval, who was in Washington two weeks ago for the National Governors Association meeting, urged congressional leaders and the White House not to alter the funding mechanism for Medicaid expansion.
The replacement bill would allow dependent coverage on parents' policies until age 26, require insurance companies to provide coverage regardless of pre-existing conditions and prohibit lifetime limits on coverages, as called for under Obamacare.
Michael Schaus, spokesman for the nonpartisan think tank Nevada Policy Research Institute, said he is still reviewing the specifics of the proposal. However, he said he wanted to see the measure focus more on free-market health insurance.
"Overall, I see it as more of a tinkering with Obamacare than any sort of repeal," he said.
Despite the changes in the bill, Republicans have offered it to Congress for consideration without receiving an estimate of its overall cost from the nonpartisan Congressional Budget Office.
'OBAMACARE LITE'
Some GOP lawmakers, backed by conservative groups like the Club for Growth, announced opposition to the replacement, which they referred to as "Obamacare Lite."
Democrats chastised their GOP counterparts for rushing through a bill after years of organized attempts to kill Obamacare.
"The Republicans would have been wise to spend a little less time time on seven years of show-votes, and a little more time on writing credible proposals that would help all hard-working Americans," said Sen. Catherine Cortez Masto, D-Nev.
The Republican replacement does eliminate taxes, according to the Joint Committee on Taxation, including those on prescription drugs, those on health care insurers, medical devices and delay of the "Cadillac" tax on generous plans offered by employers and the Culinary Local 226.
Nevada businesses and unions have championed efforts by Sen. Dean Heller, R-Nev., to delay and eliminate the Cadillac tax in Obamacare. The replacement plan would delay implementation of the tax until 2025.
Rep. Jacky Rosen, D-Nev., said she is worried about the impact on Nevada hospitals and clinics with the repeal of the ACA and the potential impact of closing doors on patients.
"This effect would have further implications on Nevada's economy," Rosen said, "by eliminating countless jobs created as a result of expanded health care services."
Bill Welch, president and CEO of the Nevada Hospital Association, said in a written statement that his group has "reservations about the direction of the proposal."
"We look forward to working alongside our national association and members of Congress to address the nation's health care challenges," the statement read.
Staff writer Blake Apgar contributed to this report. Contact Gary Martin at 202-662-7390 or gmartin@reviewjournal.com. Follow @garymartindc on Twitter.