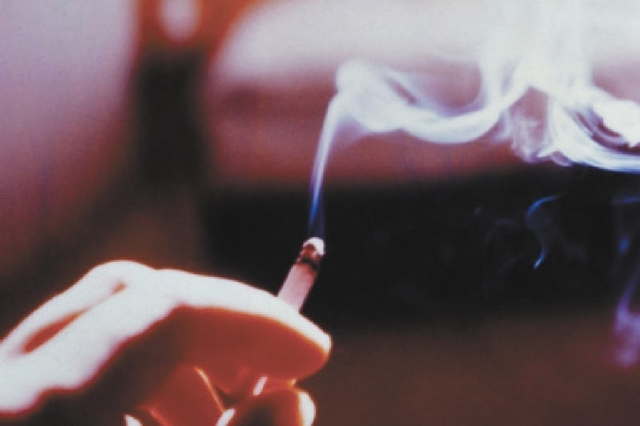 CARSON CITY — "Smokers' corners" just off school property where teens gather to puff away on cigarettes with impunity soon may be relics of the past.
Gov. Brian Sandoval has signed into law state Senate Bill 177, which authorizes county commissions to adopt ordinances to prohibit smoking or possessing tobacco products by anyone younger than age 18.
The governor's approval ends an incongruity in state law. Until now, children could not buy tobacco at stores, but could legally possess and use it.
State Sen. James Settelmeyer, R-Minden, introduced the bill and testified in hearings that children at smokers' corners in his district even back talk police who try to stop them from smoking. Witnesses testified that some teachers, prohibited from smoking on school grounds, would join their students just off campus.
"Now each county can weigh in on the issue," Settelmeyer said.
Under the law, minors can be fined $25 for a first offense, $50 for the second and $75 for the third. With the third offense, they also could be subject to as much as a 90-day suspension of their driver's licenses or a delay in being issued a license.
The anti-teen smoking bill was one of 60 bills signed by the governor late Saturday. They include:
■ Assembly Bill 374, which prohibits county commissions from charging fees for events such as Burning Man that are held on federal land. State Sen. David Bobzien, D-Reno, introduced the bill in part because Pershing County tried to charge for police protection for Burning Man, which draws more than 50,000 people to the Black Rock Desert playa the week before Labor Day.
■ Assembly Bill 156, which prevents sealing of records dealing with drunken driving offenses, by Assemblyman James Ohrenschall, D-Las Vegas.
■ Assembly Bill 189, which allows issuance of five more special license plates to benefit non profit organizations. The state now offers 30 special license plates with extra fees going to non profits . Additional plates will be issued if organizers demonstrate that at least 3,000 people will buy them. That threshold is now 1,000.
■ Assembly Bill 10, which adds "software" to the lists of devices that customers may not possess in casinos to gain advantage in gaming.
■ Assembly Bill 478, which allocates an extra $14,803 to cover the costs of "dignitary protection." Nevada provides police protection to people such as governors of other states when they visit. Now $3,000 is set aside a year for these costs, but because of the popularity of Las Vegas, 10 governors visited the city last year. Sandoval takes a state trooper with him on his out-of-state trips to avoid placing additional costs on other states.
■ State Senate Bill 230, which creates a Nevada Fallen Soldier Memorial for all service members killed in war. A memorial bearing each name will be placed on a memorial behind the state Capitol. The American Legion will work with the state on the design, and the director of Veterans Services will accept donations. No state funds will be used in construction.
Contact reporter Ed Vogel at evogel@reviewjournal.com or 775-687-3901.