Nevada Rep. Dina Titus calls for Trump impeachment inquiry
Updated July 29, 2019 - 5:46 pm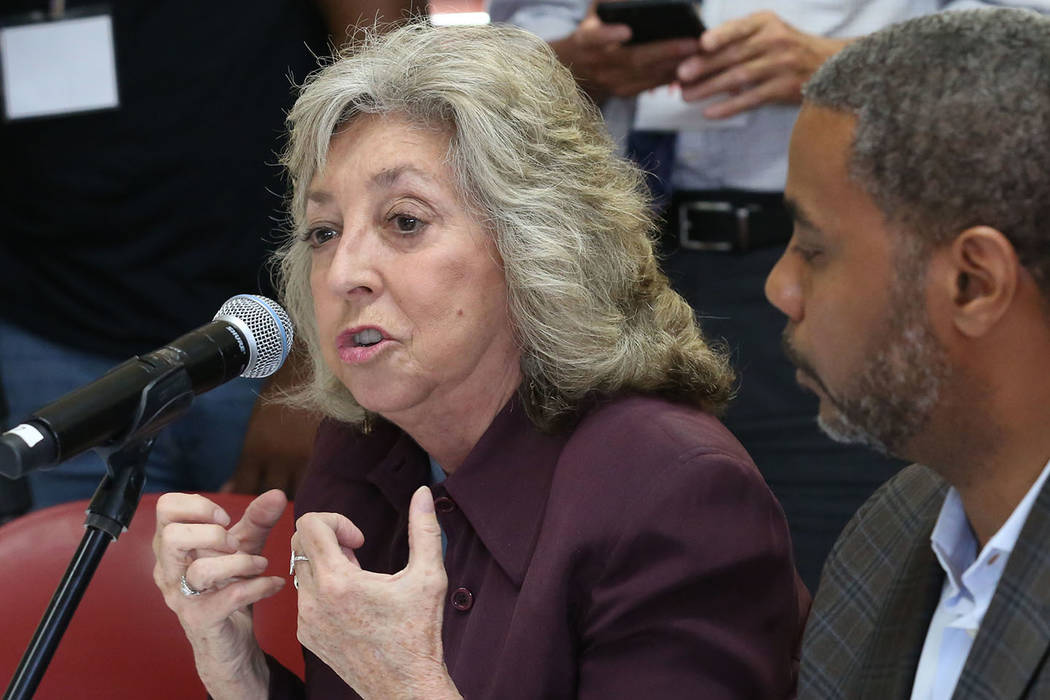 WASHINGTON — Rep. Dina Titus became the only Nevada Democrat to join a growing number of House lawmakers who have called for an impeachment inquiry against President Donald Trump, citing what she calls his repeated efforts to break the law for personal gain.
"My decision isn't based on my disagreements with the president's policies or my disapproval of his temperament, though I have both," Titus explained in a video released by her office.
"I'm calling for an impeachment inquiry because of the mounting evidence that Donald Trump has repeatedly broken the law to protect his own interests."
As chairwoman of the House Transportation and Infrastructure Committee's subcommittee on public buildings, Titus said she would also step up her investigation of Trump's ownership of a District of Columbia hotel located inside the Old Post Office Building.
Titus is the latest in a surge of Democrats who have publicly called for an impeachment inquiry following House hearings with former special counsel Robert Mueller, who conducted a yearslong investigation into Russian meddling in the presidential election and Trump's attempts to thwart that probe.
Trump declared victory after the hearing on the investigation, which he called a "witch hunt," and falsely claimed to be exonerated of conspiracy, collusion and obstruction of justice.
Mueller, under questioning by House Judiciary Chairman Jerry Nadler, D-N.Y., pointedly noted that he did not exonerate the president on obstruction. The report lists many instances where Trump tried to impede or halt the investigation, including ordering the then-White House counsel to fire Mueller.
House Speaker Nancy Pelosi, D-Calif., has resisted launching a politically divisive impeachment inquiry without bipartisan support.
She did, though, support a Judiciary Committee lawsuit filed last week to obtain grand jury testimony and materials from the Mueller investigation to determine whether an impeachment inquiry is warranted.
Only one Republican has called for impeachment, Rep. Justin Amash of Michigan, who has since left the GOP and changed his party affiliation to independent.
Senate Majority Leader Mitch McConnell, R-Ky., and Sen. Lindsey Graham, R-S.C., chairman of the Senate Judiciary Committee, have dismissed impeachment.
After Mueller delivered his report and no criminal charges were leveled against the president, the senators said the country should move on.
Mueller, though, said he was following Justice Department policy that prevents the indictment of a sitting president.
And the report is largely seen as a blueprint for Congress to continue the investigation and determine whether charges or articles of impeachment should be brought against the president for obstruction of the investigation.
House Judiciary Chairman Jerry Nadler, D-N.Y., said last week that his lawsuit to obtain grand jury testimony would help determine whether he would launch an impeachment inquiry.
More than 100 Democrats now favor that course.
Titus represents a congressional district within Las Vegas city limits that's considered a safe Democratic seat; Democrats outnumber Republicans there by more than 2-to-1. Her decision to call for an impeachment inquiry comes just days after Mueller testified about the president's false statements.
"To be clear, misleading the public and the press is not an impeachable offense. But lying to law enforcement officials who are investigating the Russian attack on our democracy – and ordering his staff to do the same – are serious crimes," Titus said.
The state's two other Democrats, Rep. Susie Lee and Rep. Steven Horsford, represent Southern Nevada seats that are considered politically competitive. Both have backed Pelosi's approach to continue investigations and gather facts before launching an impeachment inquiry.
The House is currently out for a month-long recess and back in their congressional districts.
Titus said she would step up her investigation into the president's involvement with the Trump International Hotel when she returns from the break.
The Trump Organization leases space for the hotel from the federal government. A federal judge ruled in June that the congressional oversight investigation into the arrangement could continue.
The Office of the Inspector General of the General Services Administration issued a Jan. 16 report that concludes Trump failed to separate from his business interests and continues to profit from the Trump Organization's business operations.
Titus said that "on its own, greed is not an impeachable offense."
"But after his election, Donald Trump refused to divest from his businesses despite obvious conflicts of interests. So now he's profiting from foreign government officials who are trying to curry favor by staying at his hotels – even though the emoluments clause of the Constitution prevents the president from accepting foreign payments," Titus said.
"In the Constitution, those payments are called 'emoluments,' but today you can just call them 'bribes,' " she said. "Either way it's unethical and illegal."
Trump's lawyers have argued that paying for a hotel room is not a gift or salary and should not be considered an emolument.
A motion by the Department of Justice to dismiss a lawsuit brought by House Democrats to obtain records from the Trump Organization was rejected by the federal court.
Justice Department spokesperson Kelly Laco said the House lawsuit is "another impractical attempt to disrupt and distract the president from his official duties."
"The Department of Justice is appealing the court's decision," Laco added.
Contact Gary Martin at gmartin@reviewjournal.com or 202-662-7390. Follow @garymartindc on Twitter.