Nevada reports 789 new coronavirus cases, 4 more deaths
Updated October 22, 2020 - 11:49 pm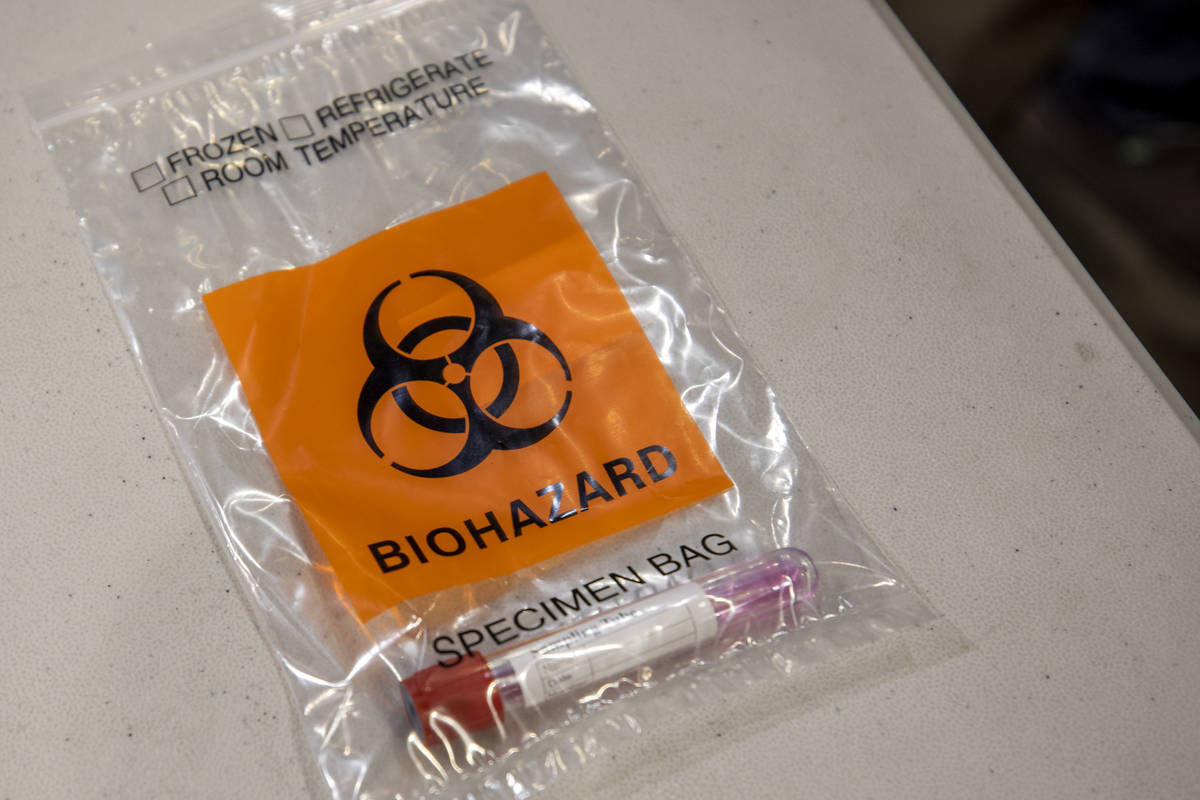 Nevada reported 789 new coronavirus cases on Thursday, along with four additional deaths, according to the Department of Health and Human Services.
The updated figures posted to the state's coronavirus website brought totals to 92,853 cases and 1,736 deaths.
Caleb Cage, director of the state's COVID-19 response, said Thursday in a weekly state COVID-19 mitigation task force meeting that Nevada is "experiencing an increase in cases. I don't think there's any way around that."
The state's positivity rate, which is calculated by the Review-Journal as the number of cases divided by total people tested, rose to 12 percent on Thursday. The percentage has been slowly rising since mid-September, when daily reports of new cases also started rising.
The health department calculates a positivity rate over a two-week period; it rose by 0.3 percentage points on Thursday to reach 9.6 percent. The rate is calculated using total "testing encounters," which produces lower percentages because the figure includes people who received multiple tests at different points during the pandemic.
On Oct. 15, the state changed how it reports data on its coronavirus website, focusing more on trends over time using 14-day moving averages instead of seven-day moving averages. The change is intended to help smooth fluctuations in trend lines that happen when there are single-day spikes or decreases in tests, cases or deaths.
Clark County still at elevated risk
Updated figures posted to the Southern Nevada Health District's coronavirus website showed 573 additional coronavirus cases in Clark County, along with one new death.
Totals in the county on Thursday were raised to 76,817 cases and 1,488 deaths, according to the health district.
Clark County remained on the list of Nevada counties considered at an elevated risk during the pandemic, along with Elko, Humboldt, Lincoln, Lyon and Washoe counties, state data shows. When the state updated its coronavirus webpage on Oct. 15, it also started reporting the list of counties at an elevated risk, placing Clark County in the category about two weeks after it was removed.
While cases have continued to climb, hospitalizations across Nevada have remained relatively steady and have not stressed health care systems, Cage said in Thursday's meeting.
As of Thursday, there are 520 people in the state hospitalized with confirmed or suspected COVID-19 cases, state data shows.
Billy Samuels, deputy chief for the Clark County Fire Department, said that the "numbers look bad" but noted that the strain on the hospitals is not there at this point.
He noted that COVID-19 patients are hospitalized for shorter periods now than they were in August, saying it is "several days as compared to several weeks."
Washoe County struggling
As of Thursday, there have been 11,811 cases reported in Washoe County since the start of the pandemic, along with 189 deaths, state data shows.
Washoe County Health Officer Kevin Dick told the task force Thursday that the county is starting to struggle with one of the most prolonged increases in COVID-19 cases seen throughout the state since summer.
He said county contact tracers have "fallen behind" in their efforts because of the sheer number of new cases, with only 37 percent of cases being investigated over the last week, compared with 53 percent the week before.
"With the surging case numbers, we're being overwhelmed with the disease investigation efforts and we really need to have people being careful to protect themselves and others to try and drive down the spread that we have occurring," Dick said.
Contact Katelyn Newberg at knewberg@reviewjournal.com or 702-383-0240. Follow @k_newberg on Twitter. Contact Capital Bureau Chief Colton Lochhead at clochhead@reviewjournal.com. Follow @ColtonLochhead on Twitter.