Nevada reports highest single-day jump in COVID cases since January
Updated July 29, 2021 - 4:42 pm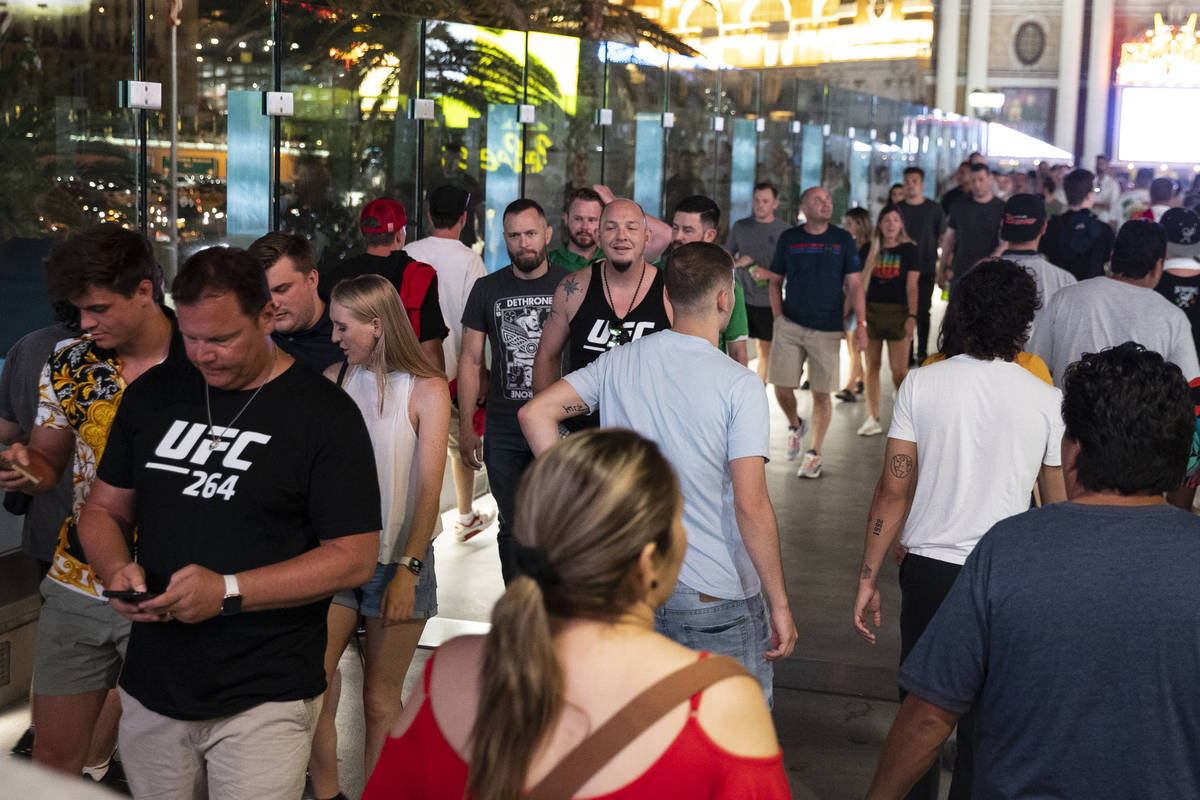 For the second day in a row, Nevada on Thursday reported the highest one-day increase in new coronavirus cases in more than six months.
Updated data from the Department of Health and Human Services showed 1,345 new COVID-19 cases reported over the preceding day — the highest single-day jump since 1,501 were recorded on Jan. 23, according to records maintained by the Review-Journal. On Wednesday, the state reported 1,179 new cases, which was the highest single-day increase since Jan. 29.
The state also recorded 26 deaths, the most since 28 were recorded on Jan. 21, although that increase was attributed at the time to delayed reporting.
The updated figures brought totals in Nevada to 355,091 cases and 5,900 deaths.
New cases remained higher than the 14-day moving average of cases, which increased from 814 to 850. The rate has been rising steadily since it hit a recent low of 132 cases per day on June 5, according to state data.
Deaths also were far above the moving average of seven daily reported fatalities over the same period. Fatalities had remained fairly flat as the state's other key COVID-19 metrics began rising in early June, but the 14-day moving average is now more than triple the recent low of two per day reported on June 1.
Data guide: COVID-19's impact on Nevada
Positivity rate surpasses 2020 summer surge
The state's two-week positivity rate, which essentially tracks the percentage of people tested for COVID-19 who are found to be infected, increased by 0.3 percentage points on Thursday, reaching 14.3 percent. The rate has more than quadrupled since hitting its recent low of 3.3 percent on June 9 and is now higher than the 14.2 percent seen during last year's summer surge of the disease.
The state also reported that 1,129 people in Nevada were hospitalized with confirmed or suspected COVID-19 cases, which is 14 fewer than the day prior. Although hospitalizations fluctuate day to day, totals have been trending up since the second week in June, and have nearly reached the level of last summer's peak.
That's higher than the levels reached by the other key COVID-19 metrics during the recent run-up. New cases are 35 percent lower and deaths are 46 percent lower, state officials said at a news briefing Thursday.
State and county health agencies often redistribute the daily data after it is reported to better reflect the date of death or onset of symptoms, which is why the moving-average trend lines frequently differ from daily reports and are considered better indicators of the direction of the outbreak.
With all major disease metrics rising, Nevadans in counties with high rates of COVID-19 transmission will once again be required to wear face masks indoors regardless of vaccination status, starting on Friday.
"We also understand the frustration many may feel over having to put a mask back on," Candice McDaniel, the deputy director of the Nevada Department of Health and Human Services, said at the briefing. "We don't like it either. However it's important to remember that as the virus changes and evolves, our public health response must do so as well."
It could take one to two weeks for the mask mandate to show any effect on disease metrics, as that's the typical waiting period for someone to show symptoms of COVID-19, said Dr. Ellie Graeden of Talus Analytics, who is serving as a consultant to the state. Officials also hope that increased vaccination efforts will help drive the metrics lower.
"By implementing masking we are hoping to not take a step backwards," McDaniel said.
'More breakthrough cases'
The delta variant, which is the predominant strain of the disease in Nevada, spreads more easily than other versions of the virus, causes higher viral loads and is resulting in more breakthrough cases among vaccinated people, she said. As of Monday, the variant accounted for 81 percent of cases analyzed by the Nevada State Public Health Laboratory in the past two weeks.
Meanwhile, Clark County on Thursday recorded 1,160 new coronavirus cases and 24 additional deaths, according to data from the Southern Nevada Health District.
Cumulative totals for the county rose to 279,142 cases and 4,693 deaths.
As of Thursday, Clark County has recorded 178 breakthrough cases among people who have been hospitalized or died of COVID-19 after receiving a vaccine, which is 30 more than last week.
There have been 40 breakthrough deaths, including 14 over the prior week. Of the deaths, 34 people had been hospitalized, according to county data.
Updated state data on breakthrough cases was not available on Thursday.
The county's two-week test positivity rate increased by 0.2 percentage point on Thursday, reaching 15.5 percent, state data shows.
County figures are reflected in the state totals.
Contact Katelyn Newberg at knewberg@reviewjournal.com or 702-383-0240. Follow @k_newberg on Twitter.
Nevada vaccinations
—12+ population: 2.64 million.
— Doses administered: 2.68 million.
— Vaccinations initiated: 1.53 million.
— Vaccination completed: 1.27 million.
— Eligible fully vaccinated: 47.43 percent.
Sources: Department of Health and Human Services; U.S. Census Bureau