Nevada Sen. Dean Heller not backing down in another close race
Updated October 25, 2018 - 7:40 pm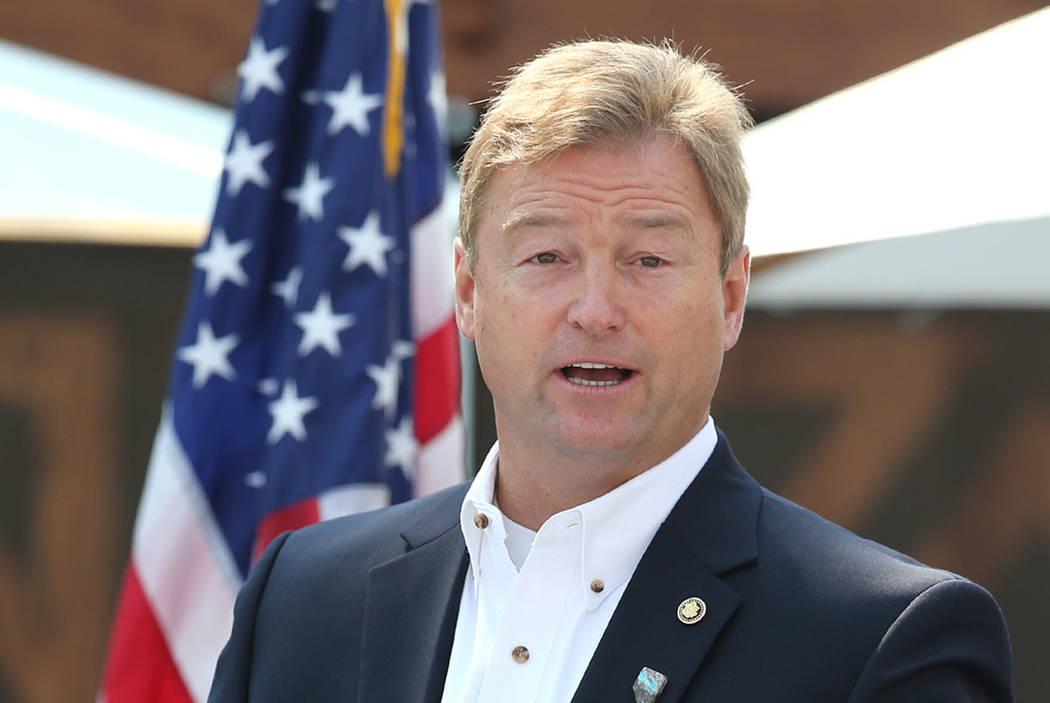 Dean Heller grew up sweeping the floors of his father's auto shop in Carson City.
If you told Heller he would serve in the U.S. Senate one day, the upbeat, often-smiling Republican would "have never believed you." Heller never imagined he would be a politician.
"But I have always been interested in serving Nevada," Heller said. "I was 28 years old when I was working in the Nevada state treasurer's office."
That's when Republican leaders urged Heller to run for the Nevada Assembly, and he won that seat in 1990. "I first talked to Lynne and my family and then decided to do it for this reason," Heller said. "I wanted to be a voice for the people in my hometown."
Heller's mother worked long hours as a school cook. His father earned a living as an auto mechanic. Growing up with five siblings, Heller said he learned that it's "more important to listen than it is to talk."
He has carried that lesson with him through three decades of public service.
"I was taught that if you played by the rules and worked hard, you'd succeed," Heller said. "Unfortunately, for too many Nevadans that hasn't been the case. So making the American Dream achievable once again has been a driving goal of mine as Nevada's U.S. senator."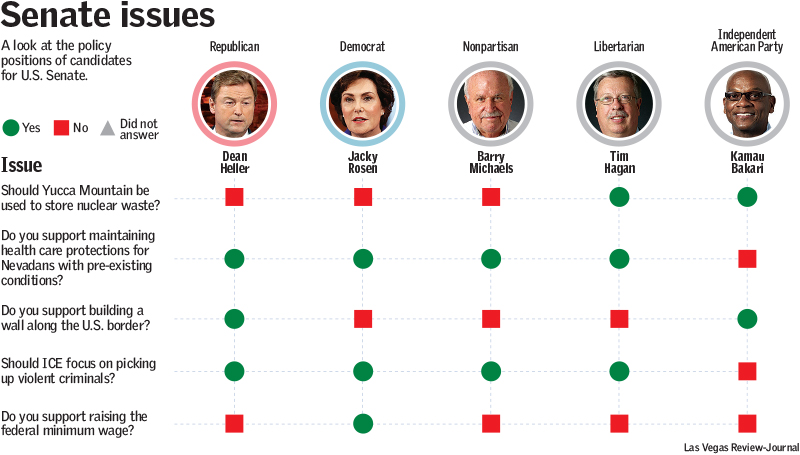 The 'underdog'
Now Heller is in the political fight of his career — he is locked in a tight race with Democratic Rep. Jacky Rosen, who is harnessing the Nevada Democratic machine powered by former Sen. Harry Reid.
And Heller is the only Senate Republican running for re-election in a state Hillary Clinton won in 2016.
"It always feels like he is the underdog," said Pete Ernaut, head of government affairs at R&R Partners and Heller's friend for three decades. "Close races are nothing new to Dean Heller. He's been counted out so many times, but he always wins."
Ernaut met Heller at the Sigma Nu Fraternity at the University of Southern California. But Heller, a student athlete and devout Mormon, wasn't a traditional fraternity party boy.
"Given his faith, he was a pretty straight-laced guy in college as opposed to many of the rest of us," Ernaut said. "There was always something special about Dean and his personality."
Heller was elected secretary of state in 1995 after five years in the state Assembly. In that role, Heller is credited with ushering in reforms to shed light on campaign finances and give the public access to that information.
Political experts say Nevada was the "Wild West" when it came to campaign disclosures and open government before then.
After his stint as secretary of state, Heller served in the U.S. House from 2007 to 2011 before being appointed by Gov. Brian Sandoval to the U.S. Senate. Heller won a full term to the upper chamber of Congress in 2012.
The Trump factor
Heller has been criticized from both sides over his relationship with President Donald Trump. After initially opposing his presidential bid, Heller now stands shoulder-to-shoulder with the president, who has visited Nevada twice to campaign for him.
The senator said he and Trump fought "like cats and dogs" before forming a mutual respect based on success. Heller helped author the GOP tax bill and voted to repeal and replace the Affordable Care Act, one of Trump's campaign promises, after initially opposing the idea.
If voters send Heller back to Washington, he pledged to fix the Silver State's infrastructure, including completing Interstate 11.
"As Nevada's population continues to grow, we need to make sure our roads, bridges and highways can keep up with the demand," Heller said. "I'm also hopeful that we will continue to attract more visitors as well as business investors looking to expand, hire, and invest in Nevada."
Northern Nevada, home to loyal conservatives who support Heller, will be key to the state's continued economic success, the senator predicted.
"I believe Northern Nevada is going to be one of the biggest tech hubs in the country in 10 years," he said. "We are seeing the beginning of that now with Apple and Google opening facilities and hiring in Reno."
The hardest part of his job, Heller said, is being away from his family. Heller has four children and three grandchildren.
"Certainly this is a difficult race – maybe the most difficult of his career," Ernaut said. "But if I had to bet, I'd bet on Dean Heller. And I'd bet on him every time."
Dean Heller
■ Age: 57
■ Education: Bachelor's degree in business, University of Southern California
■ Family: Wife Lynne, four children.