Nevada senators' bill aims for earlier recreational marijuana sales
Updated March 24, 2017 - 6:13 pm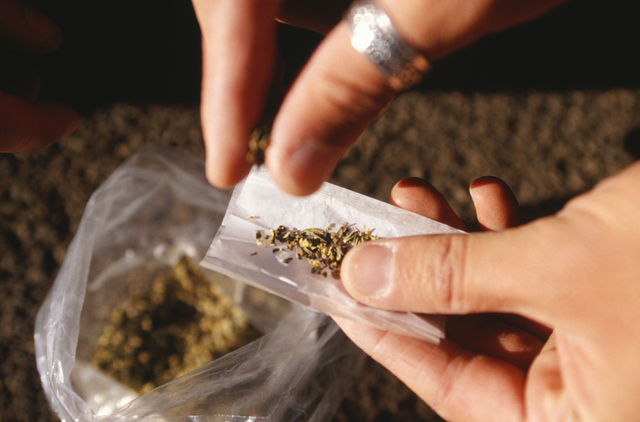 It's a race between the governor's office and the Nevada Legislature.
The finish line? Seeing whose legislation can kick-start Nevada's recreational marijuana program first.
State Sen. Tick Segerblom, D-Las Vegas, and Assemblyman Steve Yeager, D-Las Vegas, introduced Senate Bill 302 to the Senate Judiciary Committee Friday. The bill would allow medical marijuana dispensaries to sell recreational marijuana to non-cardholders, as long as they are 21 or older. The goal, they said, is to stamp out the black market and allow the state to begin collecting tax revenue from recreational marijuana.
Meanwhile, the Nevada Department of Taxation released a draft last week that would also allow medical pot shops to sell recreational cannabis before the Jan. 1, 2018 deadline set by the voter-approved ballot initiative.
That draft has fewer tax changes and more licensing requirements than SB302, which would effectively piggyback on the state's medical marijuana regulations.
The tax department is holding a workshop at 10 a.m. Wednesday to hear comments and concerns about its proposal for recreational sales. The department expects sales to start by July 1.
The excise tax on medical marijuana would go from 2 to 5 percent under SB302, and the 2 percent wholesale tax currently applied to the cultivation and production of medical marijuana would be eliminated.
Gov. Brian Sandoval proposed a 10 percent special sales tax on recreational marijuana sales in his budget. SB302 would set that tax instead at 15 percent, with two-thirds going toward education and the remaining third going to local governments.
Because of the proposed new taxes on SB302, it will require a two-thirds majority vote by each house of the Legislature.
Representatives from Henderson, Clark County, the Nevada Association of Counties and the Nevada League of Cities testified as neutral on the bill but said they support the concept of funds going to local municipalities.
Segerblom said SB302 does not compete with the tax department's plan. But he also said the bill might not be needed if the department's plan goes through without any delays.
But no matter which legislation becomes law, Segerblom is confident that sales will start before 2018.
"Between taxation and the Legislature, we're going to get this done," Segerblom said.
Contact Colton Lochhead at clochhead@reviewjournal.com or 702-383-4638. Follow @ColtonLochhead on Twitter.
Pot news
Want to know more? Read all of our coverage here.