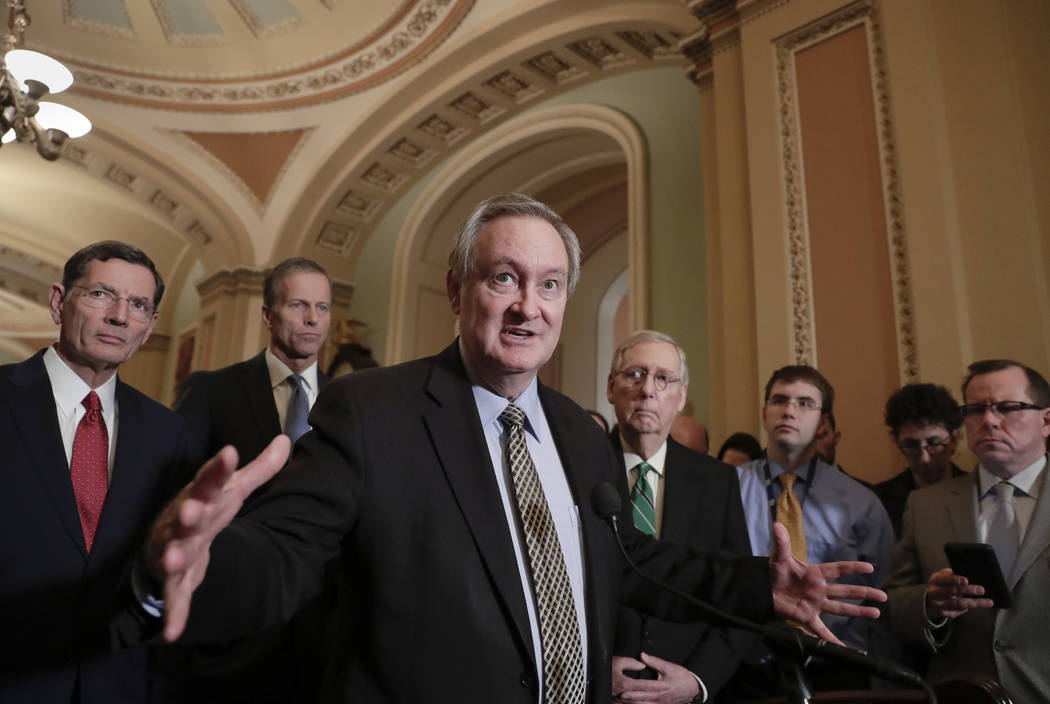 WASHINGTON — Nevada senators were at odds Thursday on a sweeping bank regulation bill that enjoys support among Republicans and moderate Democrats but is opposed by progressive lawmakers who say the legislation rolls back consumer protections to help big banks.
Sen. Dean Heller, R-Nev., is a co-sponsor of the Economic Growth, Regulatory Relief and Consumer Protection Act that would ease financial regulations enacted in the Dodd-Frank law approved by Congress after the 2008 financial crisis and taxpayer bailout of banks that were considered "too big to fail."
But Heller, other Republicans and 16 Democrats said the protections in Dodd-Frank unfairly placed burdens on small lending institutions that hurt rural states and communities.
"Burdensome financial regulations meant to protect Americans during the financial crisis hurt small community lenders in Nevada, which stifled economic growth," said Heller, a member of the Senate Banking, Housing and Urban Affairs Committee.
The bill is expected to pass when it comes up for a vote next week, despite an outcry from progressive Democrats who say the bill discards consumer protections to appease large banks that caused the financial crisis a decade ago with risky practices.
"The protections were put in place for a reason," Sen. Catherine Cortez Masto, D-Nev., said in an interview with the Review-Journal.
Cortez Masto said the financial crisis led to the housing market collapse in Nevada that saw 219,000 foreclosures.
"I was the state's attorney general at the time, and I saw firsthand as banks and mortgage lenders took the homes of my neighbors," Cortez Masto said.
As Nevada Attorney General, Cortez Masto sued 26 banks because "they were robbing people of their homes, misleading consumers with false promises, hitting homeowners with expensive fees and discriminating against minorities."
Even though she opposes the legislation before the Senate, Cortez Masto filed amendments that would restore consumer protections to penalize lenders for discrimination, predatory lending and forced arbitration.
In a speech on the Senate floor, Cortez Masto said all neighborhoods in Nevada were hard hit by the housing collapse, but minority communities suffered the most. One of her amendments would prevent loan and housing discrimination.
Cortez Masto said she agrees with a tenet of the bill, which is to provide relief to small lending institutions, but said she could not support easing regulations on banks that caused the 2008 financial crisis.
"I have met too many Nevadans who suffered through losing their careers and their homes, many of whom are still recovering to this day," she said.
Heller also said he supports measures to protect consumers.
Heller tucked measures into the bipartisan bill, with Democrats on the Banking Committee, that he said would modernize financial regulations to benefit consumers, credit unions, community and mid-size regional banks while providing protections for veterans, the elderly and victims of fraud.
He said the regulation "right-sizes" financial regulations.
While the legislation provides relief for smaller lenders, it would also relax regulations imposed by Dodd-Frank on big banks and allow them to take on more risk in lending.
Sen. Elizabeth Warren, D-Mass., who is eyeing a possible presidential run in 2020, said passage of the bill and a rollback of regulations would lead to another financial crisis in 10 years.
Contact Gary Martin at gmartin@reviewjournal.com or 202-662-7390. Follow @garymartindc on Twitter.
Democratic support
The banking legislation was written by Banking Committee Republicans with support from Democrats in conservative states. The bill is supported by Sen. Jon Tester, D-Mont., Sen. Joe Manchin, D-W.V., Sen. Heidi Heitkamp, D-N.D., and Sen. Joe Donnelly, D-Ind., all of whom face re-election this year in states that Donald Trump won in 2016. About a third of Senate Democrats are expected to support the bill when it comes up for a vote next week.