Nevada state treasurer ratchets up criticism of governor over Faraday
December 2, 2016 - 4:20 pm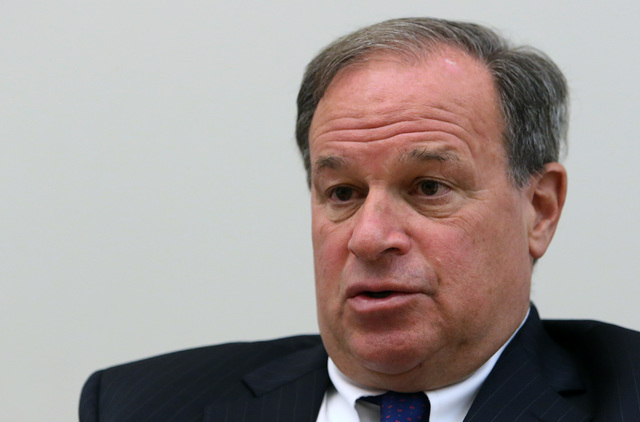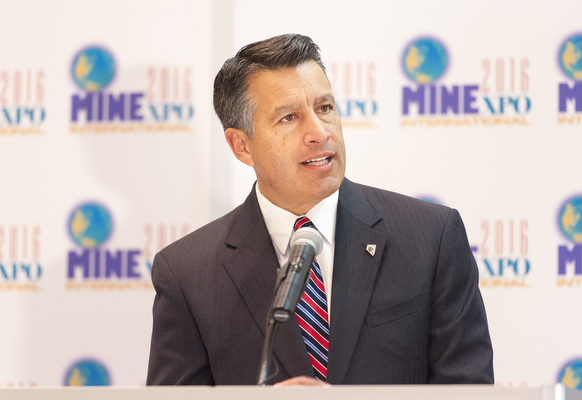 CARSON CITY — Nevada state Treasurer Dan Schwartz on Friday ratcheted up his criticism of Gov. Brian Sandoval over a stalled economic development deal that lured electric car maker Faraday Future to Southern Nevada, advising him to "make sure they hold a seat for you on the lifeboats."
Schwartz's comment was included in a statement responding to remarks by Sandoval and North Las Vegas Mayor John Lee on Thursday on the $1 billion Faraday Future plant and the tax incentives it will receive if construction proceeds.
Sandoval said the Faraday project is just one part of an overall development plan for the Apex Industrial Park site and that safeguards are in place to ensure that taxpayers aren't on the hook if the company's plans to build electric cars there don't proceed.
Sandoval questioned if Schwartz had read the legislation or "understands the agreement" between the state and Faraday.
"Although the treasurer appears to expect failure, I have always planned for success," he said.
North Las Vegas Mayor John Lee also defended the project, saying that "Faraday has already invested over $120 million of its own money in our community and its efforts are more deserving than absurd statements from a political opportunist who continually demonstrates he has no understanding of the safeguards in the legislation that fully protect the state and taxpayers."
Schwartz said in response on Friday: "I applaud Governor Sandoval's optimism and Mayor Lee's faith.. I, too, want to see the Apex project succeed. I support all economic development that has been fully vetted and is viable.
"But their math is obviously different than mine on the Apex project. Faraday Future has no revenues other than contributions from (Chinese billionaire Faraday backer) Jia Yuting and, ultimately, Leshi (a holding company he controls). As the entire world seems to know, the economic news from both is not good. Wishful thinking and holding hands will not change that.
"At this stage, my only advice to both (Sandoval and Lee): End the charade. And, make sure they hold a seat for you on the lifeboats."
Sandoval has expressed concerns about the Faraday project not moving forward as planned but repeatedly has said that the tax incentive package approved by the Legislature at a special session in 2015 is contingent upon the company making the promised $1 billion investment in the factory.
Last month the Republican governor stated that the state has protections in place to ensure there are no financial consequences for Nevada taxpayers should the project not be completed.
Legislation providing tax incentives to Faraday require the investment before the company receives any abatements, he said. It also requires posting of a security bond before any bonding is approved by the state, Sandoval said.
As chairman of the state Board of Finance, which will have final approval of any bonding, Sandoval said: "I will be front and center to ensure that Faraday has done everything that they said they will do that they are supposed to do as required by state law."
Schwartz, a Republican, has long criticized the project over concerns about the financial backing.
"We're increasingly more concerned than we were before that this is just a big Ponzi scheme," he said last month.
At the time, Schwartz called out Faraday's relationship with Chinese backer Jia, saying the mysterious billionaire had been shifting money around in seemingly nefarious ways at a time when Faraday had fallen short on more than $57 million in payments that were due to an escrow account to pay contractors.
"I'm being very literal when I say Jia personally does not have the cash," Schwartz said.
Schwartz also suggested Sandoval and Steve Hill, executive director of the Governor's Office of Economic Development, might have been too hasty to extend benefits to Faraday.
"The state of Nevada got behind this project, and no one's seen any financials," Schwartz said.
Sandoval and Lee did declined comment on Schwartz's latest statement.
Art Marroquin contributed to this report. Contact Sean Whaley at swhaley@reviewjournal.com or 775-461-3820. Follow @seanw801 on Twitter.