Nevada to get more than $4.5B in COVID relief bill
Updated March 10, 2021 - 4:27 am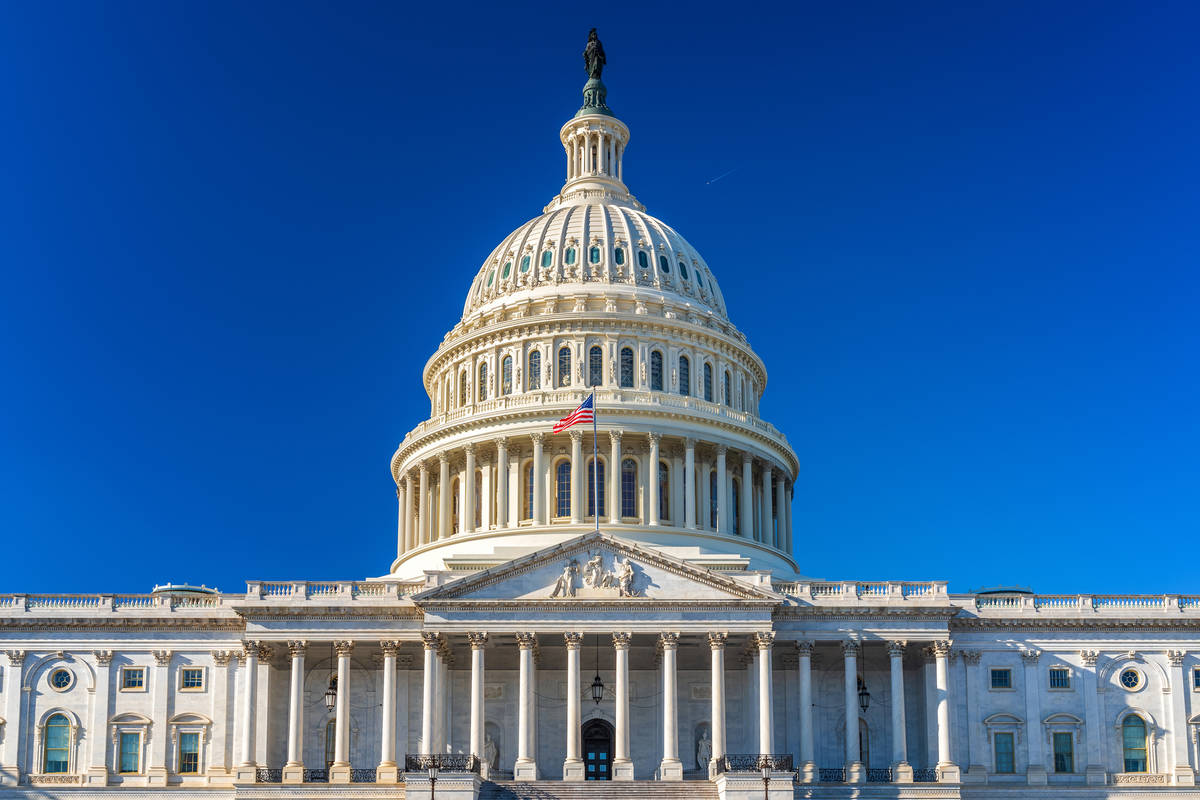 WASHINGTON — The $1.9 trillion economic recovery package before the House includes $4.5 billion for the state of Nevada, its counties and cities, as well as money for schools, mass transit and McCarran International Airport, officials said Tuesday.
The bill cleared a critical hurdle Tuesday when the House voted 219-210 along mostly party lines to begin debate. Final passage and President Joe Biden's signature is expected Wednesday.
The windfall of assistance for Nevada was praised by Democrats in the delegation who worked to alter formulas to funnel more funding to the state due to the high number of people unemployed from closures in the tourism and hospitality industry.
Budget shortfalls have prompted state and local governments to seek federal aid to avoid layoffs and cuts to public services.
"This funding will be a lifeline for Nevada's state and local governments whose budgets have been devastated by the coronavirus pandemic and will keep educators, health workers and first responders on the job," said Sen. Catherine Cortez Masto, D-Nev.
The bill passed the Senate last week on a 50-49 vote.
'Stoked' by the bill
Nevada Reps. Dina Titus, Steven Horsford and Susie Lee, all Democrats, were instrumental in crafting the original bill that provides money for schools, nutrition, money for local governments and other programs.
"I'm stoked," Horsford said.
Titus led an effort to change the formula for distributing $350 billion in aid to states and cities. The change requires the federal government to take into account the unemployment rate of a state when divvying up the money.
Of the funds for governments, Nevada state government would get $2.9 billion, Clark County would see $439 million and Las Vegas would receive $130 million. There are funds for other Nevada counties and cities, including Henderson and North Las Vegas.
"Nevada has the second-highest unemployment rate in the country and yet previous federal relief efforts treated our state the same as others," Titus said.
She said she worked with House Speaker Nancy Pelosi's office to make sure federal funds were distributed in part based on the local unemployment rate.
"The bill will provide Nevada and Clark County the flexibility we need to accelerate vaccine distribution, keep frontline workers on the payroll and help get our economy back on track," Titus said. "Nevada is finally getting its fair share."
Lee said the funds would help the state with Medicaid, unemployment, child care, housing and more.
She is working on another bill to boost Medicaid funding that would help states provide medical and health care to those who are most in need. That bill is likely to be added to another recovery bill later in the year.
Final vote Wednesday
The House is expected to pass the revised American Rescue Plan on Wednesday.
President Joe Biden has pushed Congress to send him the bill as soon as possible. It's the first major piece of legislation passed since Biden was sworn in Jan. 20.
Republicans are united in their opposition to the massive stimulus package due to its hefty price tag and signs the economy is beginning to rebound after a year of restrictions and previous stimulus bills.
The GOP estimates the rescue package before Congress now would create $4.1 trillion in new debt, and spend funds on projects that include $166 million for an Amtrak scenic route through Montana, Oregon and Washington. The bill also expands the Affordable Care Act.
Rep. Mark Amodei, the lone Republican in the Nevada delegation, voted against the first House bill, saying it included too many items to advance "political agendas." He said he did not oppose funding for schools and vaccines.
GOP lawmakers were opposed to the $350 billion for states and cities, saying the lack of accountability could allow the funds to be used to bail out public service pension accounts that were mismanaged.
Schools spending popular
There was little opposition on either side of the aisle for federal help to get schools up and running.
Biden sought federal funds to modify schools and prepare them for opening and provide a safe environment for students. Clark County would see about $835 million in funds.
Nutritional programs are enhanced in the bill, providing more money for lower-income families to purchase food, as well as assistance for mortgages and rent.
Transportation projects and improvements are also addressed. McCarran International Airport would see about $171 million, and Regional Transportation Commission of Southern Nevada would get $130 million.
Titus also was instrumental in targeting about $450 million in assistance through grants to communities that suffered economic hardship due to tourism and hospitality closures. Cortez Masto and Rosen said the Senate upped that amount to $750 million, which would be distributed by the Economic Development Administration.
Nevada cities would be eligible to apply for those grants.
Cortez Masto also worked to change federal subsidies for COBRA health care for furloughed and laid off workers. The federal government will pay 100 percent of the subsidy, up from 85 percent.
That change was hailed by Geoconda Arguello-Kline, secretary-treasurer of Culinary Workers Union Local 226, whose workers have been hard hit by casino and hotel closures and cutbacks during the pandemic.
"It's been very difficult for workers and their families," Arguello-Kline told Nevada reporters about the economic strain on jobless workers to pay COBRA subsidies to keep health insurance.
Mario Sandoval, laid off from his job at Binion's downtown, said the economic downturn has been hard on him and forced him to rely on his family for help.
"I'm receiving unemployment benefits, but it's not enough," Sandoval said. "We need that health insurance."
Direct aid
Many Nevadans will also receive direct payments from the federal government of $1,400 if they make less than $75,000 per year, or $2,800 per couple.
Federal unemployment assistance, which at $300 per week expires at the end of this week, would be extended into the fall, language that Horsford spearheaded through the House Ways and Means Committee.
Horsford also co-sponsored language to increase the Child Tax Credit from $2,000 annually to $3,600 per child.
"In my district, that is a game changer," said Horsford, whose congressional boundaries include North Las Vegas, Nye and Lincoln counties. "It will help lift people out of poverty."
Nevada has consistently ranked as one of the highest states for unemployment. Las Vegas unemployment was at 9.2 percent in December, behind only Hawaii, according to the U.S. Bureau of Labor Statistics.
Congress also added small business loans to help keep shops open as entrepreneurs struggle to survive the economic downturn and avoid laying off workers.
The bill also includes money to ramp up production of vaccines and distribute them nationwide as Biden pushes his goal of 100 million vaccinations in his first 100 days in office.
Contact Gary Martin at gmartin@reviewjournal.com. Follow @gmartindc on Twitter.