Nevada voter ID proposal brings contentious debate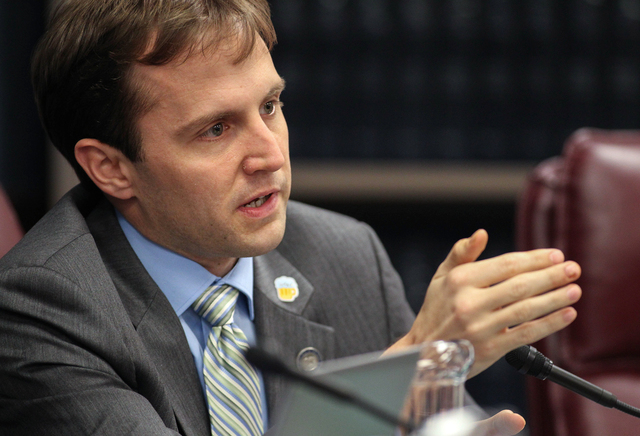 CARSON CITY — Henderson Assemblyman Lynn Stewart says he has to show his driver's license to get on an airplane, to withdraw cash at the bank or to make a purchase with a credit card.
The same requirement should be in place when Nevadans exercise one of their most precious constitutional rights by voting, the Republican lawmaker said Tuesday in what became a contentious, two-hour debate over the need for such a measure.
Stewart said it is just one more security measure to ensure that someone who casts a vote is who he says he is.
Stewart and Assemblywoman Jill Dickman, R-Sparks, supported the measures, Assembly Bills 253 and 266, in a hearing before the Assembly Legislative Operations and Elections Committee. No action was taken on the measures.
The bills would provide for a free voter ID card issued by the Department of Motor Vehicles if an individual did not have the required identification.
But the controversial issue showed the fundamental differences of opinion that individuals have on the issue. The hearing also got heated at times among members of the committee and with witnesses.
Several lawmakers on the committee expressed concerns that any identification requirement would stand in the way of some people having the opportunity to cast a ballot.
"We're talking of putting a major obstacle in front of a fundamental right," said Assemblyman Elliot Anderson, D-Las Vegas.
He asked if the measures are being sought just because of the anxiety some people may have that voter fraud is occurring, or because there is evidence that Nevada elections are unsafe.
There was no evidence of serious voter fraud in Nevada presented at the hearing.
But Assemblyman John Moore, R-Las Vegas, asked how Nevadans would know if there is voter fraud if identification is not required.
Former Assemblywoman Sharron Angle, who lost the 2010 U.S. Senate race to Harry Reid, testified for the bill, saying "we do have a voter impersonation problem across the country."
Anderson asked if she has found examples of voter impersonation in Nevada in her investigations.
Angle said no, but that there is "anomalous activity that goes on in Nevada elections that is not easily explained."
Alan Glover, representing Secretary of State Barbara Cegavske, said the office supports the bill.
Numerous witnesses testified both for and against the measures.
Opponents said some poor, homeless and elderly would be disenfranchised if a voter ID requirement becomes law in Nevada because they do not have the required paperwork, such as birth certificates, to obtain free voter IDs.
Lonnie Feemster, speaking for the Reno-Sparks branch of the NAACP, said the intent of the bills might not be to disenfranchise black voters, but that will be the result.
Assemblywoman Michele Fiore, R-Las Vegas, asked Feemster why the "race card" always comes into play in such debates.
Assemblyman Tyrone Thompson, D-North Las Vegas, responded that Feemster presented facts and objected to the use of the term race card.
Both bills have a nearly $300,000 fiscal note from DMV to provide the free voter identification cards in fiscal year 2016, with only modest ongoing costs. The agency estimated that about 21,000 registered Nevada voters would need an ID under the requirement.
Several witnesses testified that the fiscal note is incomplete because there is no estimate for the voter outreach that would be needed to educate voters on the new ID requirement.
Clark County Registrar of Voters Joe Gloria testified neutral on the bill with amendments, including allowing more forms of ID to be eligible under the law. He said there are very few documented incidents of voter fraud in Clark County.
Contact Sean Whaley at swhaley@reviewjournal.com or 775-687-3900. Find him on Twitter: @seanw801.