Nevada women will be key in 2018 elections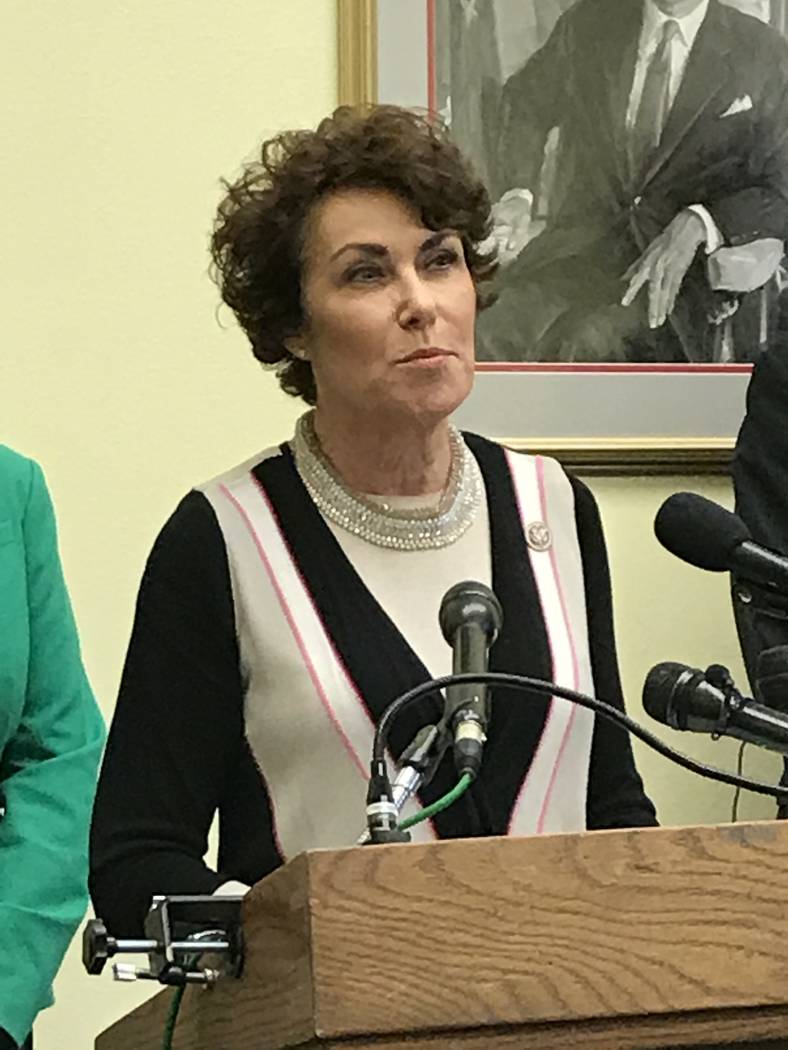 Growing up in a religious Southern California household, Jazzmyne Lizarraga-Valle couldn't even talk about sex.
But three months ago, the aspiring teacher proudly held a sign that read "Reproductive Freedom For All" as she marched among thousands of people in Nevada's Women's March. The event marked the height of a movement that put women in the spotlight and reinforced their role as a force to be reckoned with — particularly at the polls.
The 2018 midterm elections will be a defining moment for women in Nevada. State voters could elect their first female governor. They could choose a second female senator to represent them in Washington. And they might choose a woman to be the next lieutenant governor.
"This is a historic moment for Nevada," said Eric Herzig, chairman of the political science department at the University of Nevada, Reno. "You have a number of high-profile and very strong female candidates on the ballot. And with the Women's March, Me Too movement, the outrageous comments Trump directs toward women — if this doesn't mobilize female voters, then I don't have an explanation."
Lizarraga-Valle doesn't need an explanation to get involved. The Latina, who married her wife in April, sprung into action because of President Donald Trump's policies related to women's health care. The San Diego native connected with Nevada's chapter of NARAL Pro-Choice America, a nonprofit that advocates for reproductive rights, and plans to knock on doors and make calls for women candidates who will fight for her.
"As women, we have to stay on top of voting," said Lizarraga-Valle, 27. "It's fun to go to rallies and post your thoughts on Facebook, but having a real dialogue with people and helping them understand where you're coming from is what makes a difference."
It started in 2016
In the run-up to the 2016 presidential election, voter registration among Nevada women soared. Census data shows 62 percent of the state's registered voters in 2016 were women — a whopping 25 percent increase from 2014. The mayors of the state's three largest cities — Las Vegas, Reno and Henderson — are women.
And in Carson City, 40 percent of the Legislature was comprised of female lawmakers last year. It led to groundbreaking legislation for women, including a law allowing women to pick up a year's supply of birth control at once, a bill to protect and accommodate pregnant women at work and a November ballot initiative to exempt feminine hygiene products from sales tax.
Sen. Yvanna Cancela, who championed the "pink tax," expects the wave of women's involvement in politics will rise even higher this year.
"I think what we're experiencing is women voters realizing the power they have to sway key elections," Cancela said. "And using that power to force conversations that are important to their communities."
Women in communities of color are an especially important part of the voting bloc, analysts say. In Alabama's highly contested U.S. Senate election in December, 98 percent of black women voted for Democrat Doug Jones, giving him a narrow victory over Republican Roy Moore, who was accused of sexually assaulting teenage girls.
"Like any other group of people who unite to pursue common interests or to support a particular candidate, women have the ability to organize, to be vocal, to encourage involvement in a particular cause," said Nevada Secretary of State Barbara Cegavske, who is running for re-election.
'Stay in the kitchen'
Women are expected to play a critical role in Nevada's U.S. Senate race where Rep. Jacky Rosen is challenging incumbent Sen. Dean Heller. And in the governor's race, Clark County Commissioner Chris Giunchigliani could become the first female governor in the state's history.
If elected, Giunchigliani would be the seventh female governor in the country.
But her rise in politics wasn't easy. When Giunchigliani in 1990 ran for State Assembly — her first run at elected office — she says, her male opponent told her, "Chris, you need to stay in the kitchen. That's where you belong.'" He also objected to her decision to keep her last name after marriage and said he went door-to-door to campaign against her.
Giunchigliani handily beat him by about 260 votes.
"It makes me want to fight harder," Giunchigliani said. "You've still got a lot of bullying and intimidation, and we have to validate ourselves more as women. I never let that stop me."
NARAL, the group Lizarraga-Valle joined, is motivating females to make their voices heard in Carson City and at the polls. Last year, the group bused women from Las Vegas to Carson City every month to testify for certain laws. Members this year are knocking on doors, calling voters and hosting house parties — many of them are first-time activists.
"People are tired of seeing the politics being played with women's lives," said Caroline Roberson, the group's Nevada state director. "They'd rather see people focus on issues like putting people to work and the economy."
Contact Ramona Giwargis at rgiwargis@reviewjournal.com or 702-380-4538. Follow @RamonaGiwargis on Twitter.