Nevada's Sen. Heller has cordial meeting with Supreme Court nominee Gorsuch
February 9, 2017 - 11:45 am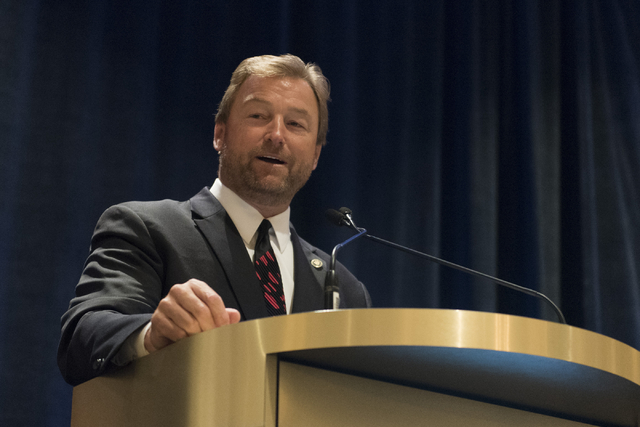 WASHINGTON — Federal Judge Neil Gorsuch met Wednesday with U.S. Sen. Dean Heller of Nevada during a round of courtesy calls on Capitol Hill to build support for his U.S. Supreme Court nomination.
Neal Patel, a spokesman for the Republican lawmaker, described the meeting as cordial, adding that Heller will wait until hearings to determine how he will vote.
After Gorsuch's nomination last week, Heller praised President Donald Trump's selection of a conservative jurist for the post that has been vacant since Justice Antonin Scalia died last February in Texas.
"I hope to fill this vacancy with a well-qualified candidate who supports a conservative judicial philosophy," he said at the time.
A meeting with U.S. Sen. Catherine Cortez Masto, D-Nev., has yet to be scheduled, although Gorsuch is expected to continue his courtesy calls before hearings start in six weeks.
Cortez Masto said she has questions about judicial rulings by Gorsuch, but will weigh the hearings with an open mind before she makes a decision on the nomination, said spokesman Rey Benitez.
"I believe Judge Neil Gorsuch views on the issues and his full record deserves to be intensely scrutinized," Cortez Masto said when the judge was nominated.
The meeting between Heller and Gorsuch was in quiet contrast to the controversy created by Gorsuch's meeting with Sen. Richard Blumenthal, D-Conn., also on Wednesday.
Met w/ fellow westerner Judge Gorsuch. Talked #Constitution as well as protecting our freedom & values. #SCOTUS pic.twitter.com/eKQCtRM1La

— Dean Heller (@SenDeanHeller) February 9, 2017
Blumenthal later said in an interview that Gorsuch told him during the meeting that he found Trump's tweets criticizing a federal judge in Washington after the jurist put his executive order on immigration on hold "disheartening" and "demoralizing."
In a series of tweets after U.S. District Judge James Robart issued a temporary restraining order Friday to block implementation of Trump's travel ban on seven predominantly Muslim countries, Trump blasted him as a "so-called judge" and said the ruling "put our country in such peril. If something happens blame him and court system."
Trump turned his ire on Blumenthal early Thursday, referring to a seven-year-old controversy surrounding the senator's military record.
"Sen. Richard Blumenthal, who never fought in Vietnam when he said for years he had (major lie), now misrepresents what Judge Gorsuch told him?" Trump tweeted.
In addition to Blumenthal and Heller, Gorsuch met Wednesday with U.S. Sens. Jeff Flake, R-Ariz., Heidi Heitkamp, D-N.D., Tom Cotton, R-Ark., and Claire McCaskill, D-Mo.
Contact Gary Martin at 202-662-7390 or gmartin@reviewjournal.com. Follow @garymartindc on Twitter.
RELATED
Trump nominates Neil Gorsuch to fill Supreme Court vacancy