New Nevada Supreme Court justice has 'pursuit of justice' in her heart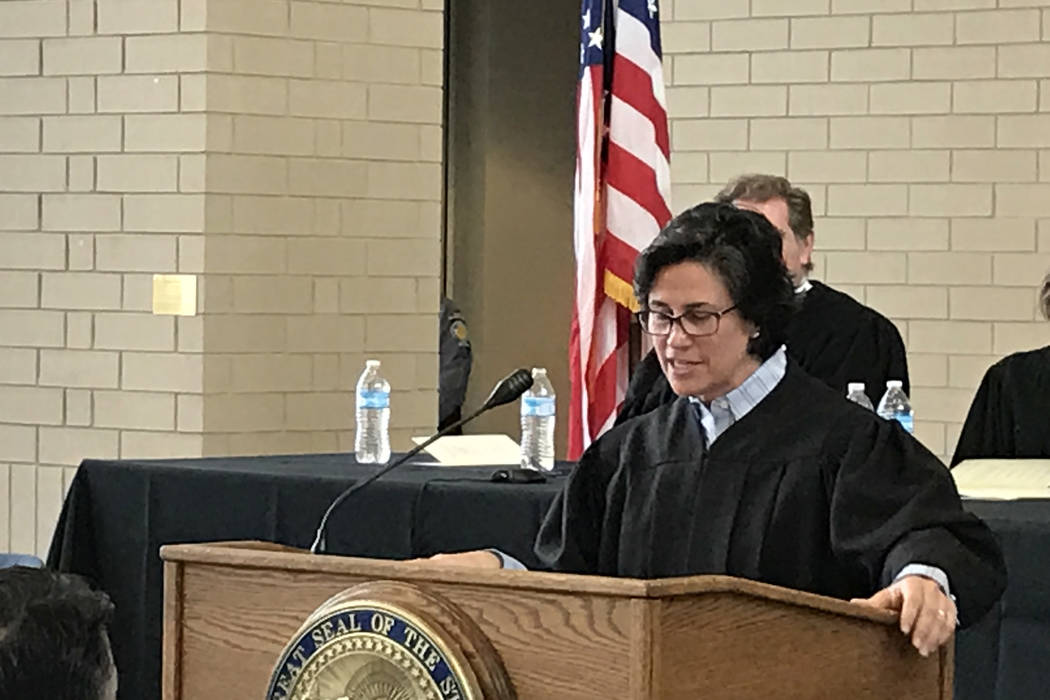 CARSON CITY — Lidia S. Stiglich was formally sworn in Thursday as the newest member of the Nevada Supreme Court during an investiture in Carson City.
Hundreds of colleagues, dignitaries and judges filled the lobby at the Nevada State Library and Archives on the Capitol grounds to witness the swearing in ceremony.
Stiglich, 47, was appointed to the high court last fall by Gov. Brian Sandoval to fill a vacancy created with the retirement of Justice Nancy Saitta. Stiglich joins Justice Kristina Pickering as the second woman on the seven-member high court. She is also the first openly gay justice in Nevada history.
This is the second time she was appointed by Sandoval. In 2012, the governor named her to Washoe County District Court in Reno. She was subsequently elected in 2014.
During her tenure there, she received a more than 96 percent approval rating from lawyers, a ranking few if any judges have obtained, said Chief Judge Patrick Flanagan.
'HIGHLIGHT' FOR SANDOVAL
Flanagan praised Stiglich for her character and work ethic, calling her "a dynamic force" on the bench. He credited her many accomplishments, but particularly noted her establishment of a Young Offender Court designed to help younger offenders right the direction of their lives with intervention from social service agencies and law enforcement.
"Because of her, these young adults are safe and on the road to recovery," Flanagan said.
He also praised Sandoval for appointing her, telling the governor, "Good choice." Flanagan also had advice for the justices: "Buckle up."
Sandoval thanked Stiglich for her "lifelong commitment to justice, public service and … continued dedication to our great state."
"We're truly fortunate to have someone of your caliber on our state's highest court," Sandoval said. "I mean this. Appointing you to the Nevada Supreme Court is one of the highlights of my service as governor."
Stiglich was accompanied by her long-time partner, Michon Martin, and other family members. The couple's 12-year old daughter, Sophia, held a family bible as her mother took her oath before donning her robe.
'JUSTICE IN MY HEART'
Stiglich was humble in her address.
"Today I look out and I see so many of the threads of my life," she said.
"I thank you all. I love you all; my family, my friends. And to know me is to know that my friends are my family, and my family are my friends."
She thanked her colleagues and speakers at the investiture for their kind words and confidence.
"You inspire me to work harder, reach higher," she said.
Stiglich said she was awed to join other members on the high court, and gave her commitment to learn from them to "ensure justice and fairness and equality under the law."
She said her goal is to show up every day "with the faces of Nevadans in my mind" and the "pursuit of justice in my heart."
Contact Sandra Chereb: schereb@reviewjournal.com or 775-461-3821. On Twitter: @SandraChereb