New senators Rosen, Sinema at forefront of new era for women
Updated November 13, 2018 - 7:47 pm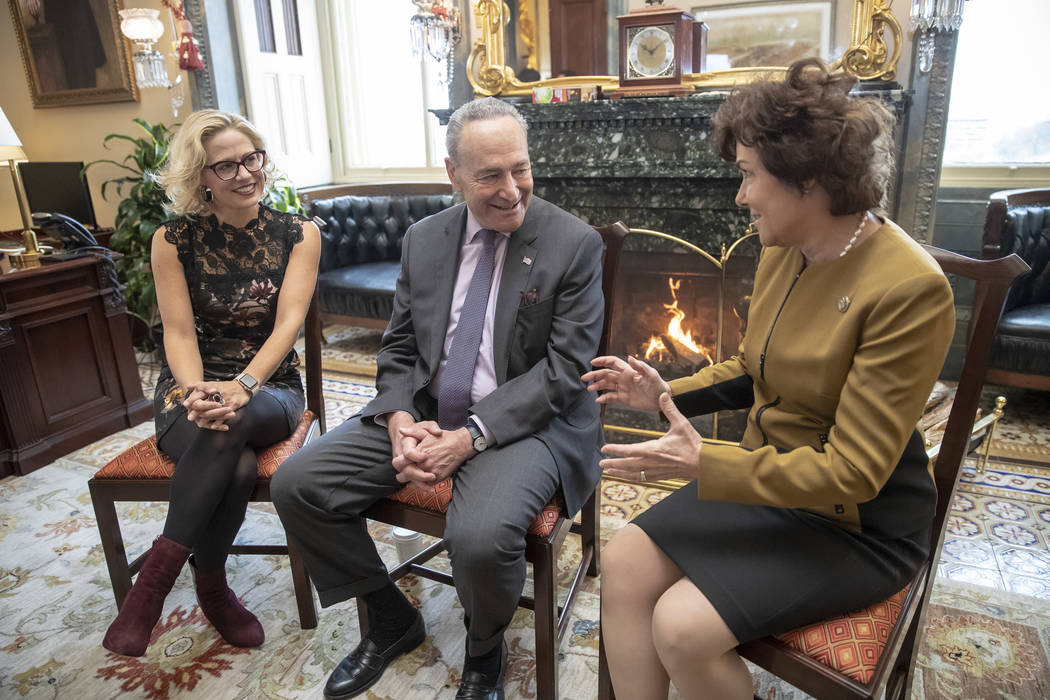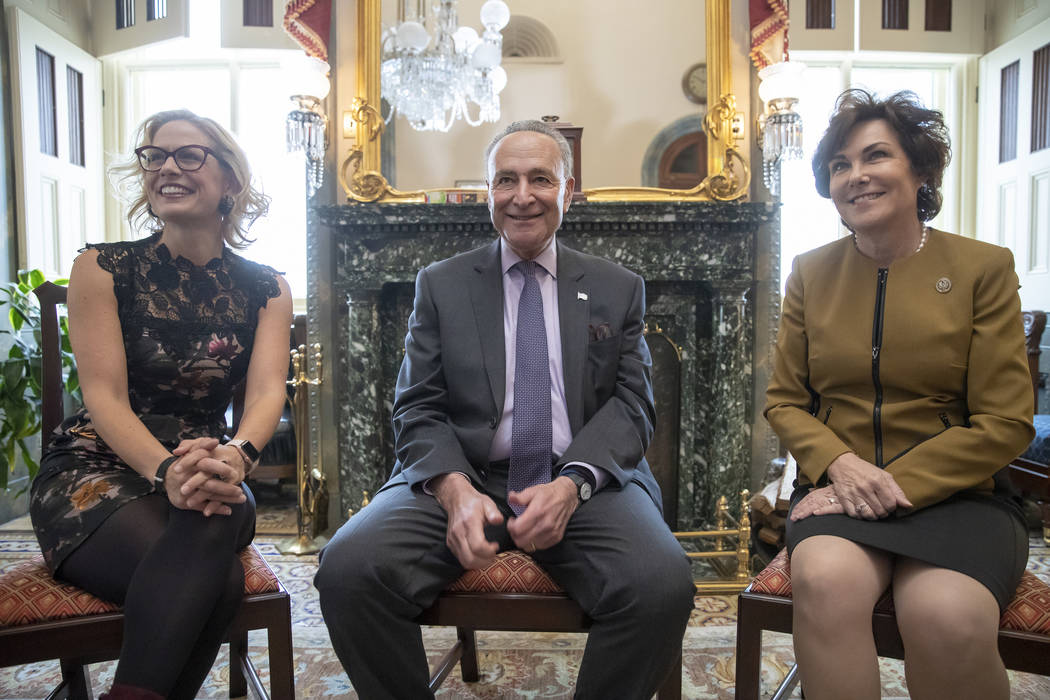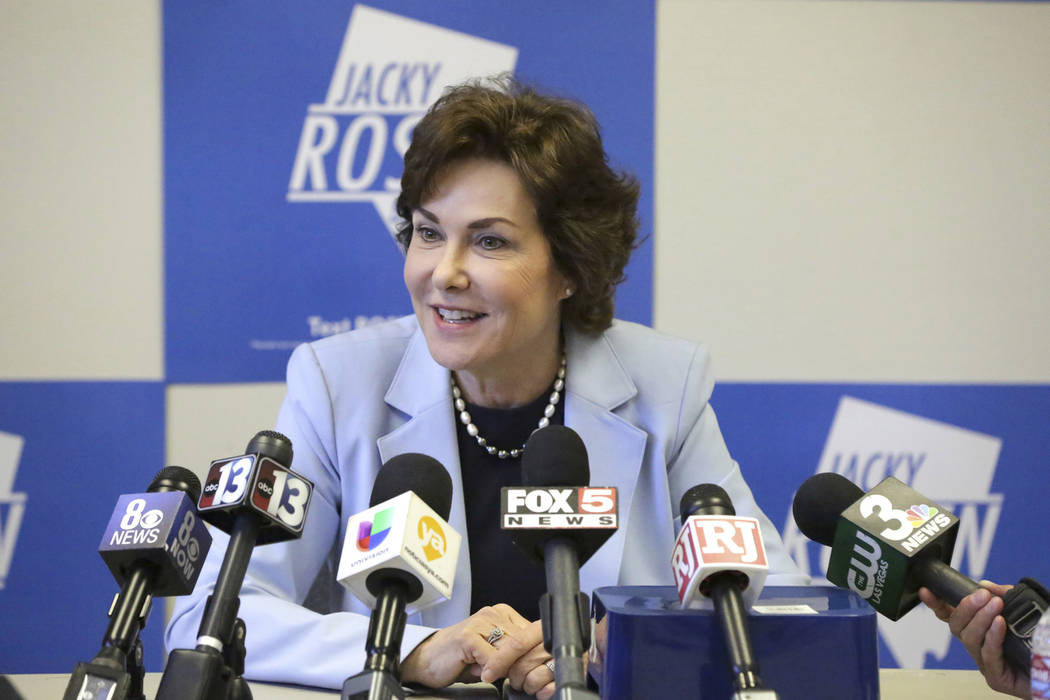 WASHINGTON — Jacky Rosen of Nevada and Kyrsten Sinema of Arizona, were in Senate chambers Tuesday with Minority Leader Chuck Schumer to usher in a new era of the "Women of the West."
"Two new great women Democratic senators from the western part of the United States," Schumer beamed. "So proud we'll be working with them in January."
Meanwhile, House Minority Leader Nancy Pelosi pushed to regain her speakership, noting the pink wave of women who helped her party take by control of the House.
Republicans also made gains, and Senate Majority Leader Mitch McConnell, R-Ky., will appear Wednesday with newly minted GOP senators, including Mitt Romney, the successor to Sen. Orrin Hatch, who did not seek re-election in Utah.
Republicans improved their slim majority in the Senate but lost two seats they had bitterly defended.
Rosen dispatched incumbent Republican Dean Heller; Sinema defeated Martha McSally, a Republican, to become the first woman elected to the Senate in Arizona. She won the seat vacated by Sen. Jeff Flake, R-Ariz.
Rosen and Sinema were high points for Democrats on election night, along with a wave of women candidates who helped flip the House.
The two new women Democratic senators took a photograph Tuesday with Schumer, D-N.Y., who dubbed them the "Women of the West."
"I'm honored and humbled to be given the opportunity to fight for Nevada families as their next senator," Rosen said later.
"I got into politics to make a difference, and I'm looking forward to putting Nevada's working families first," she said.
Rosen joins Sen. Catherine Cortez Masto, D-Nev., elected in 2016 to become the first woman to represent Nevada in the Senate and the first Latina to serve in the upper legislative chamber.
Nevada joins California, Washington, Minnesota and New Hampshire as states represented by two women in the Senate.
Women were pivotal in the Democratic takeover in the House, and Pelosi has made that a part of her pitch to reclaim the gavel she once held before Republicans took control of the House in 2010.
Rep. Dina Titus, D-Nev., said the election results reflect that women were energized this year, by economic issues — like wages and health care — and by the president's "total disregard for women."
In Nevada, Susie Lee defeated Las Vegas attorney Danny Tarkanian to join Titus in the House and form a women majority in the state's congressional delegation with Rosen and Cortez Masto.
Also elected was Steven Horsford, a Democrat, and a former congressman who succeeds Rep. Ruben Kihuen, D-Nev., who did not seek re-election.
Rep. Mark Amodei was easily re-elected as the state's only congressional Republican.
Meanwhile, no opposition has emerged to Pelosi for the speakership. But pre-election polls showed the California Democrat more polarizing than President Donald Trump.
And many Democrats who won in centrist congressional districts, or those that leaned Republican, distanced themselves from her and left-leaning proposals on health care, like a single-payer health care system.
Pelosi has tamped down expectations of impeachment proceedings against Trump, although Democrats said they expect to fulfill oversight responsibilities of the House following two years of Republican control of the chamber and GOP avoidance of confrontation with the administration.
Immediately after the election Trump fired Attorney General Jeff Sessions, who had recused himself over the special counsel Robert Mueller's investigation into Russian meddling in the 2016 presidential election and foreign ties to the Trump campaign.
Trump has called the Mueller investigation a "witch hunt," and appointed acting Attorney General Matthew Whitaker, who is now overseeing the investigation.
Schumer called Whitaker a "partisan loyalist" on Tuesday and said on the floor that the Senate should pass legislation in the waning days of the 115th Congress to "protect the integrity of the Russian investigation."
House Democrats who will rise to chair powerful committees have also sounded an alarm that the president is moving to curtail the investigation with the firing of Sessions, a concern the White House has outright dismissed.
But Whitaker made comments critical of the investigation before his appointment, and some Senate Republicans, particularly those serving out their terms in the lame duck session like Trump critics Flake and Sen. Bob Corker, R-Tenn., could block attempts to prematurely end the probe.
Meanwhile, Pelosi has pledged to improve health care and tackle other issues that Democrats poll-tested before the election.
Rosen said her top focus in the Senate "will be fighting to protect Nevadans' access to health care, including protections for pre-existing conditions."
Trump has also pledged bipartisan cooperation on issues like infrastructure, where lawmakers in both parties are eager to spend federal funding to improve roads and transportation systems with improvement projects that provide jobs.
Nevada would be well positioned in a federal surge in infrastructure improvement projects, with Titus likely a House Transportation and Infrastructure subcommittee chairwoman, and Amodei a member of the Appropriations Committee, which legislates all federal spending.
Cortez Masto also serves on the Senate Commerce, Science and Transportation Committee.
Contact Gary Martin at gmartin@reviewjournal.com or 202-662-7390. Follow @garymartindc on Twitter.
Incoming N.Y. congresswoman protests at Pelosi's office
WASHINGTON — Democratic Rep.-elect Alexandria Ocasio-Cortez of New York joined about 200 climate-change activists as they staged a protest Tuesday at the office of House Minority Leader Nancy Pelosi.
Protesters called on Democratic leaders to put forward a "Green New Deal" that includes a swift transition to 100 percent renewable energy in line with findings of a recent report on climate change by United Nations.
Some protesters were arrested Tuesday after refusing to leave a hallway outside Pelosi's office.
Ocasio-Cortez, 29, who is set to become the youngest member of Congress in January, addressed the group briefly before arrests were made.
Pelosi has pledged to reinstate a special committee on climate change after Democrats take control of the House. The California Democrat said in a statement that she welcomes the activists.
— The Associated Press