Number of new COVID-19 cases surges in Nevada, Clark County
Updated June 9, 2020 - 6:04 pm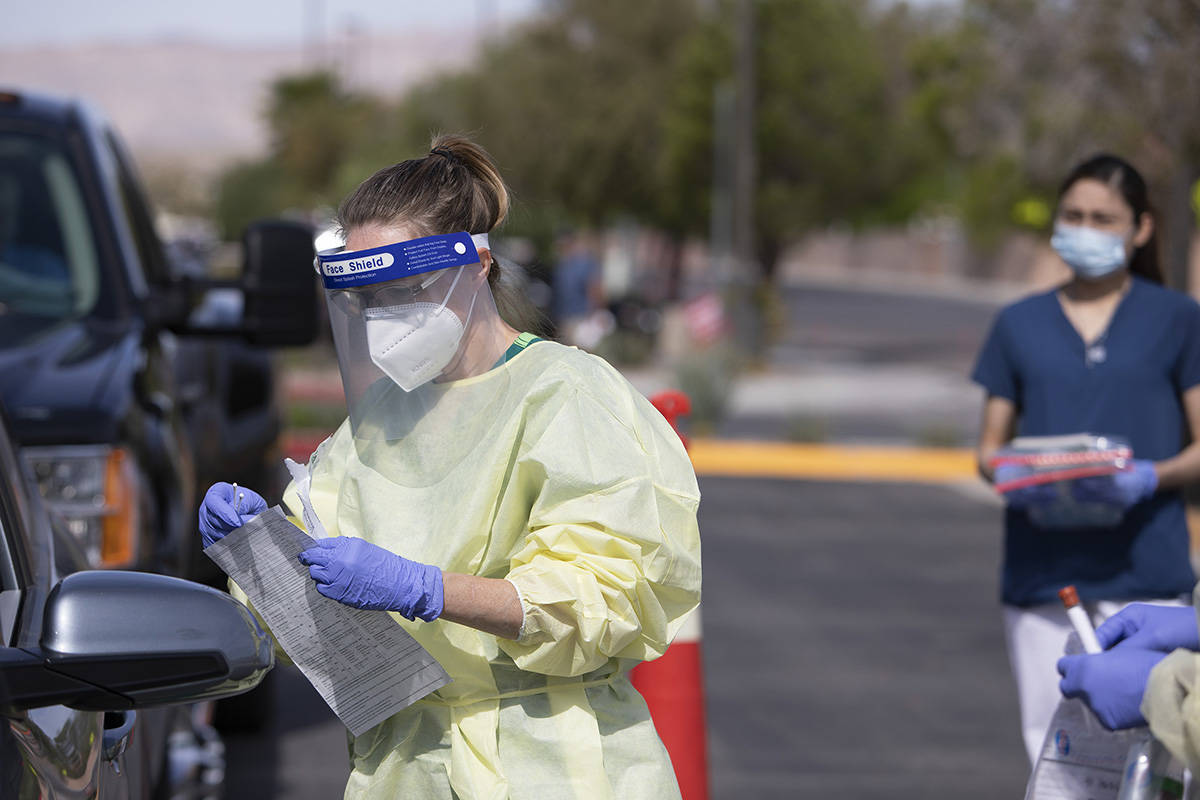 The numbers of new COVID-19 cases in Clark County and the state spiked Tuesday to their highest levels in 2½ weeks.
The county recorded 207 new cases of the disease caused by the new coronavirus over the preceding day, the Southern Nevada Health District reported on its coronavirus web page, the highest figure since it reported 233 cases on May 22. That pushed the case total for the county to 7,799, of which 5,950 people have recovered, according to a district estimate.
"As businesses began to reopen in Nevada and throughout the country and as testing resources became more accessible and more people were getting tested, we anticipated that cases of coronavirus would increase," health district spokeswoman Jennifer Sizemore said.
No cause for alarm
One public health authority said that single-day increases such as those reported by the district and the state, which added more than 240 new cases, is not cause for alarm, given that case totals fluctuate widely from day to day.
"You can't just look at a single-day spike," said UNLV School of Public Health assistant professor Brian Labus, noting it's important to instead look at data trends over longer periods of time.
"A single day of data doesn't mean a whole lot," said Labus, a member of the governor's medical advisory team.
The spike comes as neighboring Arizona and Utah have seen sharp rises in case numbers since the beginning of June, according to Johns Hopkins University. Both are among the 22 states experiencing increases in their numbers of new cases, according to the university's coronavirus tracking data.
It also occurs weeks after Nevada began relaxing closures of "nonessential" businesses ordered by Gov. Steve Sisolak on March 21. The governor allowed some shuttered businesses to reopen on May 9 under Phase One of the state reopening plan. Phase Two, which began on May 29, allowed more businesses to open, and on Thursday, casinos were again permitted to open their doors.
The county also reported two additional fatalities, raising the death toll to 365, according to the district, which released its report several hours later than usual after experiencing technical issues.
Hospitalization rate lower
The number of new cases was well above the daily average of just under 125 over the preceding week. The deaths were below the daily average of just over three during the period.
The hospitalization rate, considered a better indicator of the trend of the outbreak in the county than daily case or death reports, continued to edge lower despite the one-day spike in cases. That figure, which represents the percentage of those who test positive for the virus who end up in the hospital, stood at 17.16 percent as of Tuesday (excluding deaths).
It has been trending steadily lower since peaking at 27.50 percent on April 10.
The most stable indicator of disease transmission is the actual number of COVID-19 hospitalizations, Labus said.
The Nevada Hospital Association is reporting the fourth consecutive daily increase of confirmed COVID-19 hospitalizations across the state, "but hospital capacity remains available and hospitals are not reporting surges," according to a news release from Nevada Health Response, an arm of state government.
Hospitals in Nevada are reporting that 68 percent of total beds are occupied, 66 percent of ICU beds are occupied and only 27 percent of ventilators are in use, according to the state. Hospitals are continuing to report a sufficient amount of the personal protective equipment such as masks that are used by medical staff.
'Still among us'
Meanwhile, Nevada reported 244 new COVID-19 cases on Tuesday, pushing the case total in the state past the 10,000 mark.
"Nevada has flattened the curve, but the virus is still among us," said state epidemiologist Melissa Peek-Bullock. "That's why it is important Nevadans continue to safeguard their health by staying home when possible, washing their hands frequently, wearing a face covering in public and staying at least six feet from other people if possible."
Data posted on the state Department of Health and Human Services' nvhealthresponse.nv.gov website reported Nevada's case total at 10,030. It also recorded two new fatalities, pushing the state death toll to 444.
The new cases were the highest one-day increase reported by the state since 295 new cases were reported on May 22 and well above the daily average of just over 156 during the preceding week.
The spike in cases raised the state infection rate by one-tenth of 1 percent to 5.5 percent. The rate, which represents the number of positive tests divided by total people tested, also is considered a more reliable indicator of the direction of the outbreak in Nevada than daily case and death reports. It has been trending steadily lower since peaking at 12.66 percent on April 23, though it has ticked slightly higher three times this week.
"The increase in our percent positive is a little bit of a concern," Labus said, but he noted that it is still well below what it had been.
State and health district epidemiologists reassign cases and deaths after they are reported to different dates in an effort to better capture when they occurred, so totals announced daily generally don't match the detailed breakdowns provided by the health district.
Contact Mike Brunker at mbrunker@reviewjournal.com or 702-383-4656. Follow @mike_brunker on Twitter. Contact Mary Hynes at mhynes@reviewjournal.com or 702-383-0336. Follow @MaryHynes1 on Twitter.