Nye County sheriff says she will not enforce new Nevada gun law
Updated March 7, 2019 - 7:48 pm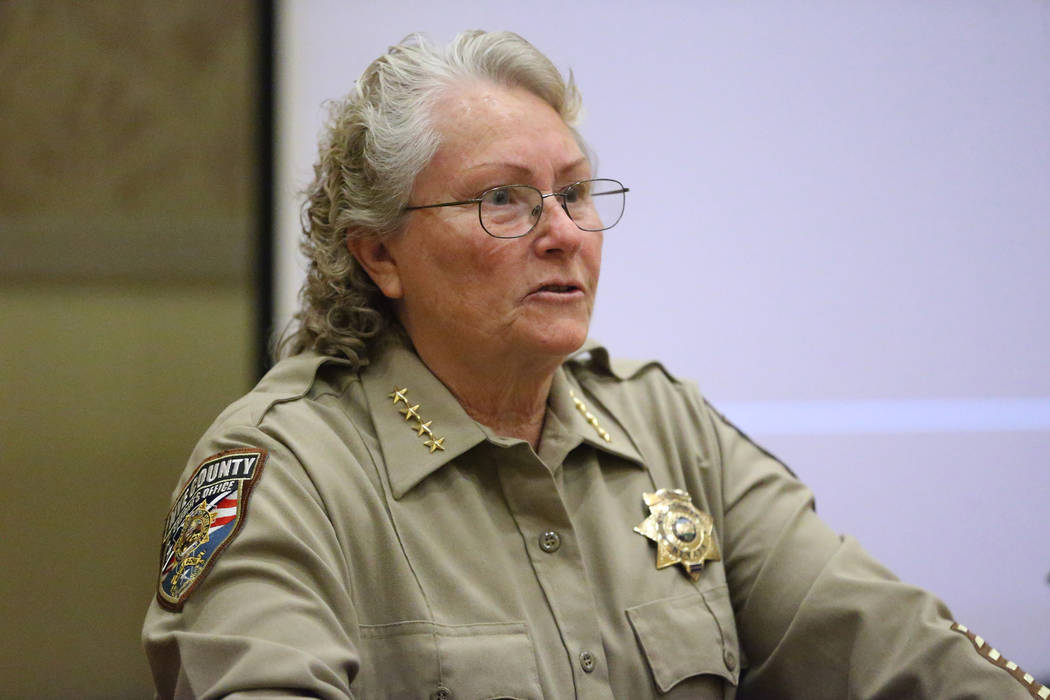 CARSON CITY — The bill aimed at implementing Nevada's stalled background check law might be signed, but the fight is long from over.
In recent weeks, sheriffs from Nye, Pershing and Eureka have indicated that they have no intention of enforcing the background checks once they go into effect next year, arguing that they violate the U.S. Constitution's Second Amendment.
Some rural counties — including Eureka, Lyon, Douglas and White Pine — are considering declaring themselves Second Amendment Sanctuaries in response to the passage of Senate Bill 143, which would require background checks on private firearm sales and transfers and implements the background check measure that was approved by voters in 2016.
"For me, this gun legislation is a political statement and as such is in direct conflict with the Second Amendment's delineated rights," Nye County Sheriff Sharon Wehrly wrote in a letter sent Thursday to Gov. Steve Sisolak.
Wehrly, the latest rural Nevada sheriff to voice displeasure with the bill, compared the legislation to the gun control measures enforced in pre-World-War-II-era Nazi Germany and Adolf Hitler, and said that history "seems to be repeating itself in the United States."
The analogy is a familiar talking point made by gun control opponents, although it rests on less-than-concrete facts, according to the fact-checking website PolitiFact.
Wehrly, who made headlines last year after leaving her gun in a casino bathroom, also accused politicians of using mass shootings in the U.S. to push for laws that prevent people from buying guns, and vowed not to enforce the state law once it takes effect on Jan. 2.
"I will not participate in the enforcement of this new law and certainly won't stand silent, while my citizens are turned into criminals due to the unconstitutional actions of misguided politicians who, for the most part, are trying to do the right thing," she wrote.
Sisolak, in a statement issued Thursday afternoon, said he was aware of the letters from the sheriffs.
"While the law will not take effect until January 2020, I look forward to working with Attorney General (Aaron) Ford and local law enforcement over the next several months to review ways to enforce this law, as is the case with all other Nevada laws that elected officers are sworn to uphold," Sisolak said.
For those counties that want to become a Second Amendment sanctuary, they're likely to run into the same issues that the city of Las Vegas and Clark County did when they tried to ban bump stocks following the shooting at the Route 91 Harvest Festival.
The Legislature in 2015 passed a law that puts control over firearms, accessories and ammunition in the "exclusive domain of the Legislature," and renders any law, rule or ordinance "to the contrary null and void."
Attorney General Aaron Ford, a Democrat, pointed to that law in a statement Thursday.
"As Nevada's top law enforcement officer, I have a constitutional obligation to uphold the laws of the state. That includes a law passed in 2015 by then-Senate Majority Leader, Republican Michael Roberson, to prevent counties from passing their own ordinances that conflicted with state gun laws. Republican Governor Sandoval signed this bill into law," Ford said in the statement. "Just last month, the Nevada Legislature passed a similar law that closed the background check loophole. That law is set to go into effect in January, 2020. Between now and the effective date, I look forward to sitting down with sheriffs and other local law enforcement officials to discuss the best way implement the laws we have sworn to uphold."
Republican state Sen. Ira Hansen, who represents parts of Washoe and Nye counties and all of Humboldt, Pershing, Lander, Mineral and Esmeralda counties, said he's "100 percent for" the rural counties taking a stand against the bill.
"Civil disobedience is pretty darn American," Hansen said Thursday.
But fellow Republican Sen. Pete Goicoechea, whose district covers Elko, Eureka, White Pine, Lincoln and parts of Nye and Clark counties, isn't quite sure boycotting the law is the best plan.
Goicoechea said that he sympathizes with the sheriffs and believes the bill is not enforceable in its current form, but has concerns with them openly vowing to ignore the law.
"That kind of clouds it because when you're sworn in, you take an oath of office that you will enforce the laws," Goicoechea said Thursday.
But there is still time left in the session, which ends in early June, and Goicoechea said he hopes that some changes to the law can be made to help calm some concerns conservatives have with the law.
Several bills to that effect are in the works, he said. But it's unclear how far the proposals will go with Democrats controlling both houses of the Legislature and the governor's mansion.
Contact Capital Bureau Chief Colton Lochhead at clochhead@reviewjournal.com or 775-461-3820. Follow @ColtonLochhead on Twitter.