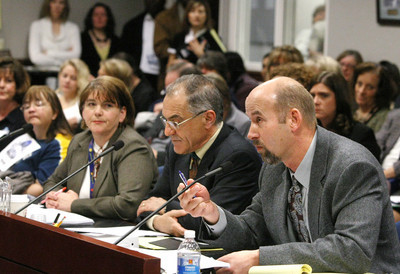 CARSON CITY — In testimony Thursday to Nevada lawmakers, state officials listed tough choices they face as a result of Gov. Jim Gibbons' proposed cuts to mental health services.
Funding for state mental health services would decrease 5 percent, to $473 million, although overall human services spending is up, accounting for about a third of the state's general funds for the coming two fiscal years.
Gibbons has proposed closing 11 of the state's 21 rural mental health clinics, and increasing the number of patients per staff member at mental health facilities in Reno and Las Vegas.
Along with elimination of several staff positions, some custodial and administrative staff also would be cut.
Dr. Harold Cook, head of the Mental Health and Developmental Services Division, said the reductions would mean longer waits for service, fewer job and training programs and possible elimination of services such as life-skill activities.
Cook told a joint Senate-Assembly budget subcommittee, "Sometimes we have to make a choice to reduce a service that may not be essential to the person's health and well-being, in order to provide a service to another person so that their health and well-being can be maintained."
Funding would be eliminated for a contract with the University of Nevada that provides feedback to Cook's agency and a report to lawmakers.
Cook said the budget adds $8 million for three regional centers. About 580 people are on waiting lists for services at the three facilities.
"Despite cuts, they have grown and that's a rare event."
Edward Guthrie of the Opportunity Village Association for Retarded Citizens in Las Vegas said any available federal stimulus funds should be used to reduce program wait lists, which he described as "probably one of the most important parts of the budget."
Jackie Borges came from Reno with her 23-year-old son, Matthew, who has cerebral palsy. She told lawmakers no money is available for programs that would let her get training so she can help her son and start a transition service for young people with developmental problems.
"I would like you to consider putting the needs of disabled citizens first and foremost," Borges said. "I think we are going to be judged on how it is that we treat our most vulnerable."