Opponents, supporters weigh in on naming Las Vegas airport after Harry Reid
Updated March 18, 2017 - 1:48 pm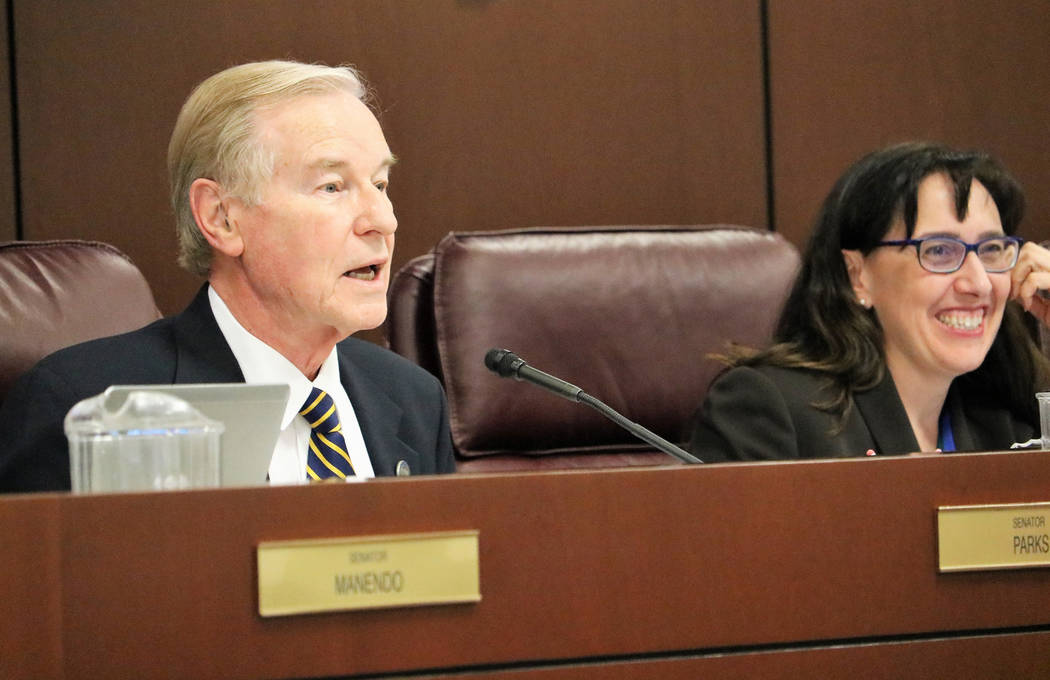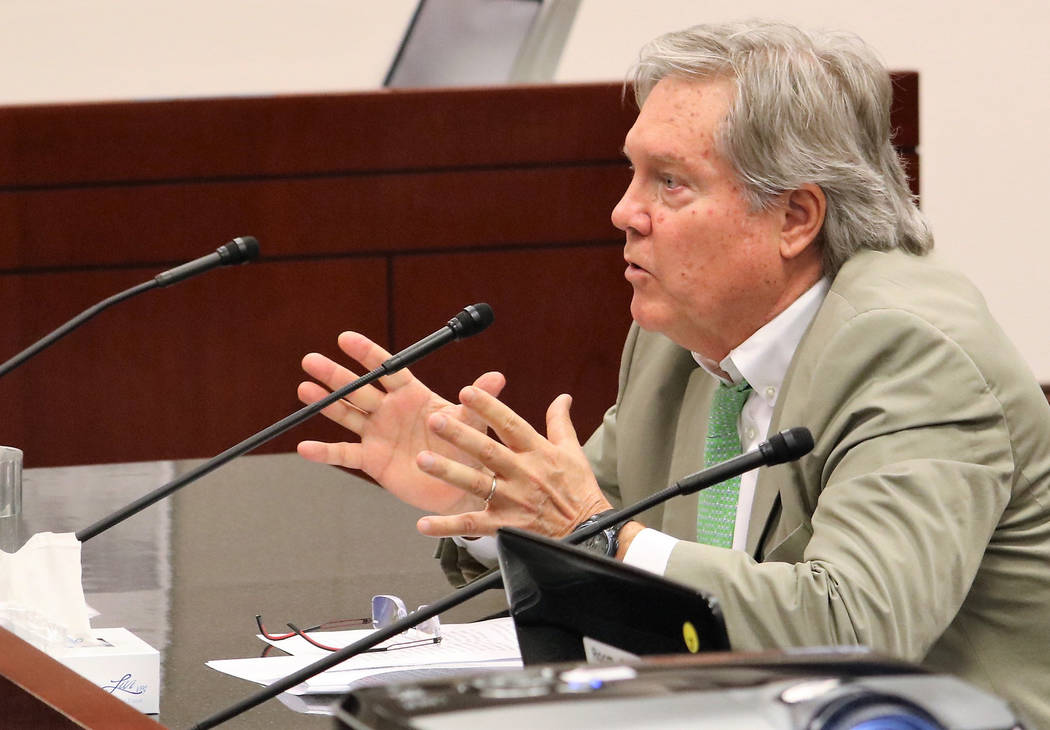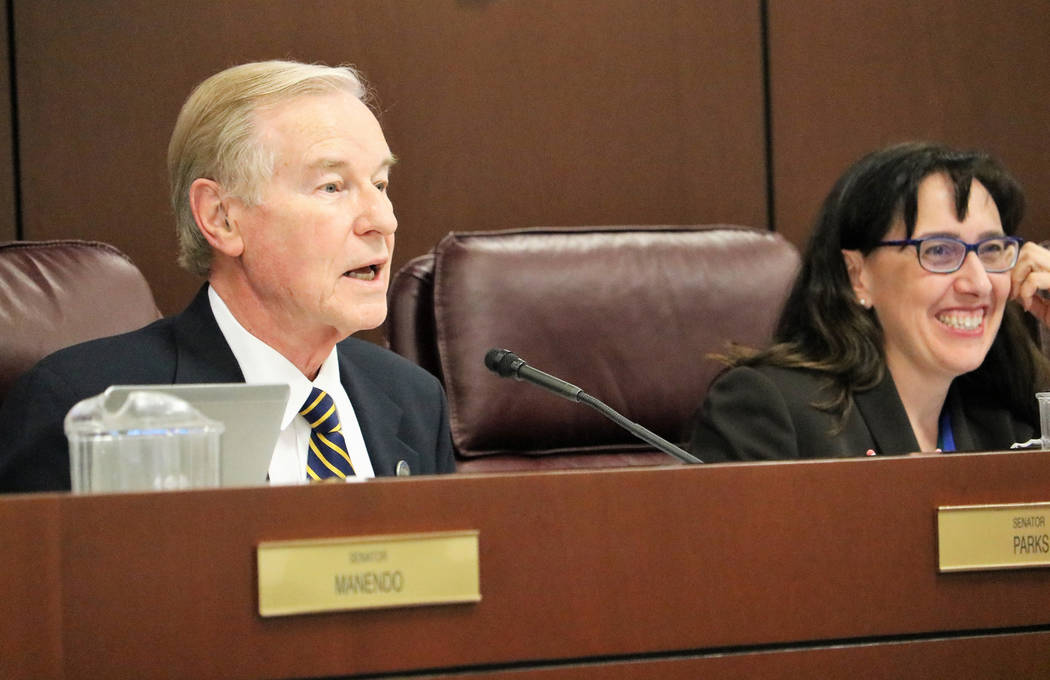 CARSON CITY — Multiple speakers told a Senate panel on Friday that they would be proud to fly through Harry Reid Las Vegas International Airport if a name change proposal became a reality.
Speakers ranging from Assemblyman Nelson Araujo to DREAMer Astrid Silva testified in support of Senate Bill 174 before the Senate Government Affairs Committee.
Letters of support were also submitted from MGM Resorts International and Caesars Entertainment, as well as from congressional representatives, including U.S. Sen. Catherine Cortez Masto and Representatives Ruben Kihuen and Jacky Rosen.
There were opponents, as well, with several focusing not so much on Reid as on the attack on current airport namesake Sen. Pat McCarran, who served Nevada for decades in various public offices.
Supporters of the bill cited examples both of how Reid helped residents and his major accomplishments, such as stopping the construction of Yucca Mountain as a nuclear waste repository. That battle continues to this day.
"This man has given his entire life to public service to the state of Nevada," said Danny Thompson, a former state lawmaker and former head of the Nevada State AFL-CIO.
Araujo said his life was changed for the better when he had the chance to give Reid a tour of his high school while a student in Las Vegas.
Silva said Reid made her proud to be a Nevada resident and to advocate for people like herself. Renaming the airport would be a legacy for all the people Reid touched in so many ways, she said.
PLENTY OF RESISTANCE
Opponents included Carson City resident John Wagner, representing the Independent American Party, who said changing the name of the airport would be like changing the name of the Washington Monument. There are other ways to honor Reid, he said.
Las Vegas resident Rob Lauer said Nevadans should be ashamed for attacking McCarran, who served the state for 50 years in the state Assembly, as a member of the state Supreme Court and as a U.S. senator.
McCarran served in the Senate from 1933 to 1954, when he died of a heart attack.
In a statement after the hearing, Assembly Minority Floor Leader Paul Anderson, R-Las Vegas, said others are more deserving of such an honor.
"Former Senator Harry Reid's legacy is one of bitterness, anger, petulance, divisive political maneuvering and pure partisanship," Anderson said.
Michael Green, an associate professor of history at UNLV, presented testimony highlighting examples of McCarran's anti-Semitic comments. Some McCarrarn supporters argue that the Reno native was not anti-Semitic, despite the comments attributed to him.
"Unquestionably, McCarran played an important role in the origins of the airport that bears his name," Green said. "He co-authored the bill that led to the creation of the Civil Aeronautics Board, a precursor of the current Federal Aviation Administration."
WHAT ABOUT THE MONEY?
The issue of the costs of a name change was also raised.
Sen. Tick Segerblom, D-Las Vegas, said the bill would require private contributions to pay for the costs of any name change. An initial estimate is that it would take three to five years to fully effect the change at a cost about $1.5 million, he said.
But some speakers questioned if all the costs have been taken into account. Federal costs would be expected for the Federal Aviation Administration and the Transportation Security Administration.
Segerblom said any federal costs are not expected to be a significant impediment to renaming the airport.
Should McCarran airport in Las Vegas be renamed? Taxpayers won't have to foot the bill if it is renamed. Read more → https://t.co/ofM2RbuMdA

— Las Vegas RJ (@reviewjournal) March 16, 2017
Contact Sean Whaley at swhaley@reviewjournal.com or 775-461-3820. Follow @seanw801 on Twitter.
Senate Bill 174:
– Renames McCarran International Airport to Harry Reid, Las Vegas International Airport.
– Has no fiscal impact on local government.
– Has no fiscal impact on state government.
– Takes effect July 1 if approved by the Nevada Legislature.
RELATED
Taxpayers will not have to foot the bill if Las Vegas airport is renamed