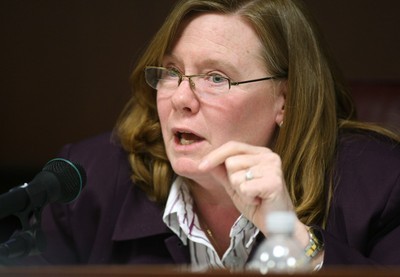 CARSON CITY — Far fewer people are dying in job-related accidents in Nevada as a rash of Strip construction accidents in 2007-08 has induced workers and companies to pay more attention to safety, the head of Nevada OSHA testified Wednesday.
Tom Czehowski, chief administrative officer for the Nevada Occupational and Safety Administration, told legislators that six people have been killed in workplace accidents since July 1, compared with 31 during the previous 12-month fiscal year.
"Obviously the fatalities the state has had are on everybody's mind," Czehowski said. "In the construction industry, it is inherent (that there will be accidents). There are certain hazards. We are seeing a reduction in fatalities so far this year because the safety awareness is there."
Czehowski said 27 Nevadans were killed in job accidents in the 2007 fiscal year and 22 in the 2006 fiscal year.
He addressed the Senate Commerce and Labor Committee, which is deciding whether additional steps should be taken to improve worker safety in light of a dozen deaths in Strip construction project accidents over a recent 18-month period, including six at CityCenter.
Committee Chairwoman Maggie Carlton, D-Las Vegas, questioned why workers died from falls at CityCenter. She noted that in the 1990s several megaresorts were built on the Strip without anywhere near the injuries that have occurred on hotel projects in recent years.
"I read that decking was not there, nets were not there," Carlton said. "We have watched other guys fall through holes before. It should not happen again. You would have thought we would have learned."
Czehowski said the CityCenter project had a federal OSHA exemption from a requirement to put up nets and decking since the project was supposed to be "100 percent tie off," which means workers wear harnesses tied to anchor points.
After a death from a fall at CityCenter, Czehowski said he met with the AFL-CIO and other unions and rescinded the federal exemption, a step he said he was allowed to take.
He called CityCenter an "unprecedented project" with as many as 9,000 construction workers on a 65-acre site.
"It was a tragic situation that caught everybody off guard," Czehowski said. "It shouldn't have happened. A message has been sent out to contractors. Safety awareness has to come before production."
In response to Carlton's inquiries, Czehowski also defended his agency's investigation into two deaths at The Orleans on Feb. 2, 2007.
Richard Luzier went into a sewer pit to unclog a pipe and died from breathing toxic fumes. Another worker, Travis Koehler, died when he tried to save him.
Boyd Gaming agreed to pay $185,000 in fines and to revamp safety programs at its hotels following an OSHA investigation.
But Nevada OSHA reduced the fines, which could have been $400,000, and downgraded its citations to "serious" from "willful."
Mendy Elliot, now Gov. Jim Gibbons' deputy chief of staff, had participated in the final negotiations, a step that led to criticism because Gibbons received campaign contributions from Boyd Gaming.
Elliot then was director of the Nevada Department of Business and Industry, which oversees OSHA.
Czehowski said he was "transferred to another agency" at the time of The Orleans investigation. He then worked for the state Taxicab Authority.
"I am aware of all the comments made in the past year," Czehowski said about The Orleans and other investigations. "I credit my OSHA staff for carrying out their mission the way they are supposed to."
State OSHA inspector John Olaechea quit his job in protest during the Orleans' investigation. He had issued a memo that "willful citations" were appropriate in the sewer accident.
Contact Review-Journal Capital Bureau Chief Ed Vogel at evogel@reviewjournal.com or 775-687-3901.