Pence talks with airmen, campaigns for Heller in Las Vegas
September 7, 2018 - 11:36 am
Updated September 7, 2018 - 9:21 pm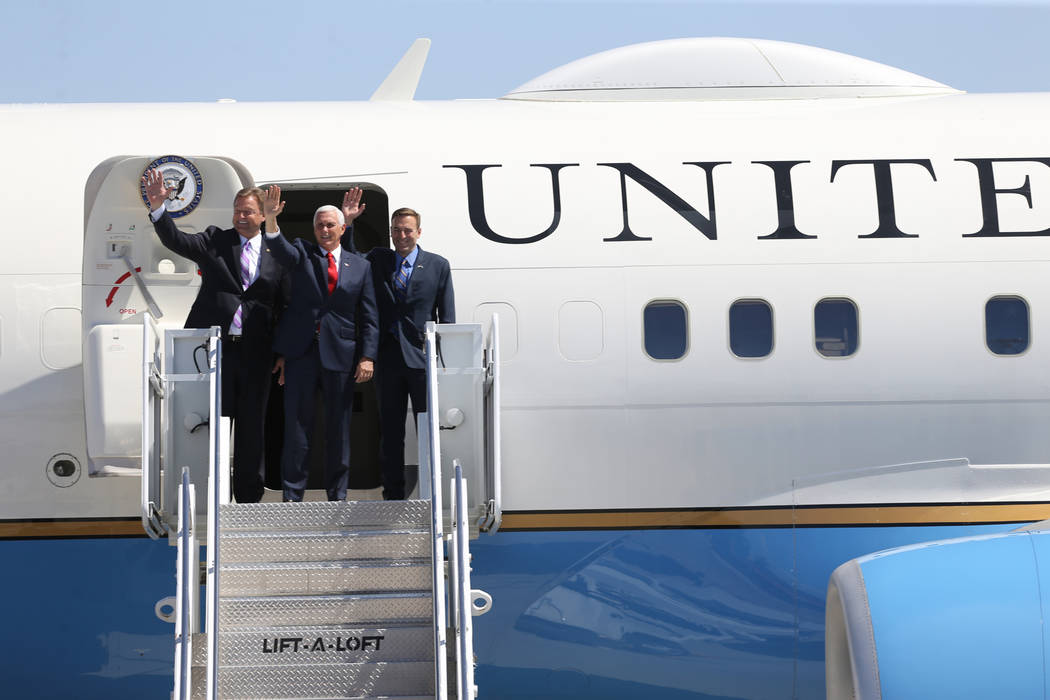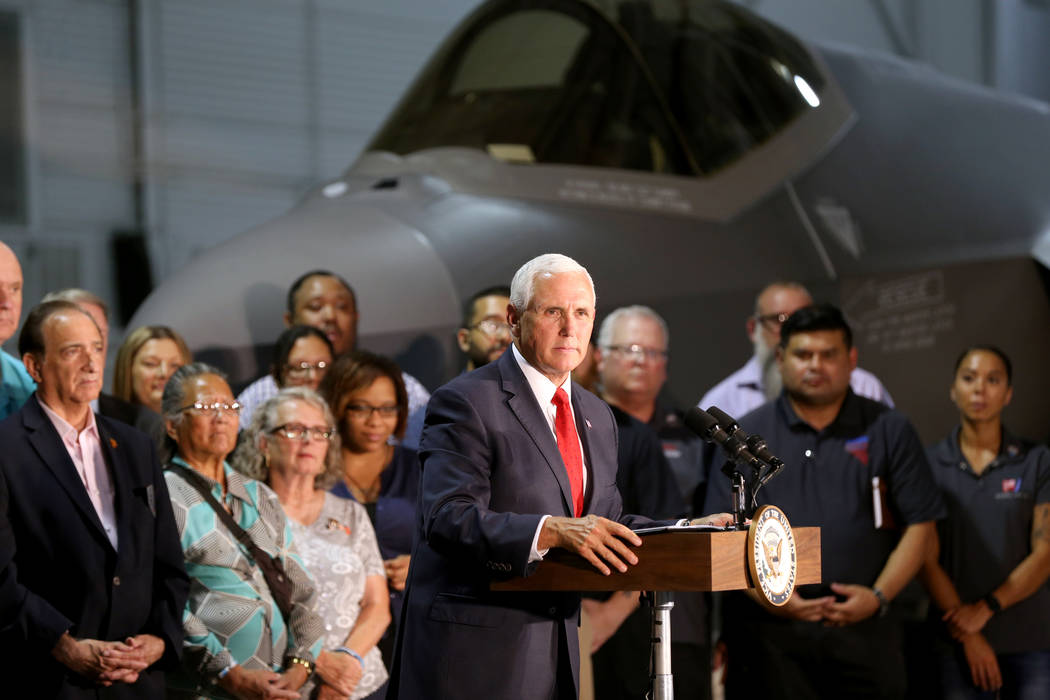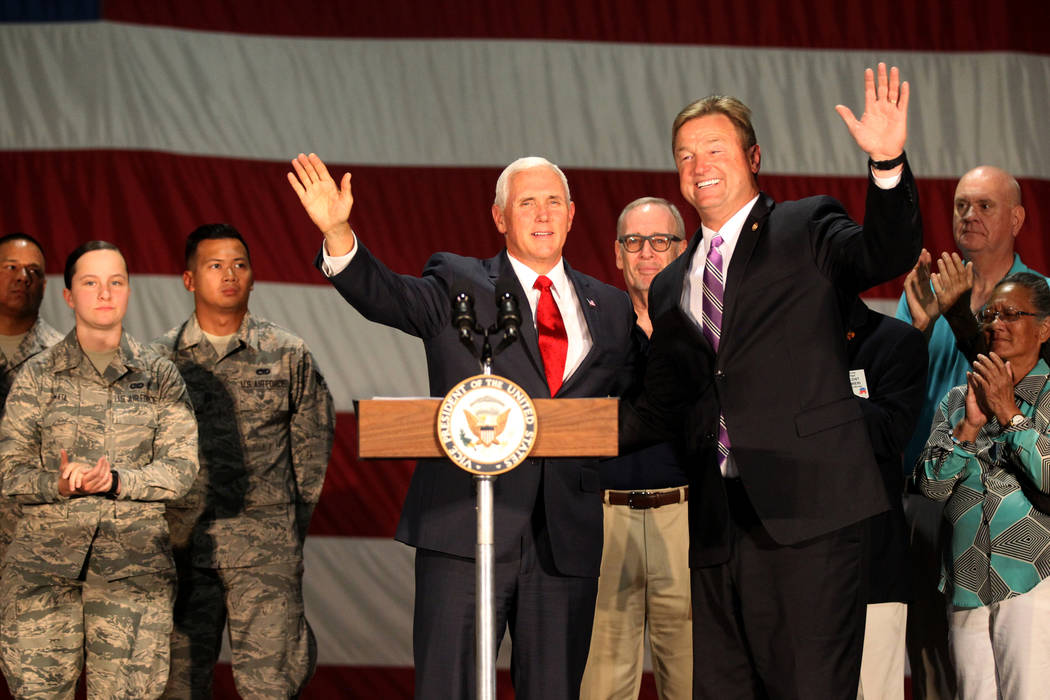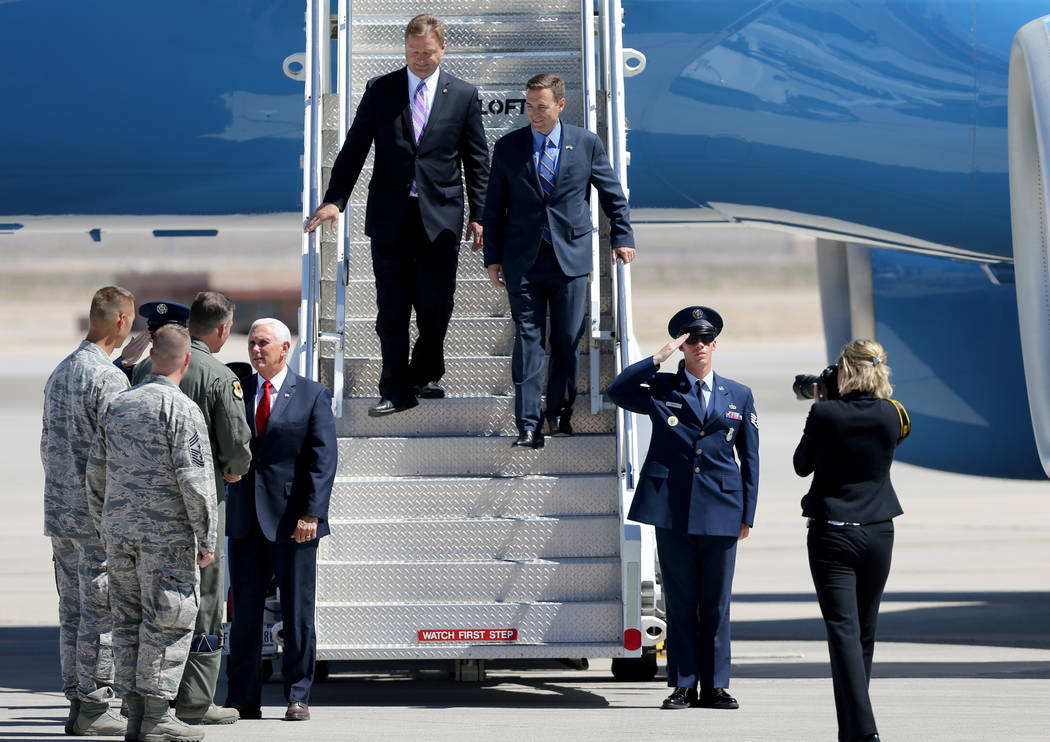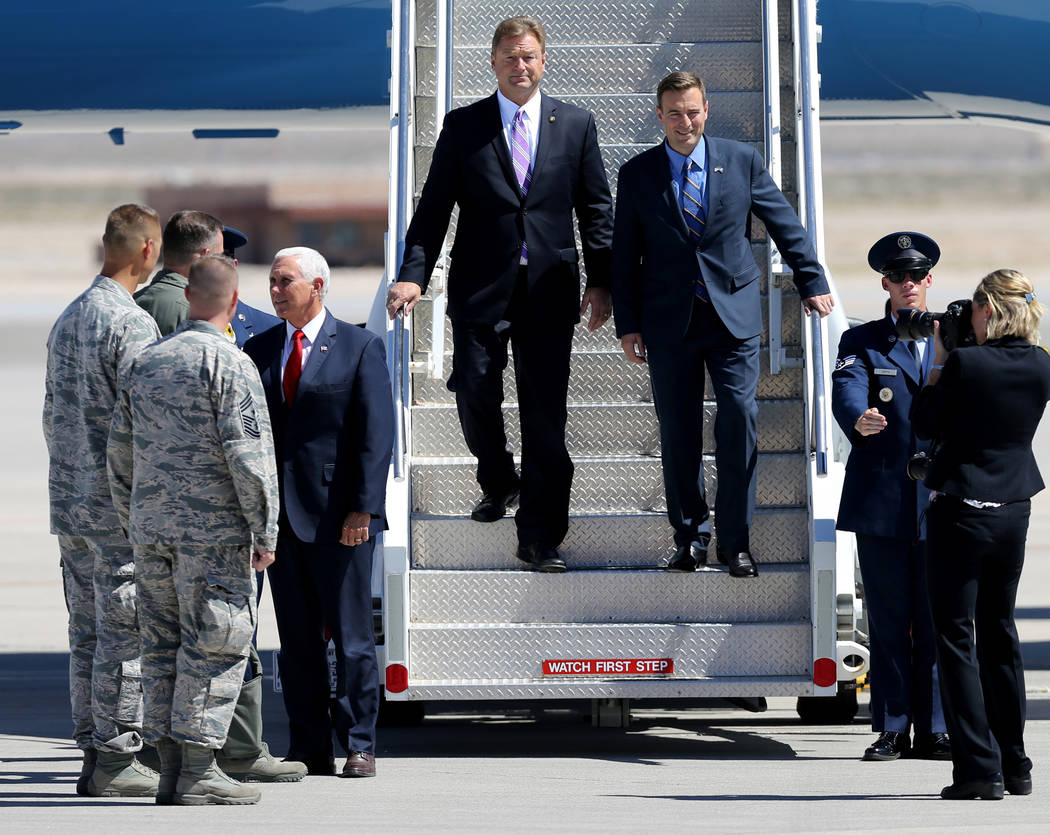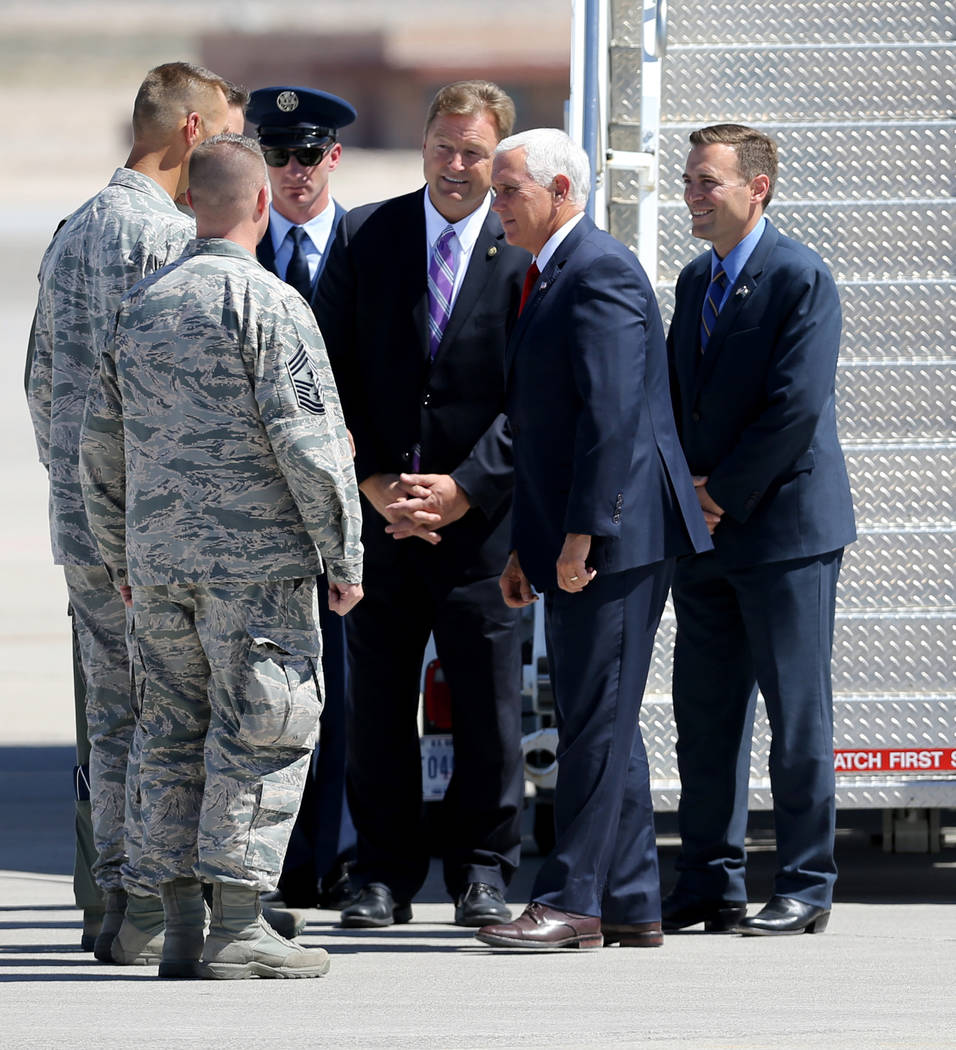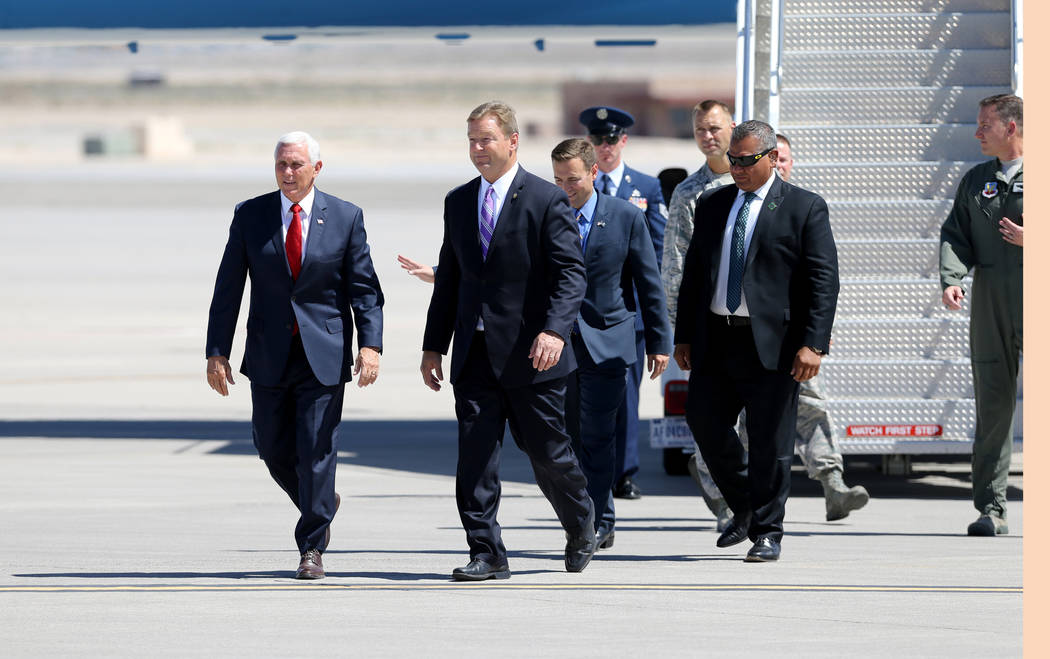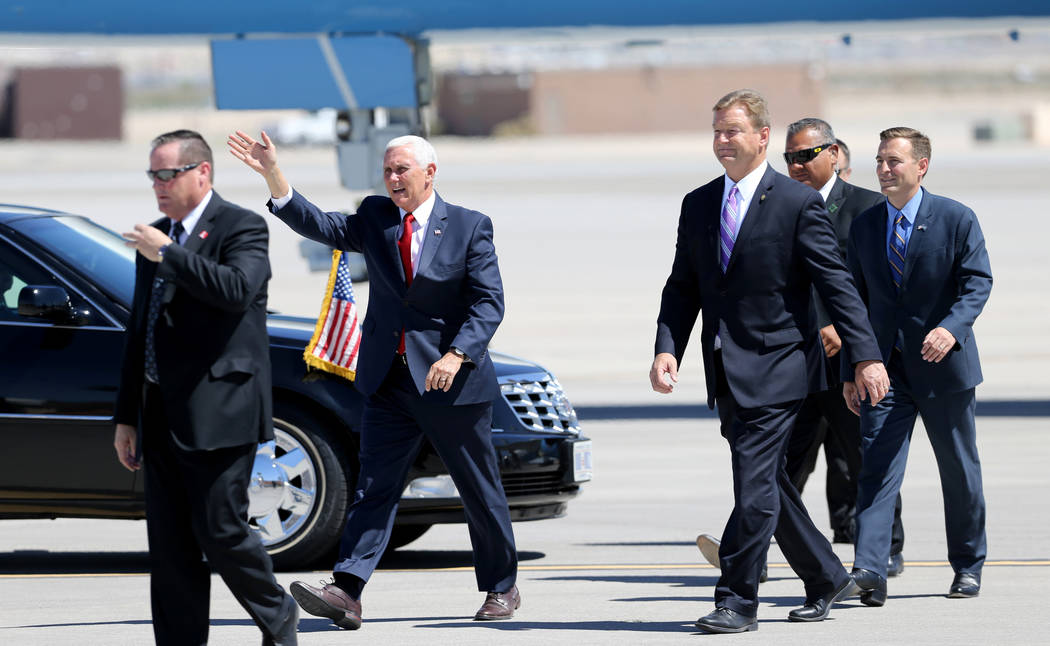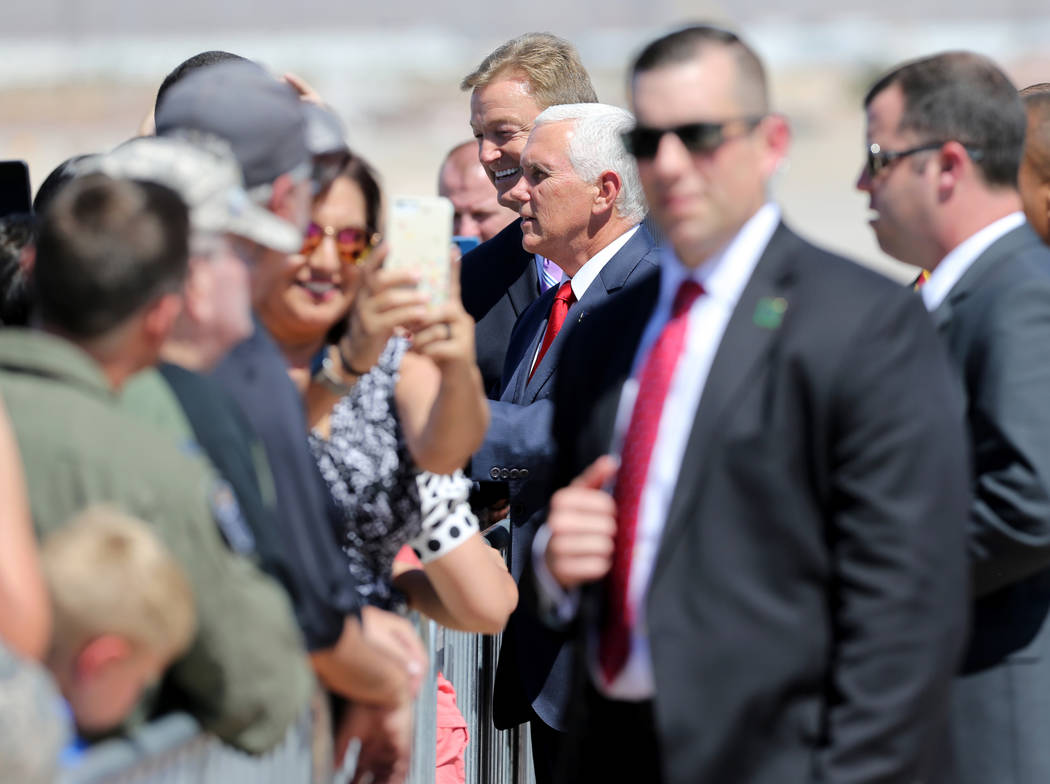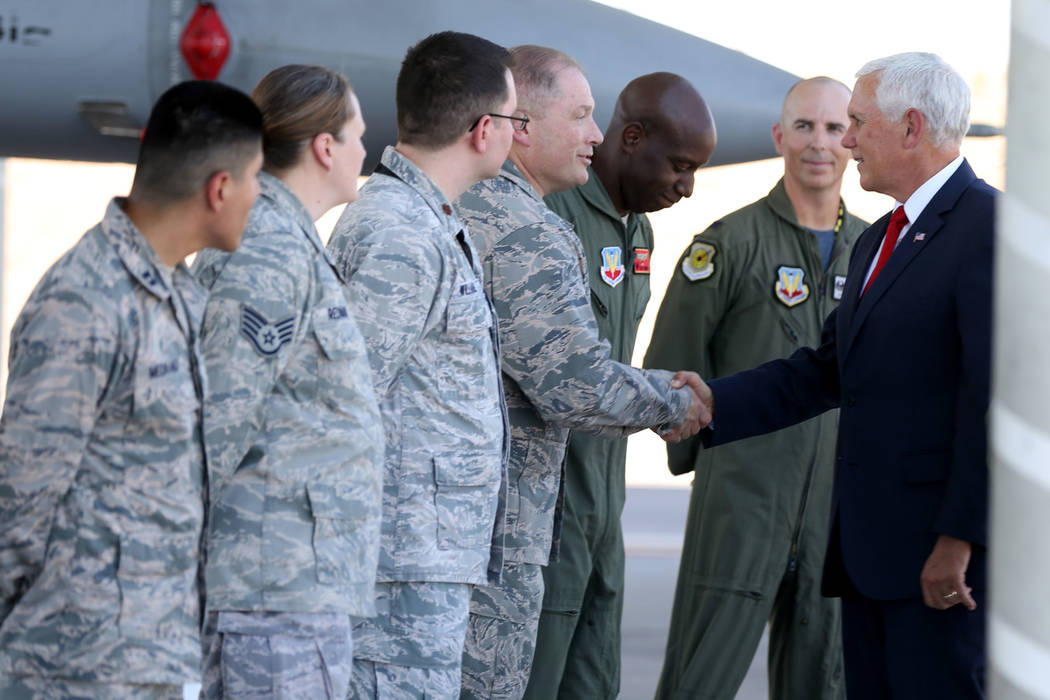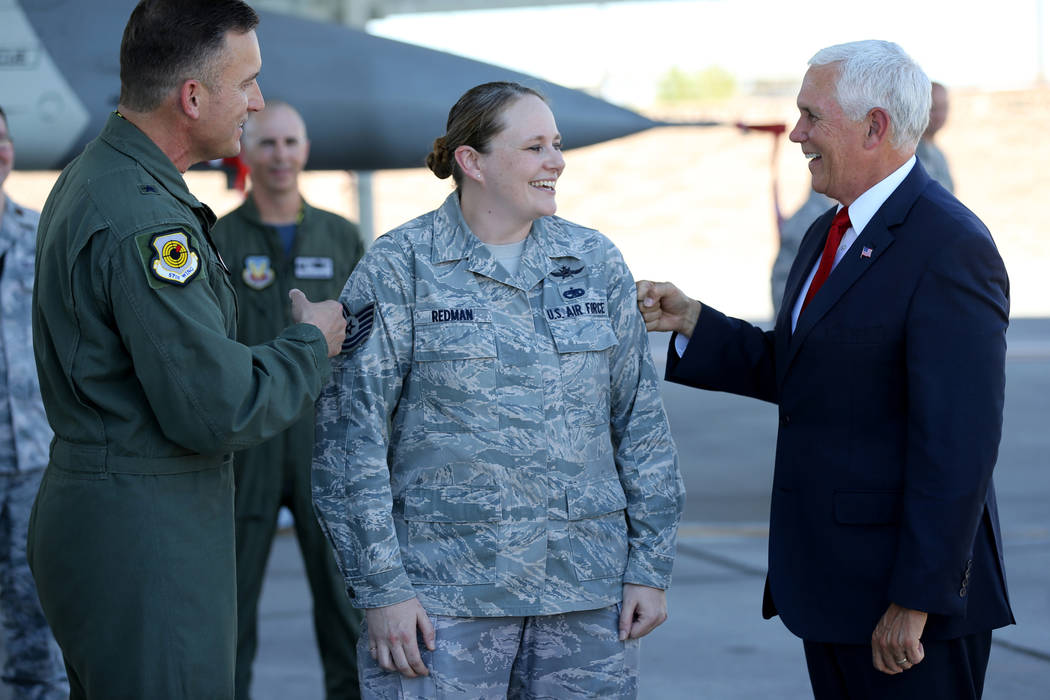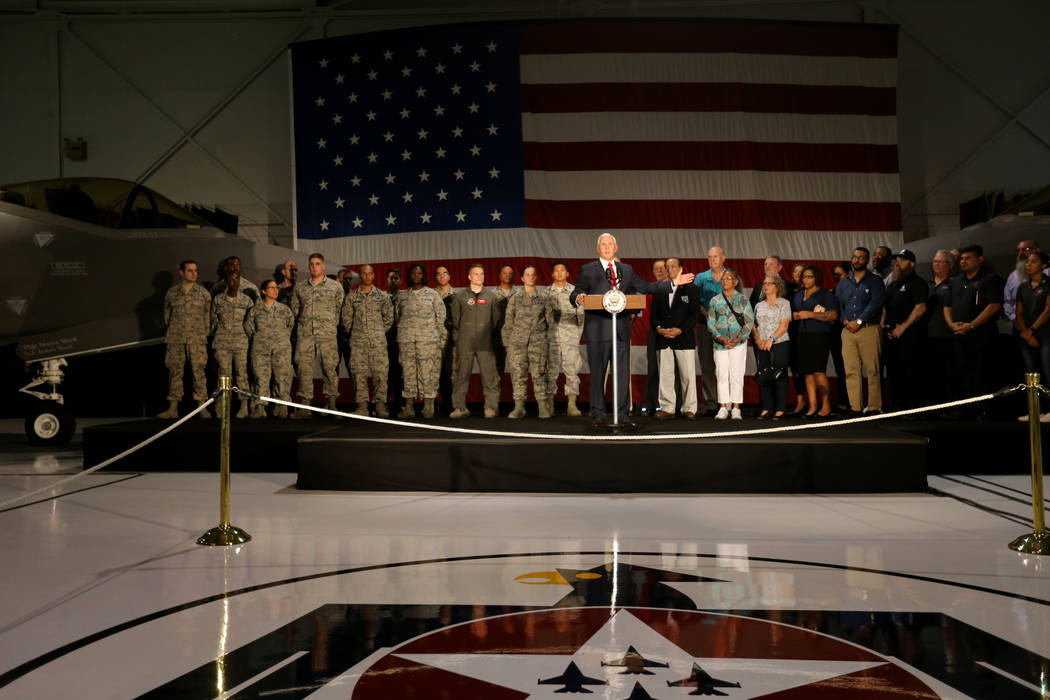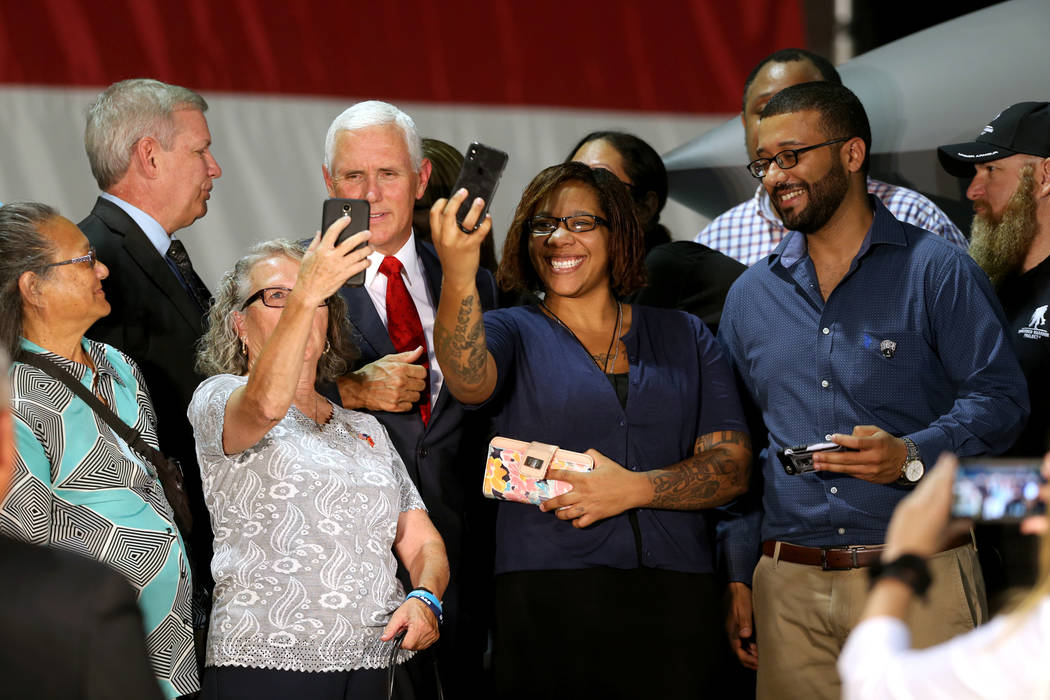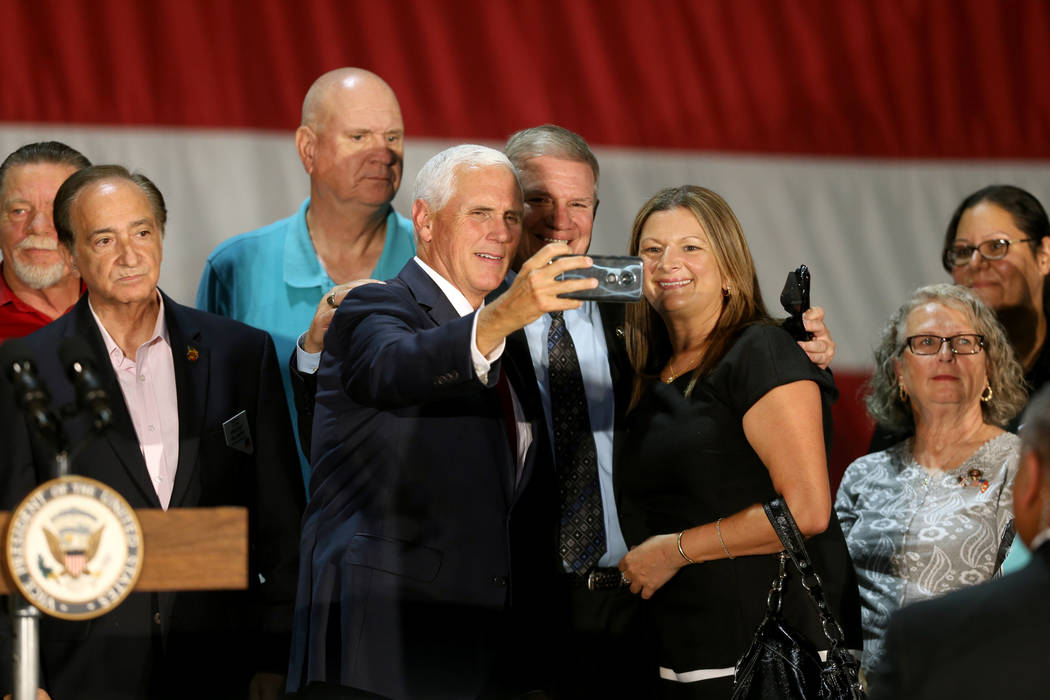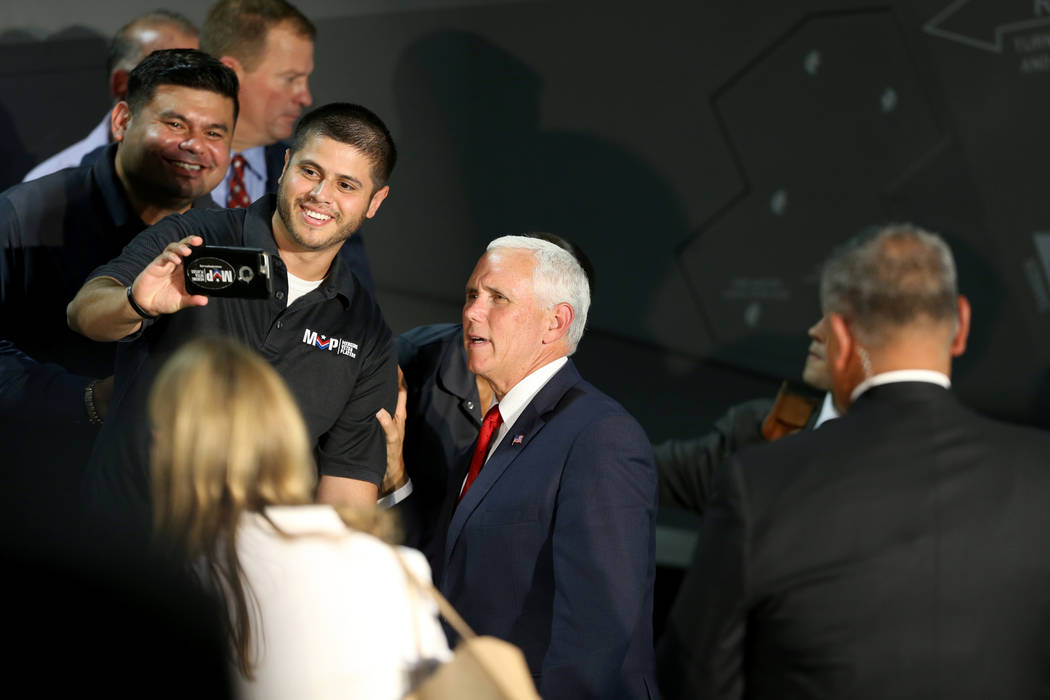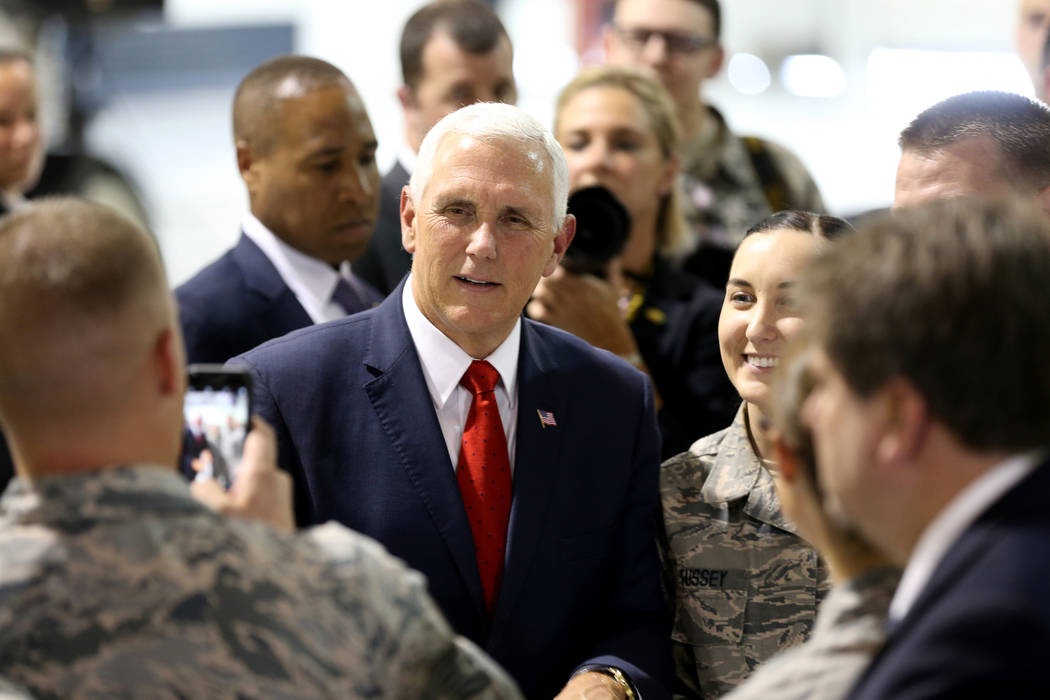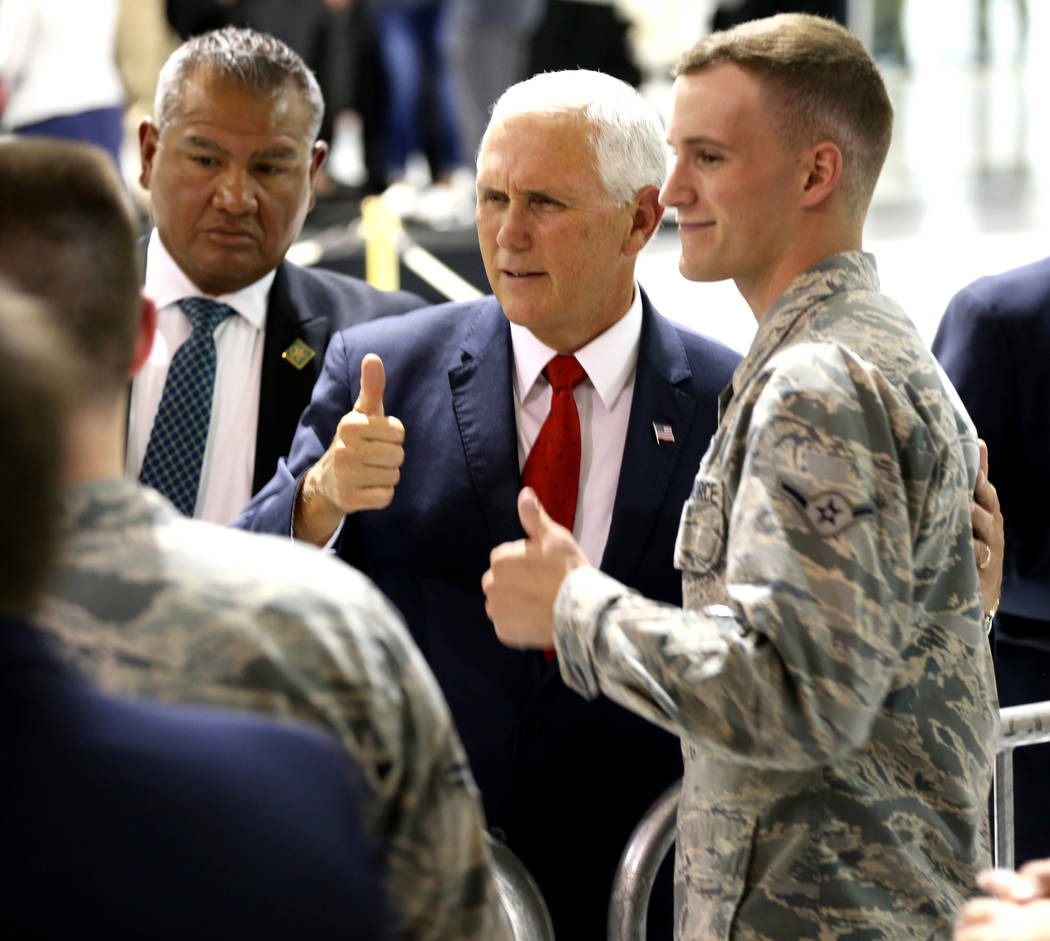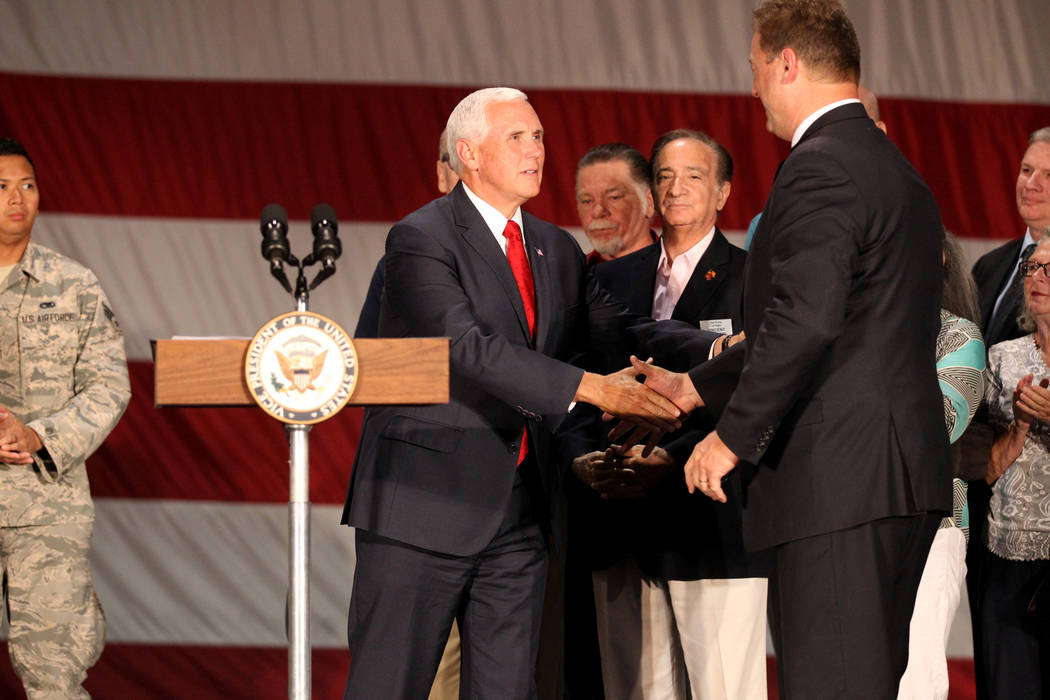 During his second visit to Nevada, Vice President Mike Pence on Friday told airmen at Nellis Air Force Base that the Trump administration has increased national defense more than any president in decades.
"From the very first day of this administration, President Trump went to work to rebuild our military, restore the arsenal of democracy," Pence said. "And in the last year, with the strong support of Sen. Dean Heller, this president has signed the largest increase in our national defense since the days of Ronald Reagan."
Pence was in Las Vegas to tour Nellis Air Force Base, speak to the airmen and stump for Heller and gubernatorial nominee Adam Laxalt.
The vice president also credited Heller, the Republican senator who's in a reelection battle with Democratic Rep. Jacky Rosen, for championing more than a dozen bills to help veterans.
Both Heller and Laxalt joined the vice president as he disembarked Air Force Two, which touched down at Nellis at about 11:30 a.m. Friday.
Pence, who declined to answer questions from reporters, was greeted by a line of airmen and friends, stopping to take photos and shake their hands. — and even surprised one airman with a promotion. Pence then delivered a brief speech at the Thunderbirds hangar, standing in front of a large American flag and flanked by uniformed airmen.
During his speech, Pence drew applause when he promised the airmen that the Trump White House will "always have your back." He also remembered Maj. Stephen Del Bagno, the Thunderbirds pilot who was killed in April when his F-16 crashed in Nevada.
"This major had a lifelong love of flying," Pence said. "He was a Thunderbird, he was a patriot, and let me say to his family, all of the airmen gathered here today, America will never forget and never fail to honor Maj. Stephen Del Bagno."
Pence later went to fundraisers for Heller and Laxalt that were closed to the the public.
This is Pence's second visit to the Silver State this year. In January, Pence flew into Nellis to attend Air Force events with Heller.
Pence was scheduled to return to Las Vegas in April to headline a $1,000-per-plate fundraiser for Heller, but canceled because of other commitments.
But the senator received a boost from Trump when he stumped for him in June at the state GOP convention. Heller is widely considered the most vulnerable GOP senator facing reelection this year.
Former Trump campaign manager Corey Lewandowski also stopped in Las Vegas on Friday, tweeting that he was "proud" to be traveling to see Heller and Laxalt.
Heller voiced admiration for Trump and Pence on Friday, saying they're "committed to serving men and women who answer this country's call."
"Under President Trump, 19 pieces of legislation that I authored to address needs of Nevada veterans have become law," Heller said.
His relationship with Trump drew criticism from Rosen's campaign Friday.
"The Trump Administration is continuing to reward and prop up Dean Heller for being their rubber stamp in the Senate after he broke his promise to protect Nevadans' health care," said Rosen campaign spokeswoman Molly Forgey.
Also Friday, Jim Byrne, the VA's acting deputy secretary, told the airmen that he plans to bolster customer service, modernize record-keeping and focus on prevention of veteran suicides.
"You hear a lot of bad news stories," Byrne said, "but few about the good news stories about the care the VA provides to veterans."
Contact Ramona Giwargis at rgiwargis@reviewjournal.com or 702-380-4538. Follow @RamonaGiwargis on Twitter.