Police say 'no conspiracy' behind HOA probe deaths
March 29, 2012 - 12:01 pm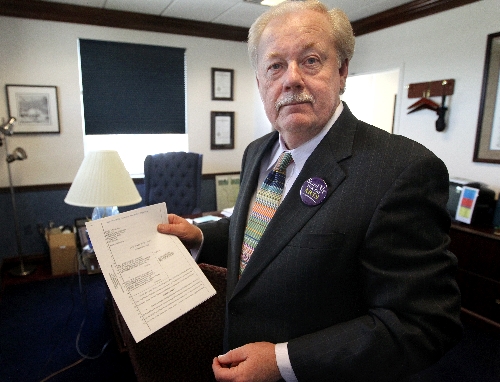 Investigators aren't buying the conspiracy theories circulating about the deaths of four people — including two prominent attorneys within five days of each other — tied to the federal probe into corruption at Las Vegas Valley homeowners associations.
"As far as we're concerned, there's no conspiracy behind these deaths," said Lt. Dave Logue, who runs the Criminal Intelligence Section of the Metropolitan Police Department. "We don't believe they were related."
This comes as a longtime state senator, suggesting the four deaths were not a coincidence, unsuccessfully tried Thursday to get the governor to call a special session of the Legislature to enact stronger regulations over homeowners associations.
Logue, whose detectives are working with the FBI in the massive fraud and corruption investigation, described the deaths as "stand-alone events."
"We are just letting the respective agencies conduct their separate investigations into the two latest deaths," Logue said.
Las Vegas police and the FBI are not involved in the death investigations.
Attorney David Amesbury was found dead by apparent hanging Sunday night near Sacramento, Calif., five days after lawyer Nancy Quon was found dead in the bathtub of her Henderson condominium.
Amesbury, 57, the former operator of a courthouse restaurant, pleaded guilty in the homeowners association investigation and was cooperating with federal prosecutors. He was recovering from a brutal assault in Henderson four months ago that authorities said was not related to the federal investigation.
Quon, 51, a wealthy construction defects attorney who maintained a high profile, was a key target of the investigation. Authorities suspect she set fire to her Rhodes Ranch home in October 2010 in a botched suicide attempt.
The official cause of both deaths won't be known for weeks until toxicology tests are completed, but authorities in Northern California and Henderson, respectively, do not suspect foul play and have not ruled out suicide in either case.
Two other people who attracted the interest of authorities in the sweeping federal investigation also have died under unusual circumstances.
Former Las Vegas police officer Christopher Van Cleef shot himself to death a few days after a September 2008 FBI raid in the investigation.
A former Vistana homeowners association board member, identified as Robbi Castro, died in 2010 of a drug overdose.
Logue would not discuss his knowledge of the deaths. But a lawyer representing a defendant who pleaded guilty in the federal homeowners case said investigators told him they think the deaths were unrelated.
"They told me there was no connection whatsoever between the death of Quon and the death of Amesbury," said the lawyer, who asked not to be identified.
In Quon's case, investigators told the lawyer they suspect she had drugs and alcohol in her system and had slipped under the water in her bathtub.
Amesbury had been dealing with depression before his body was found hanging in the shed of his brother's property in Grass Valley, Calif., the defense lawyer said he was told. "He was a man who once had everything and suddenly had nothing left," the lawyer said.
The lawyer said his concerns have been calmed by investigators, but he still has trouble believing the deaths were a coincidence. "I've been doing this a long time, and I can't tell you the last corruption case where four people died under mysterious circumstances."
State Sen. Mike Schneider, D-Las Vegas, who has championed strong controls over homeowners association at the Legislature, shares that opinion.
At a Legislative Commission meeting Thursday in Carson City, Schneider cited the deaths in raising the subject of a special session to tighten laws governing homeowners associations and construction defect litigation.
"I don't believe in coincidences," said Schneider, who can't seek re-election this fall because of term limits. "One or two is OK. Not four. Something bad is happening out there."
Schneider said the likes of former Sens. Terry Care, D-Las Vegas, and Randolph Townsend, R-Reno, could sit on a special committee, meet with FBI and other authorities, and develop a bill that could be passed in a two- or three-day special session.
But Gov. Brian Sandoval, the only person with the power to call such a session, quickly rejected the idea.
Schneider later responded, "He hasn't thought enough about it. How many more people have to die?"
Senate Majority Leader Steven Horsford, D-Las Vegas, also shot down Schneider's proposal to schedule a meeting to name a special committee to look into homeowners associations.
"This is clearly a very serious issue, and Nevada law enforcement agencies are performing their own investigations on the events surrounding these recent deaths," said Mike Luce, speaking for Horsford and other Senate Democrats. "Before we rush into a meeting, it's important we let these investigations run their course."
Justice Department lawyers from Washington, D.C., are moving forward with the corruption investigation despite the latest deaths.
Amesbury was among 10 defendants who pleaded guilty and struck deals to cooperate with prosecutors looking to charge higher-level players, including Quon, in what authorities say was a conspiracy to profit from the takeover of a dozen or so homeowners associations.
Prosecutors accuse the co-conspirators of stacking homeowners association boards with members who pushed for construction defect lawsuits against builders. The boards then steered legal and construction repair work to the co-conspirators.
Close to 20 new defendants are expected to be named soon in one charging document in federal court.
Contact reporter Jeff German at jgerman@reviewjournal.com or 702-380-8135. Contact Capital Bureau Chief Ed Vogel at evogel@reviewjournal.com or 775-687-3901.