Poll gives Laxalt advantage in Nevada's governor race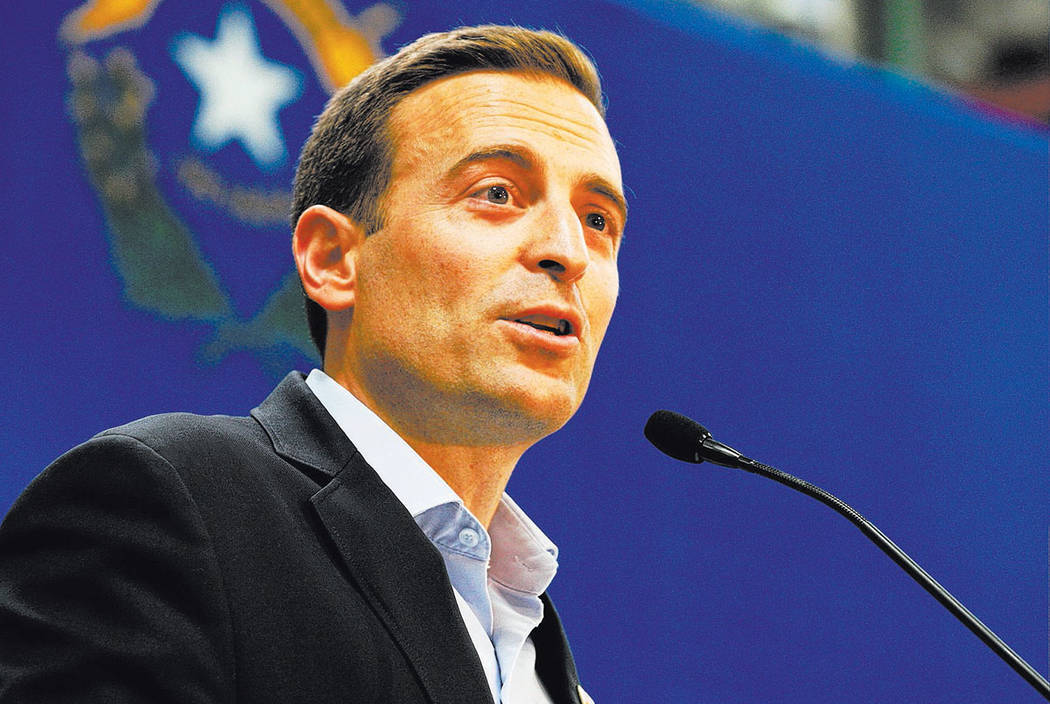 One gubernatorial candidate released internal polling, while another snagged a key endorsement from the teacher's union last week in Nevada politics.
Laxalt polling
Who cares if we're 10 months away from the general election? It's never too early for political polls.
An internal poll from Republican Adam Laxalt's gubernatorial campaign shows him well in front of primary opponent Treasurer Dan Schwartz, by a margin of 66 percent to 7 percent.
The poll showed Laxalt ahead but in a tighter race for the general election against both major Democratic candidates. It had Laxalt up six points on Clark County Commissioner Steve Sisolak, by a percent margin of 44-38, and ahead of Clark County Commissioner Chris Giunchigliani by a percent margin of 45-34.
Laxalt, Nevada's attorney general, has been endorsed by Vice President Mike Pence and a slew of Republican governors including Arizona's Doug Ducey and Wisconsin's Scott Walker. Nevada GOP Gov. Brian Sandoval has not endorsed anyone in the race.
In an article published Thursday, the University of Virginia's Center for Politics called Laxalt the likely GOP nominee, but "he may be a little too hard-right for the (general) electorate here."
But a competitive primary between Sisolak and Giunchigliani could hurt the eventual Democratic nominee in the general election, the article said.
"We expect another Toss-up open-seat race in a Toss-up state," the author wrote.
Sisolak endorsement
Speaking of that competitive Democratic primary, Sisolak snagged a key endorsement last week from the Clark County teacher's union — passing over Giunchigliani, its former president.
The Clark County Education Association praised Sisolak for his "fierce commitment to resolve public education issues."
Giunchigliani was the union's president from 1983 to 1987, and led the statewide teacher's union from 1987 to 1991.
Other endorsements
Henderson City Councilman Dan Stewart endorsed Republican Derek Uehara in the race for Nevada treasurer.
Upcoming events
— The Women's March returns, coming a year after last year's historic and first Women's March on Washington. This is the first leg of a multistate tour targeting swing states to register new voters in an effort to elect more women to political office. The march begins at 10 a.m. Sunday at Sam Boyd Stadium, 7000 E. Russell Road. For details, visit www.powertothepolls.com/location.
— GOP governor candidate Jared Fisher is hosting Healthy Nevada Days, a free 5k run and 1-mile walk, from 9 a.m. to noon Saturday at Sunset Park, 2501 E. Sunset Road. The event will include food trucks, massages and a bike rodeo for kids. For details, visit www.bristlecone-events.com/healthynevadadays5k.
— The Clark County Libertarian Party will hold its convention to nominate candidates for office and fill vacancies on the local party's executive committee. The event is from 10 a.m. to 1 p.m. Jan. 27 at Paymon's Mediterranean Café and Lounge, 8380 W. Sahara Ave.
Contact Colton Lochhead at clochhead@reviewjournal.com or 702-383-4638. Follow @ColtonLochhead on Twitter.