Pro-DeSantis PAC stops door-knocking in Nevada amid 'unstable' caucus plans
Updated September 1, 2023 - 9:33 am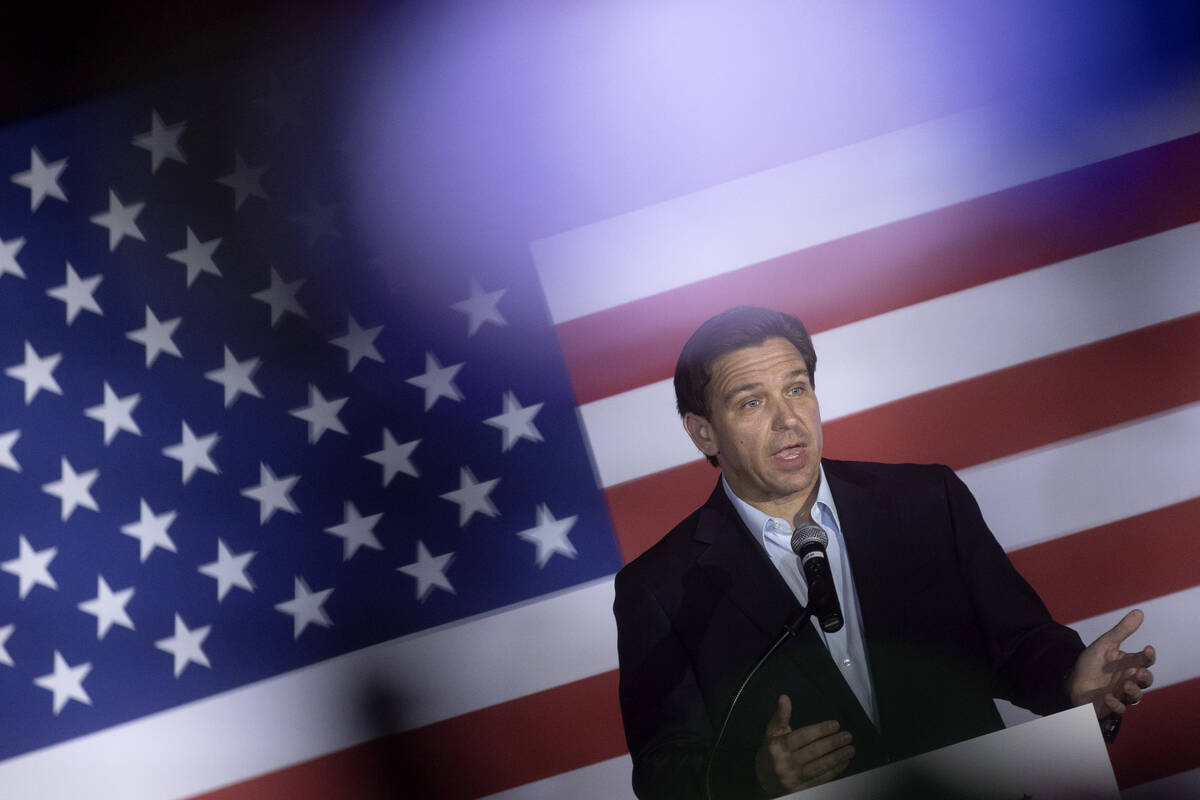 The super political action committee backing Florida Gov. Ron DeSantis' presidential campaign has stopped knocking on Nevada voters' doors, which could signal the campaign is losing ground in the Silver State to Donald Trump in the runup to the primary election.
Never Back Down, the grassroots movement pushing to elect DeSantis, ceased its door-knocking operations in Nevada and California in order to prioritize the other three early primary states of Iowa, New Hampshire and South Carolina.
Erin Perrine, a spokeswoman for the PAC, attributed the decision to stop operations in part to the Nevada Republican Party's efforts to hold a caucus rather than use the state-run presidential preference primary.
"When you have that kind of uncertainty about how the election's going to be conducted, that becomes a pretty unstable environment to be investing the kind of resources that we're investing," Perrine said in a statement.
The decision makes sense to Dan Lee, a political science professor at UNLV. Trump has historically had strong support among Republicans in Nevada, Lee said, and the planned caucus favors a candidate like Trump because his supporters are particularly engaged.
Stopping door-knocking operations is bad, however, as door-to-door canvassing is a big part of successful campaign strategies, Lee said.
The PAC still maintains 100 percent staffing levels across Nevada and is continuing its voter outreach with a network of volunteer supporters, a Never Back Down official told the Las Vegas Review-Journal in an email.
The committee knocked on 150,000 doors for DeSantis, the official said, and has released a list of more endorsements for DeSantis in Nevada than any other presidential campaign in Nevada.
NV GOP loyalties to Trump?
About a week ago, the Nevada Republican Party sent a letter to all of the presidential campaigns saying it cannot work with their political action committees, Chairman Michael McDonald said.
The party's attorneys informed McDonald the party cannot work with political action committees that are 501(c)(4) organizations to avoid the potential of "dark money," or funds from groups that do not disclose their donors.
That move served as a blow to DeSantis, who has been using Never Back Down for much of his campaign's political operation.
Perrine, who declined an interview with the Review-Journal, called Nevada Republican Party leadership a "Trump puppet" in a statement.
McDonald pushed back on the claim, saying the party's actions are not about a specific campaign or candidate, but about their efforts to have transparent elections.
The caucus is a way for the party to implement voter ID and do away with mail ballots, said McDonald, who was one of Nevada's six "fake electors" who declared Trump the winner of Nevada in 2020, despite Trump losing by more than 30,000 votes.
"The campaigns that are coming in, they need to understand the history of what we've been fighting," McDonald said.
The longtime chair of the Nevada Republican Party is also a good friend of the former president. McDonald helped with the Trump campaign's efforts to "Stop the Steal" in 2020 and signed fake electoral certificates that ultimately led him to testify before a Department of Justice grand jury.
McDonald and Clark County Republican Party Chairman Jesse Law have also visited Trump's Mar-A-Lago estate.
"For us to have gone down to Mar-A-Lago for a trip, that doesn't make us wedded to anybody," said Law, who is also one of the Republican electors who signed fake electoral certificates for Trump.
The Republican party for the state's most populous county has had an open line of communication with every candidate's campaign, Law said, and they are all welcome to hold an event at the party's headquarters.
"It's our fault that their candidate hasn't done as well? I don't know about that," Law said. "If you can't get any traction here, don't blame somebody else."
Contact Jessica Hill at jehill@reviewjournal.com. Follow @jess_hillyeah on X.