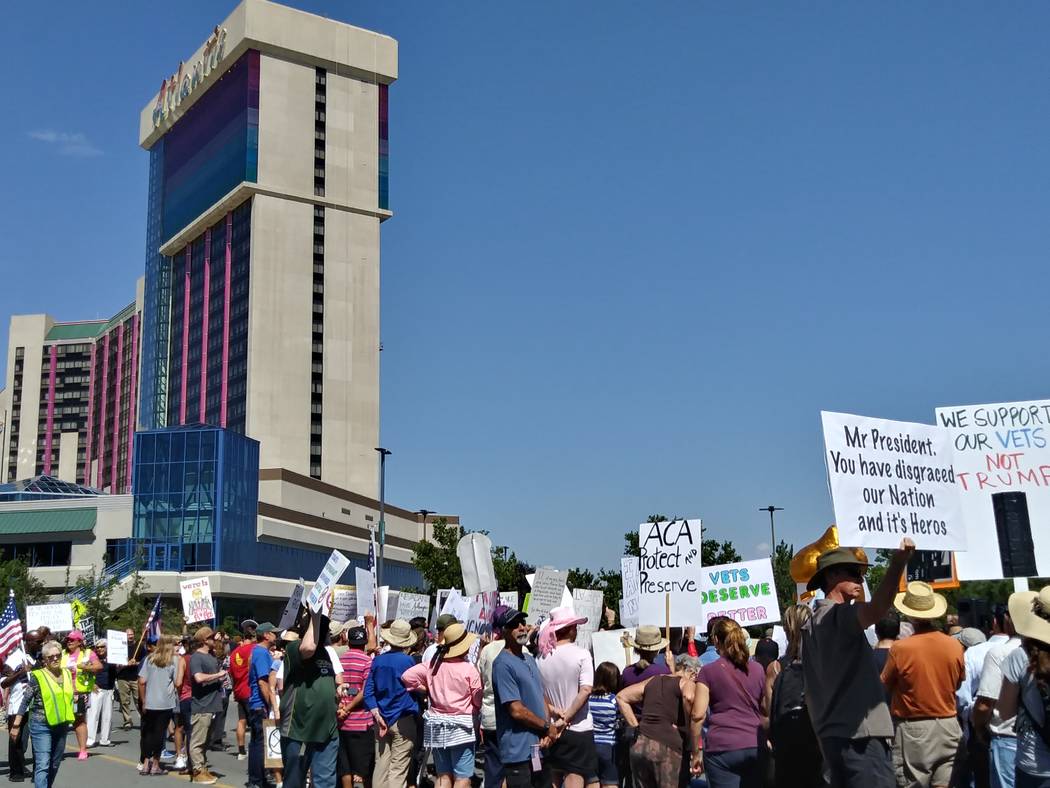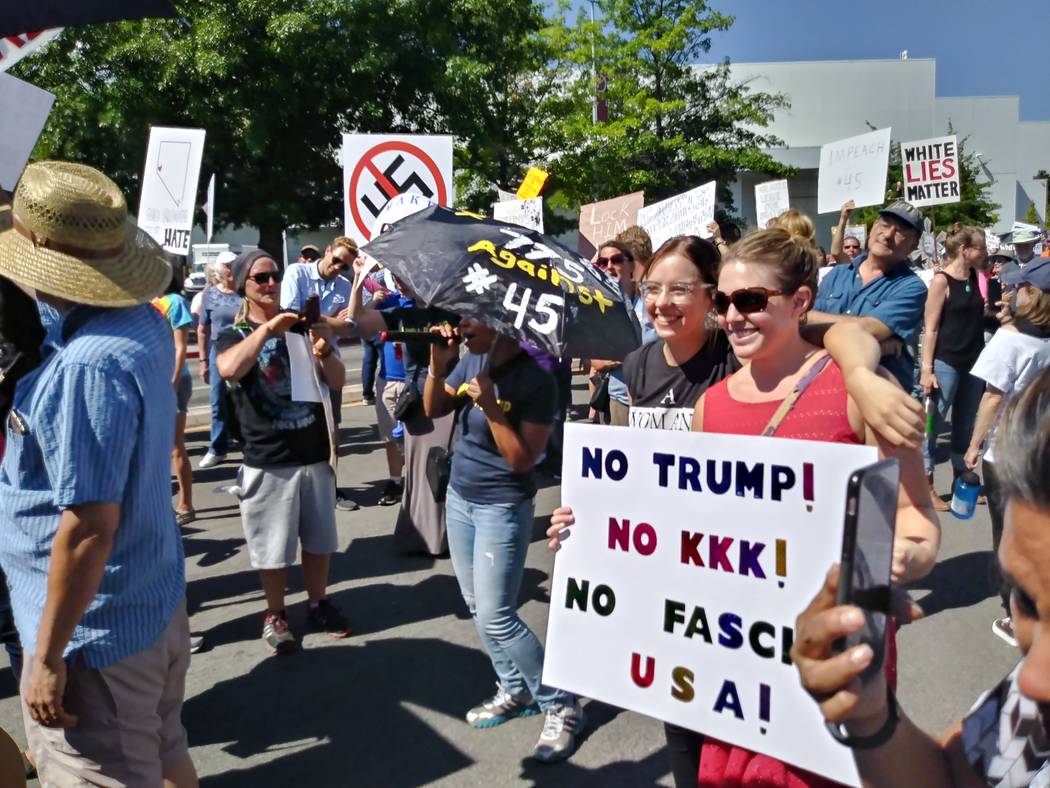 RENO — Echoes of the war that U.S. forces fought and won against Nazi Germany rang out in Reno on Wednesday.
This time, it was a culture war waged against hate with protests, Twitter hashtags and chants. Along the way, memories of fathers and grandfathers who fought more than seven decades ago were invoked.
In this battle for the ideological soul of America, the foot soldiers sometimes put crossed-out swastikas on signs to condemn and denounce racism and President Donald Trump, in town Wednesday morning to give a speech at the American Legion's annual convention. Others called for his impeachment with signs and megaphones, or criticized his stances on health care, public lands and other issues.
Meanwhile, a smaller group of several dozen Trump supporters squared off against the protesters, often blaming the media for how the president is perceived.
Trump's visit to Reno came 11 days after the violence in Charlottesville, Virginia, where a white supremacist protest ended in the death of one counterprotester and injuries to 19 others when police say a man intentionally plowed his car into a crowd of counterprotesters.
Trump's comments in the days following the violence, including saying that "both sides" were at fault, have drawn fierce condemnation.
"His response to Charlottesville was beyond the pale," said Sean Maletsky, 40, a server in Reno. "My grandfather fought Nazis."
He was among the hundreds of protesters who gathered in Reno to voice their objections to Trump's young presidency.
Maletsky had a sign that said, "There are no 'fine' Nazis.'" That was a nod to Trump's statement about some "very fine people" on both sides of the Charlottesville conflict.
Veterans remembered
Outside the convention center in Reno, veterans were not forgotten. Protester signs welcomed veterans coming to Reno for the 2 million-member organization's convention.
A smaller group of Trump supporters staged a counterprotest. Reno police officers kept both groups separated by barricade, later moving them a block apart.
Mike Contos, a 51-year-old Navy veteran from Sparks, was among the protesters. Veterans fought to protect the country from racism, an evil Trump needs to denounce more forcefully, he said.
"The stuff the veterans have fought against are being welcomed in the country," said Contos, waving a sign that reads: "This veteran — U.S. Navy — rejects hate!"
Debra Evans, a 66-year-old Sparks resident, said her parents, both deceased, would have been shocked to see Trump's presidency. Her father fought in World War II and her mother made airplane parts during the war in a San Diego factory, she said.
Evans also praised the Reno Police Department for its work keeping both sides separate and the event's overall peacefulness.
"We're chanting, but no one's throwing anything," she said.
Supporters weigh in
The handful of Trump supporters staging a counterprotest said the objections to Trump are ill-informed.
Mike Graham, a 66-year-old Vietnam veteran from Reno, blamed the situation on "a leftist press" intent on twisting Trump's words and using a 24/7 news cycle to "trash this president."
The group of several dozen also tried to show some love. Rochelle Swanson, a 30-year-old Reno artist and Trump supporter, offered hugs to protesters crossing the street toward her group.
"I've only given out two hugs today and one was to a Trump supporter," she said after offering a hug to a Review-Journal reporter. (The reporter declined.)
Swanson, who's getting foot surgery next week, said her insurance costs have skyrocketed under the Affordable Care Act, and she supports Trump's efforts to repeal and replace it.
Before Trump spoke, veterans attending the event expressed support for Trump.
"He's our commander-in-chief and regardless of what anyone thinks of him, we have to respect his position," said Bob Terhune of Ely, a 68-year-old Navy veteran and retired state corrections officer.
If America is at war with itself, perhaps only its commander-in-chief can end it.
"Only one person can heal this wound — Trump," said protester Cindy Norris, 62, a financial controller in Reno. "He puts gasoline on the fire instead of water. He can fix it."
Contact Ben Botkin at bbotkin@reviewjournal.com or 775-461-0661. Follow @BenBotkin1 on Twitter.
Related
Trump focuses on veterans' needs during Reno speech to American Legion