Public lands takeover bill draws Bundy crowd but is doomed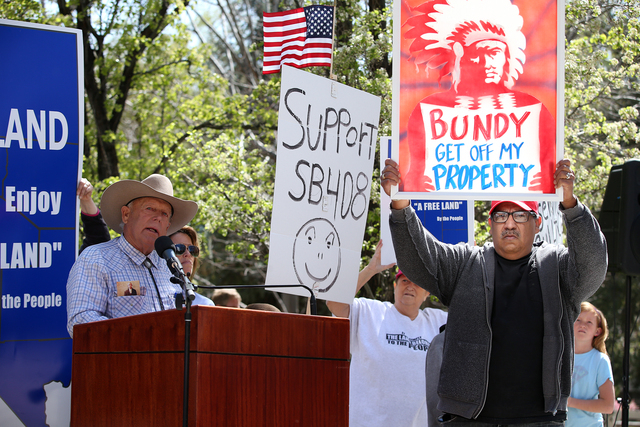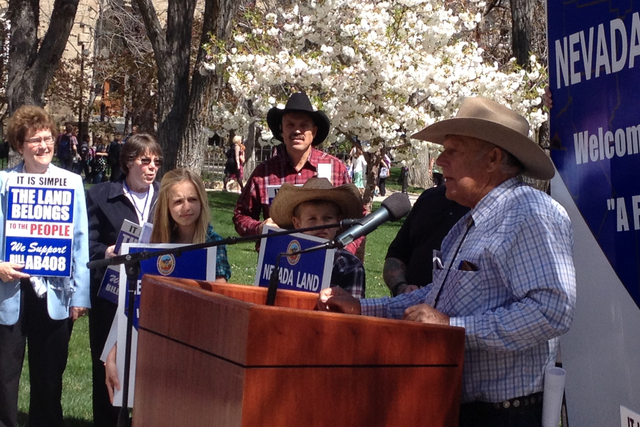 CARSON CITY — Bunkerville rancher Cliven Bundy and about 100 supporters of a bill challenging federal control of Nevada public lands descended on the capital Wednesday to support the measure, but it will all be for naught.
Assembly Majority Leader Paul Anderson, R-Las Vegas, said the Legislative Counsel Bureau has told leadership that Assembly Bill 408 from Michele Fiore, R-Las Vegas, is unconstitutional.
"I wouldn't expect us to move on that bill any further than it is now just because of the constitutionality of it," Anderson said before the hearing began.
Those attending the rally in support of the bill were quiet and orderly. The only minor dust-up occurred with an exchange between Bundy and a Native American man holding a sign saying "Bundy get off my property" who declined to be identified.
Bundy invited him to the podium and said he is as concerned about the freedom of Native Americans as he is for all Nevadans.
"You don't have our interests in mind," the man said. "You have your interests in mind."
Bundy said in his remarks that supporters of the bill are exercising their rights to have access to the 80-plus percent of Nevada land that is controlled by federal agencies.
"We're here to take our state back," he said.
"What's wrong with us in Nevada," Bundy said in his remarks. "You know what's wrong with us. We've allowed the federal government to rule over us until we're nothing. We're not going to be nothing no more."
At a rally in opposition to the bill, a crowd of about 50 called for the Legislature to keep Nevada's public lands open to all.
A coalition opposed to AB408 said the measure, "attempts to give an all access pass to companies to use and abuse our public lands opening the door to the destruction of important wildlife habitat and ruining our hunting and fishing economy. This bill will have a devastating effect on Nevada's economy."
Sen. Kelvin Atkinson, D-Las Vegas, spoke at the rally, saying the bill could cost the state millions of dollars in land management costs that it cannot afford.
"This is just the latest in a series of attacks this session on our Nevada public lands," he said. "Why is this Legislature spending so much time on (Bundy's) antics and the costly schemes to further defraud the American public?"
Critics say Fiore's bill is unconstitutional and is based on a flawed legal theory about public lands, noting that on numerous occasions the U.S. Supreme Court has described the federal authority over public lands as "without limitation."
The hearing began with Fiore challenging the LCB legal opinion, noting that Nevadans have legalized medical marijuana despite a federal law to the contrary and the state has successfully fended off the proposed Yucca Mountain nuclear waste repository for decades, both of which she said call into question federal authority over Nevada.
More than two hours of testimony was presented by both supporters and opponents of the measure.
But a further blow to the bill came in a fiscal note attached by the state Department of Conservation and Natural Resources, which estimated it would cost the Division of State Lands $95 million to implement if an estimated 60 million acres of lands were taken over by the state.
The committee took no action on the bill.
Anderson said that despite the bill being unconstitutional, the issue is worthy of debate.
"It's a sensitive issue," he said of the long-simmering dispute. "I think a lot of members in our caucus have a lot of questions to ask. The policy and the discussion is still an important one to have.
"As the people's house, that's our duty to make sure those voices are heard," Anderson said.
Security was beefed up for the rally and hearing in the Assembly Natural Resources, Agriculture and Mining Committee, but Anderson said he does not expect any incidents. Legislative police, Capitol police and the Carson City sheriff are all on alert, as much for traffic control as for any other purpose.
Also present were opponents who rallied against bill, which would prohibit the federal government from owning land that it has not acquired with the consent of the Legislature.
The hearing comes just days before the one-year anniversary of the BLM's efforts to round up cattle belonging to Bundy, which resulted in an armed confrontation between federal agents and Bundy supporters.
Calling it the Nevadans Resource Rights bill, Fiore said the bill will "put Nevada's land and resources back where they belong, in the hands of the people."
While Fiore's bill won't win approval at the Legislature, the federal land issue remains alive with Senate Joint Resolution 1, which would ask Congress to move more than 7 million acres of federal land to state control. Ranchers, farmers and some rural Nevadans supported Senate Joint Resolution 1, while conservation and wildlife groups argued against any such land transfer.
SJR1 was requested by several Republican lawmakers as a follow-up to a 2014 study on the viability of the state taking over some of the millions of acres of land in Nevada that is now under federal control.
The measure was heard earlier this session in the Senate Legislative Operations and Elections Committee, but has not seen a vote yet.
Contact Sean Whaley at swhaley@reviewjournal.com or 775-687-3900. Find him on Twitter: @seanw801.

RELATED STORIES
Sandoval's business fee hikes would hit small businesses, critics say
Assemblyman pushing for lottery at Nevada Legislature
https://www.reviewjournal.com/columns-blogs/patrick-everson/smog-checks-becoming-little-more-smokescreen
Campus carry gun bill sent to Nevada Assembly floor
Sandoval challenges legislators to adequately fund education
Tax Day in Carson City about to change the debate
Nevada voter ID proposal brings contentious debate
See all of our coverage: 2015 Nevada Legislature.