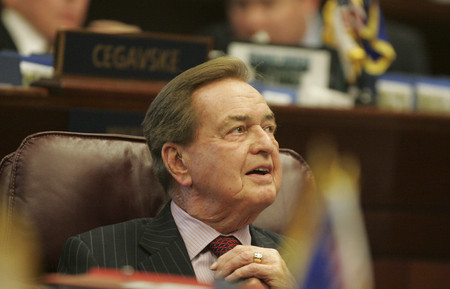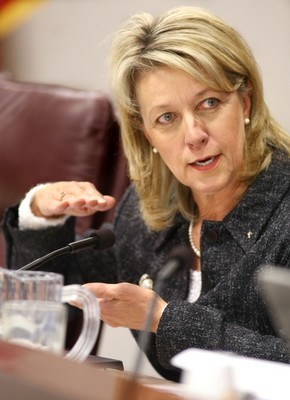 CARSON CITY — Assembly Speaker Barbara Buckley, D-Las Vegas, has been selected the best Assembly member for the sixth consecutive session, while state Senate Minority Leader Bill Raggio, R-Reno, was named best senator.
Their selections were made in an anonymous poll of legislators, journalists and lobbyists at the 2009 Legislature. Forty people responded out of 130 who were given the polls. An equal number of Democratic and Republican lawmakers were given polls.
Respondents overall gave Gov. Jim Gibbons an "F" grade for his performance during the 2009 Legislature. No one gave the governor better than a "C," and 35 gave him an "F."
Both Buckley and Raggio were heavily involved in the decisions to balance the budget through raising taxes by $1 billion, using $350 million in federal stimulus funds and cutting state agency spending by $1 billion below the level needed to maintain current services.
"I am just incredibly honored," Buckley said. "This was an incredibly difficult session. We tried to put our state first in all our discussions and to work collaboratively with our colleagues."
There's wide speculation that Buckley will run for governor next year, and she said she'll soon reveal her decision about her political future.
Nevada has never had a female governor.
Although Raggio lost the majority leader's position after 18 years, several poll respondents said he was still the most powerful state senator. That's because new Majority Leader Steven Horsford, D-Las Vegas, needed his support to override Gibbons' veto of the tax increases.
"I looked to do the right thing, even if it was not politically wise," Raggio said. "We had to do what we did. We put limits on taxes and we funded essential services. This was my toughest session, and I have been there since '73."
He said he was particularly pleased about adding a requirement that the tax increases expire in 2011 unless they are approved again by the Legislature.
Barbara Cegavske, R-Las Vegas, was named the worst senator, while Ty Cobb, R-Reno, was the overwhelming choice as worst Assembly member.
Assemblywoman April Mastroluca, D-Henderson, received an overall "B-" score in being chosen as the best Assembly freshman, and Allison Copening, D-Las Vegas, earned a "B" score to win the best Senate freshman honor.
Mastroluca, who called the session "fascinating and intriguing," sponsored a bill requiring businesses to give employees four hours of unpaid time off each year to meet with their children's teachers or volunteer at a school. Gibbons signed the bill into law.
"Still the master," "Comes up with great legislation," and "Leads through strength yet kindness" were some of the comments given to Buckley, who is prevented by term limits from seeking another term after 16 years in the Assembly.
"Outsmarts everyone" and "A great statesman" were among the compliments given the 82-year-old Raggio, who has served 37 years in the state Senate and will return for his last legislative session in 2011.
Raggio was also voted best state senator in the 2005 Legislature.
Gibbons said his low grade was not unexpected. He attributed the grade to his stance against raising taxes. Legislators even barred him from their closed-door tax meetings because of his unwillingness to compromise and support some tax increases, he said.
The governor said he would give the Legislature a "100 percent" failure rate for passing a $6.9 billion budget that includes $1 billion in higher taxes.
Gibbons received a "D+" score in 2007.
Contact Review-Journal Capital Bureau reporter Ed Vogel at evogel @reviewjournal.com or 775.687-3901.
POLL RESULTS
Best state senator
1. Bill Raggio, R-Reno
2. Steven Horsford, D-Las Vegas
3. Terry Care, D-Las Vegas
4. Bernice Mathews, D-Reno
5. Joyce Woodhouse, D-Henderson
Best Assembly member
1. Barbara Buckley, D-Las Vegas
2. Heidi Gansert, R-Reno
3. Marilyn Kirkpatrick, D-North Las Vegas
4. John Carpenter, R-Elko
5. Debbie Smith, D-Sparks
Worst state senator
1. Barbara Cegavske, R-Las Vegas
2. Maggie Carlton, D-Las Vegas
3. Maurice Washington, R-Sparks
4. Mark Amoedi, R-Carson City
5. John Lee, D-North Las Vegas
Worst Assembly member
1. Ty Cobb, R-Reno
2. Ed Goedhart, R-Amargosa Springs
3. Don Gustavson, R-Sparks.
4. John Hambrick, R-Las Vegas
5. Richard McArthur, R-Las Vegas
Grade Gov. Jim Gibbons: F
Freshmen senator grades
Shirley Breeden, D-Henderson: C-
Allison Copening, D-Las Vegas: B
Freshmen Assembly member grades
Paul Aizley, D-Las Vegas: C+
Marilyn Dondero Loop, D-Las Vegas: C+
John Hambrick, R-Las Vegas: D
April Mastroluca, D-Henderson: B-
Richard McArthur, R-Las Vegas: D
Ellen Spiegel, D-Henderson: C+
Melissa Woodbury,R-Henderson: C+