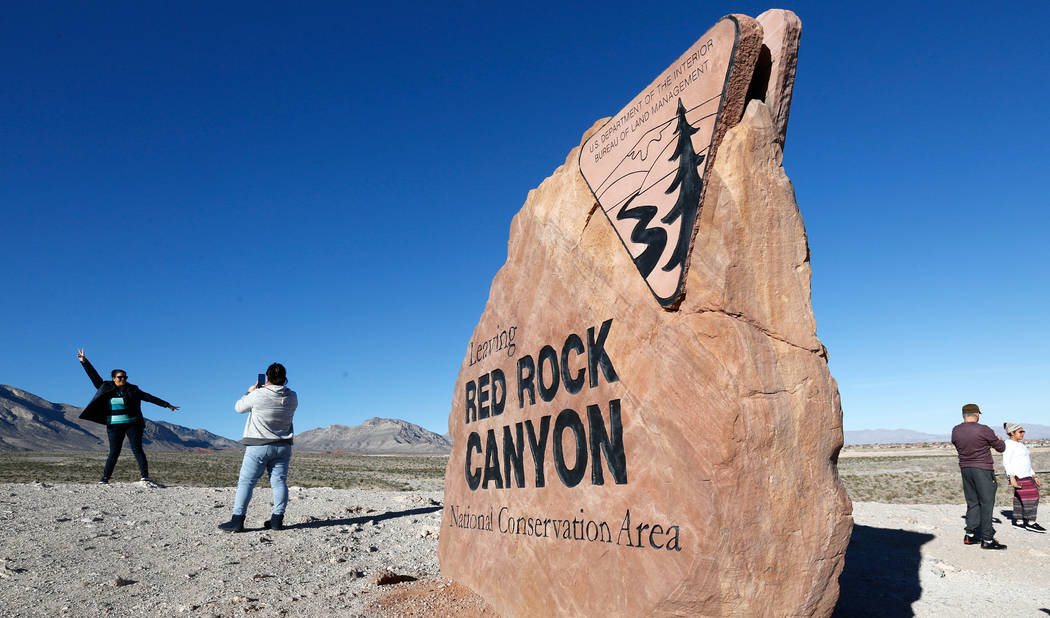 The scenic loop at Red Rock Canyon National Conservation Area opened later than usual Sunday, but entry was free.
But facilities, such as the visitors center were closed, and yellow caution tape stretched across the center's entrance and exit.
Early Sunday, the main entrance gates remained locked after the normal 6 a.m. opening time. More than an hour later, there was no one in the Red Rock entrance area, and no sign to say whether the gates would remain closed or reopen later.
But a couple of hours later, the gates were open, and signs at the fee booths instructed motorists to proceed with no payment necessary.
At 1:03 p.m. Sunday, Red Rock officials tweeted that visitors services, including the visitor center and restrooms, would stay closed all day and remain so until the shutdown ends.
There are no plans for any visitor services, including the Visitor Center and restrooms, to be open from today until the shutdown has ended. The Scenic Loop gates may remain open w/ hours TBD. Details expected Monday morning.
We will continue to update:https://t.co/z3mXQzLJSQ pic.twitter.com/0YScP8N4ch

— Red Rock Canyon LV (@RedRockCynLV) January 21, 2018
"The Scenic Loop gates may remain open w/ hours TBD," the tweet said. "Details expected Monday morning."
The park said it would keep updates on the park's status online.
On Sunday afternoon, the Bureau of Land Management, which manages Red Rock, issued a statement saying access to a majority of public lands will remain open during the shutdown.
"BLM roads, trails, campgrounds, boat ramps and recreation sites will remain accessible to visitors, but emergency and rescue services will be limited," the statement said.
The bureau's facilities on public lands, however, will be closed, the BLM said.
Contact Marian Green at mgreen@reviewjournal.com Follow mgreen0708 Contact Matthew Crowley at mcrowley@reviewjournal.com Follow @copyjockey on Twitter.