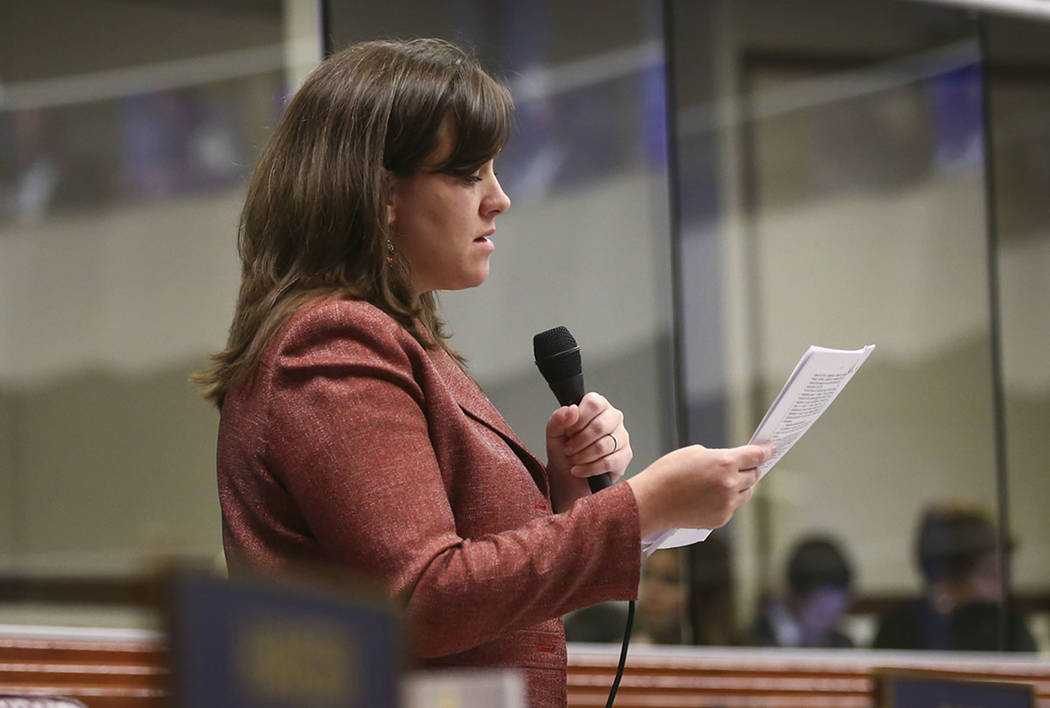 As one of the three state Senate recall attempts is getting messy with accusations of partisan bias, an assemblywoman said Nevada needs to take a look at its part-time Legislature. Here is a look at the week that was as Nevada gears up for the 2018 election:
Expensive part-time job
Nevada Assemblywoman Amber Joiner, D-Reno, announced last week that she will not seek re-election in 2018, and was rather frank in her reasons why.
"I truly wish I could run for another term, but I have found the financial hardship to be unsustainable for my family," Joiner said in a statement. "To do this job well, it requires a full-time commitment outside of the legislative session responding to constituents' e-mails and calls, serving on public committees, attending events in the community, traveling out of town to meetings, and listening to advocates. That does not include the hundreds of additional hours required to campaign and fundraise to retain the seat."
Joiner, a two-term assemblywoman who was appointed to the seat in 2014, said it has been impossible for her to find a full-time job that either isn't a conflict of interest or will accommodate the Legislature's requirement of being in Carson City for six months every other year when the Nevada Legislature convenes.
"I think it is time for Nevada to take a serious look at how prohibitive it is for people to serve in this role with no pay, health insurance, or administrative staff for 20 months at a time. Some other states make serving more accessible to people from all walks of life, and I think we could do this better in Nevada."
Recall-a-palooza
After attorneys for Democrat state Sen. Nicole Cannizzaro, D-Las Vegas, accused Republican Secretary of State Barbara Cegavske of playing partisan games with the petition verification process in the attempted recall of the senator, Cegavske's office punched back.
"The Secretary of State is following the law and performing the prescribed computations in the request sequence," Deputy Secretary of State Wayne Thorley wrote Thursday in response to a letter from Cannizzaro's attorneys claiming that the office had changed the recall rules "in the middle of the game."
"Rather than make unfounded partisan accusations, objections about the cost of the process or the sequence of steps would be better placed with the state legislature," Thorley wrote.
Cannizzaro's attorneys claimed last week that the request by the Secretary of State's office to have the Clark County elections department verify the 1,273 signature removal petitions before moving the process forward in the recall is inconsistent with previous recalls.
Cannizzaro is one of three state senators being targeted by recall attempts. The effort to recall Patricia Farley, I-Las Vegas, failed because of a lack of signatures. The recall targeting Joyce Woodhouse, D-Henderson, gathered enough signatures but the eligibility of some 5,500 is being challenged.
In other news
Former Democratic Assemblyman Andrew Martin announced that he is running for state treasurer to replace the outgoing Dan Schwartz.
The campaign for Republican gubernatorial candidate Adam Laxalt announced in a statement that 16 of Nevada's 17 sheriffs have endorsed Nevada's sitting attorney general. Clark County Sheriff Joe Lombardo was the only sheriff not on the list and has not weighed in on the race.
The Human Rights Campaign, the nation's largest LGBT civil rights advocacy group, endorsed Democrat Jacky Rosen in her run for U.S. Senate. She is leaving her seat as the representative for Congressional District 3 in hopes of challenging either incumbent Sen. Dean Heller or perennial candidate Danny Tarkanian in the general election.
Contact Colton Lochhead at clochhead@reviewjournal.com or 702-383-4638. Follow @ColtonLochhead on Twitter.