Review-Journal panelists hear from several Nevada candidates
Updated October 18, 2018 - 3:28 pm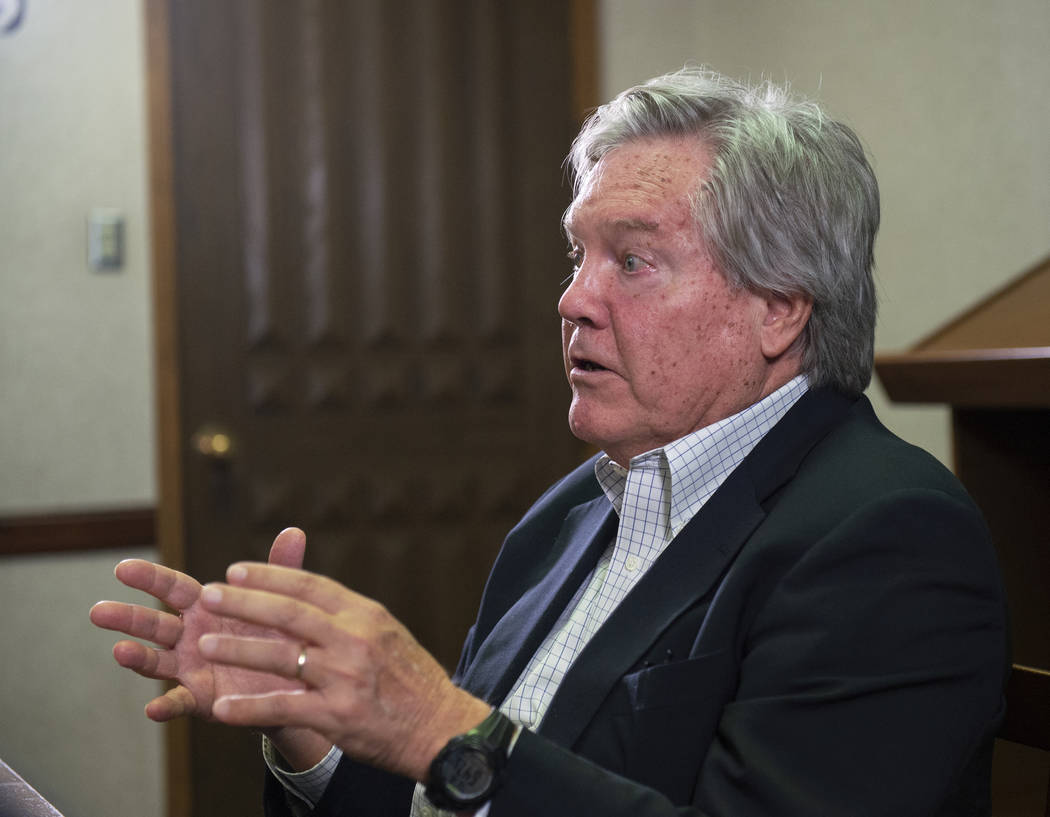 The Review-Journal's bipartisan reader panel on Tuesday met with six candidates seeking federal, statewide and local offices in its final meeting before Election Day.
Democrat Susie Lee, who's running for Nevada's 3rd Congressional District, said she is running because the gridlock in Washington hurts working families. Lee, one of eight children, grew up in Ohio and put herself through college. She founded the After-School All-Stars, a nonprofit that serves 7,000 students.
Panelist Lou Filardo, an Independent voter, asked Lee whether she supports sanctuary cities.
"I believe that anyone who is here illegally who commits a serious crime should be deported," Lee said. "Our own governor, our own sheriff, have said sanctuary cities are not an issue in Nevada."
Despite growing up in a conservative family, Lee said she believes in abortion rights and wants to protect that decision. In response to a question from Independent Rebecca Garcia about plans to improve education, Lee said she supports workforce and vocational training to diversify the economy.
Panelists also heard from Attorney General candidates Republican Wes Duncan and Democratic Senate Majority Leader Aaron Ford.
In response to a question from Republican Richard Bolandz, Duncan said he opposes sanctuary city policies because they take discretion away from local law enforcement.
He also said Nevada is in "limbo" when it comes to marijuana legalization because it's a federal crime but the attorney general must take the position of the state, which has legalized it. Duncan also said the state doesn't have a say in mandatory minimum sentences because it's a federal issue.
Ford told panelists about his rough childhood, growing up on public assistance and learning to heat up his water when the electricity got cut off. Despite becoming a single dad at age 21, Ford earned five degrees.
Asked by Democrat Levi Rothman about his plan to increase mental health services, Ford said he launched mobile outreach teams to reach people with mental illness.
Ford said his priorities include bolstering consumer protections, criminal justice reform and cracking down on elderly scams.
State Sen. Tick Segerblom, who's running in Clark County Commission District E, described himself to panelists as a very progressive "Bernie Sanders" person. Segerblom said he'll focus on traffic relief and improving the roads — two issues plaguing the community.
Democrat Ann Cribari asked Segerblom to share his views on short-term rentals, which are illegal in much of Clark County.
"I've used Airbnb in other places," he said, "but I'm just fundamentally against it."
Kali Fox Miller and Danielle Ford, who are running for Clark County School Board District F, also met with panelists Tuesday. Miller said she's running to help the school district "build a system around kids." Ford said she's not the establishment candidate and will stand up for students and teachers.
The election is Nov. 6, with early voting starting Saturday.
Contact Ramona Giwargis at rgiwargis@reviewjournal.com or 702-380-4538. Follow @RamonaGiwargis on Twitter.