Review-Journal voter panel discusses issues that matter to them
Updated June 6, 2018 - 10:39 pm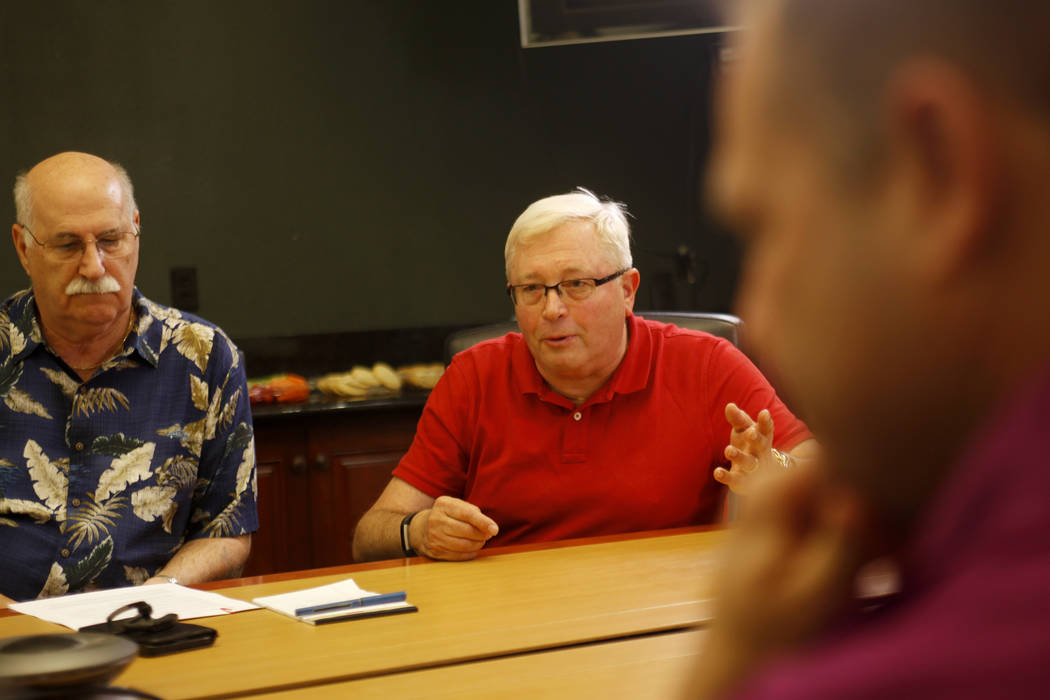 Nevada voters will elect a new governor, two new members of the U.S. House and possibly a new U.S. senator in November. Candidates hoping to occupy those posts can ensure victory by focusing on local issues, according to a panel of Review-Journal readers.
The Review-Journal hosted the panel of 11 readers on Tuesday to talk politics and the 2018 elections. The group included registered Republicans, Democrats and nonpartisan voters, ranging in age from 39 to 74. Members have served in the military and worked in health care, aviation, real estate, law enforcement and education.
"For me, this is an election that's about the future of Nevada for my kids," said Rebecca Garcia, 39, who lives in Sunrise Manor. "So many Nevada issues that are key to how the state is going to move forward are really going to be shaped by the (new) governor, especially when our Legislature only meets every other year."
Garcia said she wants the gubernatorial candidates to explain how they'll fix the "broken" funding system for education.
Richard Bolandz, 61, a Republican who lives in Henderson and works as a consultant, said the state's education woes stem from an economy tied to the hospitality and gaming industries.
"I would ask the candidates, 'What are you going to do to bring in good-paying jobs?'" Bolandz said, adding that improving education will help the state diversify its economy.
Sherry Hobbs, 70, a nonpartisan retired health care executive, said health care and gun control are the two issues that matter most to her.
"I'd like to know how much money the NRA is contributing to each of their campaigns," said Hobbs, a Henderson resident. "And I'd like to know what their thoughts are on universal background checks."
Others said Nevada candidates running for state and federal office should stop hiding behind party lines and work together on gun control.
Republican Howard Galin, 71, said gun control bills in Nevada have stalled because they're "poorly written." For example, he said, a 2016 amendment to the state Constitution promised enhanced background checks for gun owners by the FBI — but the agency never agreed to do the checks.
"No one in their right mind will say give guns to mentally unstable people," said Galin, a retired school administrator who lives in Henderson and said he has a permit to carry a concealed weapon.
"Trump did," countered Levi Rothman, 40, a Summerlin Democrat who owns a subcontracting company.
Rothman said that environmental issues matter the most to him.
"It is not fake news; it is reality," Rothman said. "The Gulf of Mexico is three degrees warmer than it always has been. Education is the most important thing … except it doesn't matter if there's no Earth left to put the school on."
William Harrison, 73, said he'd like to know how U.S. Senate candidates will balance the federal budget. He's also concerned about immigration issues and limiting the number of people allowed into the country.
"To be overloaded, and essentially invaded, with an open border makes no sense," said Harrison, a nonpartisan voter who lives in downtown Las Vegas.
The readers spent more than an hour mulling questions for politicians, which included funding residency programs for physicians and eliminating civil assets forfeiture.
On the topic of storing nuclear waste at Yucca Mountain, commercial pilot William Bradley said Nevada should "make a deal" with the federal government, which owns 85 percent of state lands.
"You can store it at Yucca Mountain, but you give us back that land," said Bradley, a 49-year-old Republican who lives near the Strip. "It's so easy to say not here, but it's got to go somewhere."
Contact Ramona Giwargis at rgiwargis@reviewjournal.com or 702-380-4538. Follow @RamonaGiwargis on Twitter.