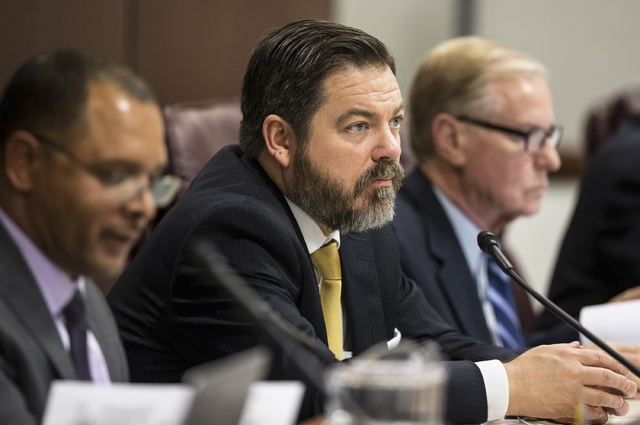 All Clark County School Board trustees would be appointed under a proposal laid out Monday by Sen. Michael Roberson, R-Las Vegas.
City and county governments would be responsible to create "community education advisory boards" under Senate Bill 381. The advisory boards would then be responsible to appoint trustees to the school board.
Roberson's bill is similar to a bill introduced this month by Sen. Ben Kieckhefer, R-Reno. Under Senate Bill 243, a majority of the board trustees would be appointed, but a few would still be elected.
Roberson did not immediately return a request for comment.
Clark County is the only county that would be affected by Roberson's bill, which applies to districts with more than 75,000 students.
Washoe County would be affected by the bills as well, although most members would still be elected. Roberson is proposing five trustees elected by districts and two at-large members elected countywide for the other school districts in the state.
School board members, locally and at the state level, previously said they would not support appointed boards.
"I think that we have evidence that indicates that yes, individual constituents do know their local school board members and do turn out to vote," Dotty Merrill, executive director of Nevada Association of School Boards, told the Review-Journal earlier this month.
Contact Meghin Delaney at 702-383-0281 or mdelaney@reviewjournal.com. Follow @MeghinDelaney on Twitter.