Rosen's Senate bid the first 2018 political domino to fall in Nevada
Updated July 6, 2017 - 6:01 pm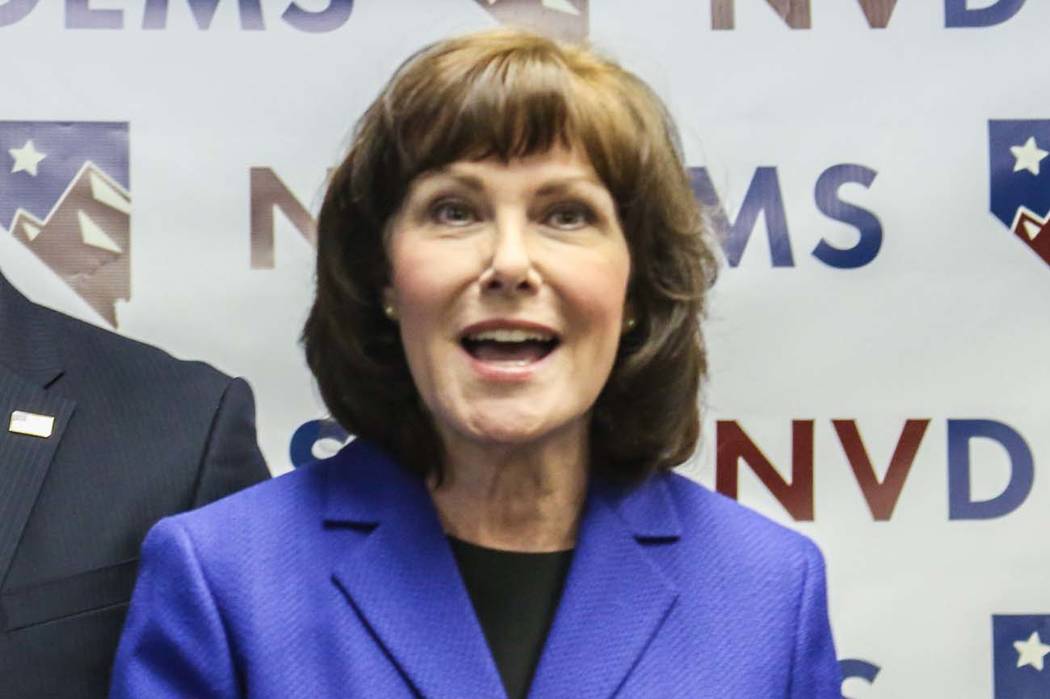 Nearly a year before ballots will be cast in Nevada's midterm primary election, the political dominoes are beginning to fall.
The first drop for 2018 came Thursday, when Democrat U.S. Rep. Jacky Rosen officially launched her campaign to challenge U.S. Sen. Dean Heller.
Rosen had no political experience until last year, when she was tapped by Senate Democratic Leader Harry Reid to run for Nevada's 3rd Congressional District. She won one of the most expensive House races in 2016, and believes that experience will help her unseat Heller.
"I think that I've shown I can win a tough race," Rosen told the Review-Journal. "I did the analysis, I feel very good about this decision."
Rosen's announcement was expected, but it is a gamble for Democrats. If she loses to Heller and a Republican wins the congressional seat, Nevada Democrats lose their advantage in Washington. Winning both races, however, gives Democrats control of all but Rep. Mark Amodei's Congressional District 2 seat — the safest Republican district in Nevada.
And Republicans are eager to pounce on the opening.
Nearly a half-dozen candidates — including a professional golfer from Henderson — are mulling or have announced a run for the seat. More contenders could emerge between now and the June 2018 primary election.
"It was going to be a top pickup opportunity even with Rosen running," said Jack Pandol, a spokesman for the National Republican Congressional Committee. "Rosen vacating it only increases our chances of picking up this seat."
What it means for CD3
Even before Rosen's announcement, Republicans eyed the district it as a potential flip.
Rosen beat Republican Danny Tarkanian by just over 1 point last year. The race was deemed by Opensecrets.com as the most expensive House race in the country in terms spending by outside groups.
Despite roughly 10,000 more registered Democrats than Republicans in the district, Republicans have won the race in six of the last eight elections.
Professional golfer Natalie Gulbis, who lives in Henderson, told Fox Business she is strongly considering running.
"I'm not a career politician, I come with an outside, positive perspective and really just want to serve the people of that district," Gulbis said.
State Sen. Scott Hammond, R-Las Vegas, filed candidacy paperwork Wednesday.
Tarkanian told the Review-Journal he's weighing either a run for the House seat or a challenge to Heller in the Republican Senate primary.
Cresent Hardy, who served one term in 4th Congressional District before losing to Kihuen last year, has been eyeing Rosen's seat for several months, according to several Republican sources.
Las Vegas City Councilman Stavros Anthony said Thursday he is considering bids in either the 3rd or 4th Congressional districts.
No prominent Democrat has publicly expressed interest in the seat, but Rosen said she believes her party will find a strong candidate.
Susie Lee, a philanthropist and education advocate, is said to be weighing a run for the seat. Lee lost in the 2016 Democratic primary to Kihuen.
The Senate race
Rosen, who is six months into her first elected office, said in an interview with the Review-Journal Thursday that she was encouraged to run for Senate by Reid, who helped recruit her for the 2016 congressional race.
The former computer programmer and synagogue president blasted Heller's previous efforts to repeal the Affordable Care Act. She also balked at Heller's recent opposition to the renewed push to repeal the ACA, saying he's only taken that stance because he is up for re-election.
Heller, who will run for his second term next year, is considered one of the most vulnerable Republican senators on the 2018 ballot.
"Now that there's a spotlight shining on him since he's up for re-election, he seems to have taken a different tune," Rosen said. "We need to hold him accountable for his record."
Within hours of her announcement, Rosen received endorsements from the Democratic Senatorial Campaign Committee, U.S. Sen. Catherine Cortez Masto and U.S. Rep. Ruben Kihuen.
Rosen could be challenged in the primary by fellow Democratic Rep. Dina Titus, who represents Nevada's 1st Congressional District.
Titus wasn't willing to commit to the race on Thursday, however.
"It's a personal and political decision. The election is 16 months away and I am evaluating in what role I can continue to best serve the citizens of Nevada," she said in a statement.
Tommy Ferraro, Heller's campaign spokesperson, compared Rosen to retired Nevada Sen. Harry Reid.
"Thought Nevada was free of Harry Reid? Think again," Ferraro said on Heller's campaign website.
Rosen's announcement provoked an immediate comment from Michael McAdams, regional press secretary for the National Republican Senatorial Committee.
"She is already in the pocket of Nevada's political puppet-master, Harry Reid, after he hand-picked her to run, and Jacky's allegiance to Reid is even raising red flags within her own party," McAdams said in a statement. "Rep. Dina Titus, who has taken on the Reid machine numerous times and won, publicly stated today she's considering challenging Jacky in a primary."
Contact Colton Lochhead at clochhead@reviewjournal.com or 702-383-4638. Follow @ColtonLochhead on Twitter.