Same-sex marriage bill would alter Nevada Constitution language
February 21, 2017 - 3:58 pm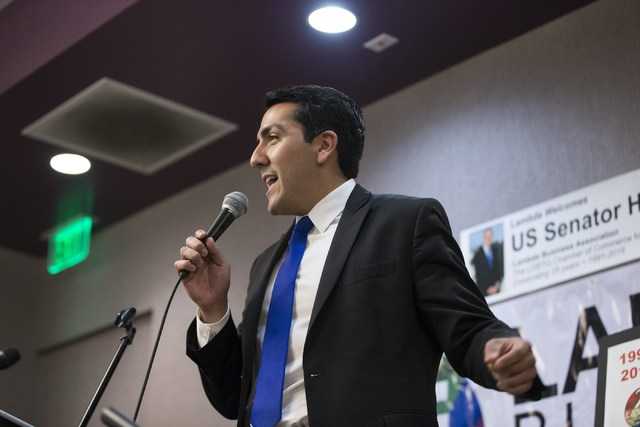 CARSON CITY — Two years after federal courts legalized same-sex marriage, the Nevada Legislature is taking steps to remove contrary language from the state Constitution.
Assembly Joint Resolution 2 would rescind language approved by voters in 2000 and 2002 that defined marriage as between one man and one woman. Instead, it proposes new language reading Nevada "shall recognize marriage and issue marriage licenses to couples regardless of gender." The measure further states that all legally valid marriages "must be treated equally under the law."
Assemblyman Nelson Araujo, D-Las Vegas, presented the bill Tuesday to the Assembly Committee on Legislative Operations and Elections.
Nevada began issuing licenses to same-sex couples in October 2014 after the 9th U.S. Circuit Court of Appeals in San Francisco struck down the state's ban. As of last month, more than 10,000 marriage licenses have been issued in Clark County, home to the Las Vegas Strip and a global wedding tourism destination.
The U.S. Supreme Court legalized gay marriage across the country in June 2015.
"Given the U.S. Supreme Court position … it only makes sense the Nevada Constitution reflect the law of the land," Araujo said.
If approved in 2017, lawmakers would have to approve the bill again in 2019 to send it to voters in 2020 for ratification.
Supporters of the amendment also expressed fears that the highest court in the land could reverse its gay marriage position, a move that would return the issue to the states.
Karen Vibe and Karen Goody were the first gay couple to be married in northern Nevada's Washoe County.
"We feel that marriage is a choice that every couple should have,' Vibe testified. "Our wedding day was one of the happiest days of our life."
But they worry about what may happen under the administration of President Donald Trump and a new Supreme Court justice.
"With the election of our new president, we feel that this advancement and rights are being threatened," Vibe said.
Riley Roberts shared that sentiment.
"I love my family. And if we don't pass this … Donald Trump could reverse the things we have," said Roberts. He and his brother, Zachary, were raised by their mothers Pam Roberts and Gretchen Miller.
Opponents raised concerns that changing the constitution would infringe on religious liberties.
Assemblyman Ira Hansen, R-Sparks, questioned whether clergy could lose their license for not performing same-sex marriages. He also asked whether the amendment should address other marriage arrangements like polygamy.
"We continue to discriminate against that type of marriage," Hansen said.
Others also raised religious objections.
"I feel that God defined what a marriage is … between a man and woman," said John Wagner, with the Independent American Party.
No action was taken Tuesday by the committee.
Contact Sandra Chereb at schereb@reviewjournal.com. Follow @SandraChereb on Twitter.
RELATED
Gay marriage legalized in Nevada!
Supreme Court approves gay marriage
Clark County to start issuing same-sex marriage licenses today