Sandoval signs 54 bills into law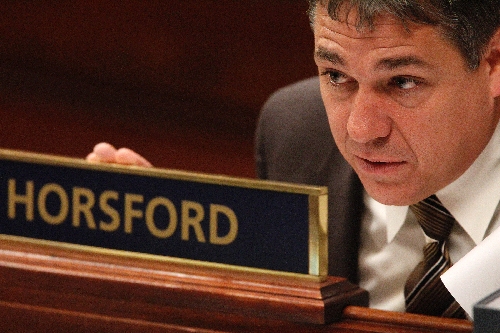 CARSON CITY — Gov. Brian Sandoval signed 54 bills into law Tuesday and over the long Memorial Day weekend, including one that allows students to anonymously report crime and suspicious activities they witness at school.
Under Assembly Bill 138, each school district must set up policies to allow students to secretly report any unlawful activity they see on school property or on school buses.
The bill also requires school districts to inform new ninth-graders and their parents of the courses available for career and technical education as well as for advancing on to college.
It also requires that they be informed of possible scholarships and the high school proficiency examination, which must be passed by students to receive diplomas. And schools must report incidents of bullying, cyberbullying and their attempts to stop such mistreatment of students.
Sandoval also signed Assemblyman John Hambrick's Assembly Bill 227, which requires school districts to let nonprofit organizations, such as Little League and Pop Warner teams, to use school athletic fields that are not being used for school activities. Hambrick is a Las Vegas Republican.
The governor also signed Assembly Speaker John Oceguera's Assembly Bill 280, which requires hospitals and other medical facilities to establish safety committees. The committees will prepare checklists for doctors and others to follow when they treat patients. Oceguera, a Democrat, lives in Las Vegas.
Sandoval also approved Assembly Bill 451, which abolishes the Advisory Council on the Metric System.
The council, created in the 1970s when the United States was considering following almost every country in the world by adopting the metric system, has not met in nearly 30 years. The system never caught on in America.
Other bills signed by the governor include the following:
■ Assembly Bill 170, proposed by Assemblywoman Peggy Pierce, D-Las Vegas, which requires stores that sell cigarettes to post signs warning pregnant women that smoking can cause birth defects, low birth weights and other problems for their babies. Most Republicans voted against the bill.
■ Assembly Bill 182, proposed by Assemblyman Kelvin Atkinson, D-North Las Vegas, which allows the Commission on Economic Development to create "inland ports" in communities near major highways, airports and railroads. The ports could become centers of commerce and manufacturing. Cargo containers from ships at ports on the Pacific Coast would be shipped unopened to the inland ports. Inland ports in Dallas have created many jobs and commercial activity.
■ Assembly Bill 455, led by Assemblyman Jason Frierson, D-Las Vegas, which requires school districts and the Nevada Interscholastic Activities Association to set policy for handling head injuries by student athletes. The policy would mandate students be removed immediately from competition if they suffer a concession or head injuries. They could not return until they were examined and cleared by a doctor.
■ Senate Bill 245, sponsored by Sen. David Parks, D-Las Vegas, which creates a statewide alert system for the safe return of missing, endangered elderly people. The Department of Public Safety would establish and operate the system, similar to the Amber Alert system in which information about missing children is posted on highway boards and in the media.
■ Assembly Bill 248, sponsored by Assemblywoman Debbie Smith, D-Sparks, which requires the establishment of performance criteria and goals for each state agency. The goals will be included in the agency's budget and posted on the Internet.
■ Assembly Bill 373, sponsored by Assemblyman Pete Goicoechea, R-Eureka, which makes it a misdemeanor to damage or destroy a house subject to foreclosure. The bill arose from several incidents in which residents deliberately damaged the homes they were losing.
■ Assembly Bill 19, sponsored by the Committee on Natural Resources, which requires the Department of Wildlife to issue special fishing permits to foundations and organizations that benefit children. Current law allows the permits only for organizations that benefit disabled children.
■ Assembly Bill 276, sponsored by Assembly members Marcus Conklin, D-Las Vegas, and Marilyn Kirkpatrick, D-North Las Vegas, which requires the state controller to maintain on a website and for public inspection all revenues and expenditures made by state government during the previous month, a detailed report of the state debt, tax receipts, state property and other data.
Contact Capital Bureau Chief Ed Vogel at evogel@reviewjournal.com or 775-687-3901.