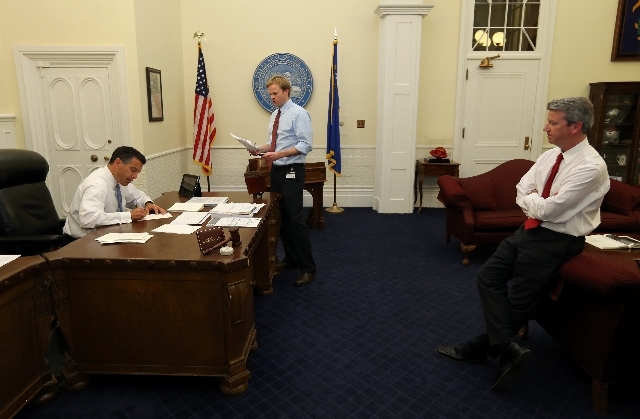 CARSON CITY — Gov. Brian Sandoval has signed a bill that specifies that parents have a "fundamental right" over the care, custody and management of their children.
Senate Bill 314 drew unanimous support in the Senate but 14 of the 42 Assembly members opposed it. The opposition came from both liberals and conservatives. During hearings, they questioned why the bill was needed.
Senate Majority Leader Mo Denis, the bill's sponsor, said the bill would establish a state law that would guide courts in cases involving children. Denis, D-Las Vegas, is the father of five children. Occasionally his children sat by him on the Senate floor and he praised them for their accomplishments in short speeches.
Sandoval, the father of three children, made no comment on his signing of the bill.
The new law also specifies that the law does not authorize a parent to abuse or neglect a child or prevent courts, police and child welfare employees from carrying out their duties.
The push for laws that assert parents' fundamental rights over their children has come from the parentalrights.org organization. Scott Woodruff of the organization testified for the bill.
It is trying to pass a U.S. constitutional amendment that guarantees parents' rights over the control of their children. That bill has not been approved in the past four sessions of Congress.
Michael T. Ramey, a spokesman for parentalrights.org, said Thursday that his group is concerned by a 2000 U.S. Supreme Court decision in the Troxel case that found parents can restrict visitation by grandparents to their children. While they support that ruling, he said that decision did not go far enough in asserting a strict standard that prohibits government interference with children.
The Nevada law ensures the strict standard applies in state courts in cases involving parental rights over children, he said.
The governor also signed a bill lessening the tension between California and Nevada over development management at Lake Tahoe.
Senate Bill 229 reaffirms Nevada's commitment to the decades-old Tahoe Compact and removes Nevada's threat to leave the Tahoe Regional Planning Agency in 2015.
Sandoval signed the bill Thursday in Carson City.
Sandoval and California Gov. Jerry Brown, along with lawmakers from both states, worked for months to resolve the states' differences over land use management in the Tahoe Basin.
The 2011 Nevada Legislature passed a bill paving the way for the state to withdraw from the compact. Nevada blamed California for favoring strict environmental controls that critics said stifled development and crippled the economy of a state and region hard hit by the recession.
The Associated Press contributed to this report Contact Capital Bureau Chief Ed Vogel at evogel@reviewjournal.com or 775-687-3901.