Sandoval signs 'Right to Try' bill for the terminally ill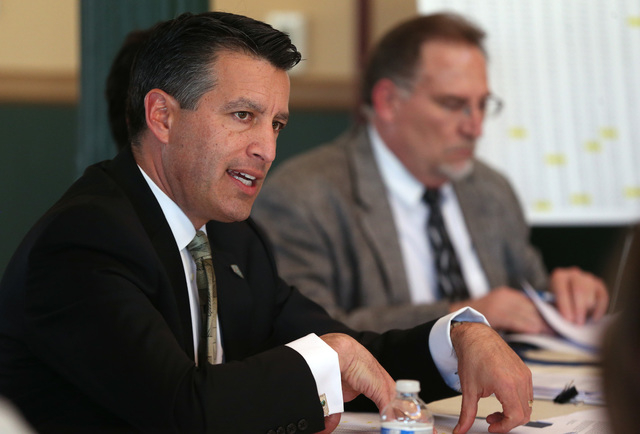 CARSON CITY — A "Right to Try" bill that will make it easier for terminally ill Nevadans to obtain experimental medications that could help prolong their lives has been signed into law by Gov. Brian Sandoval.
Assembly Bill 164 was sponsored by Assembly­man James Ohrenschall, D-Las Vegas, who said the measure will make it easier for those diagnosed with one year or less to live to seek potential remedies that have not received final approval from the Federal Drug Administration.
Las Vegas attorney Elayna Youchah testified for the bill earlier this session, saying her 86-year-old father was facing a terminal illness and his treatment could benefit from the legislation. Michael Youchah recently died.
Under the bill, doctors will be authorized to give prescriptions to individuals if three conditions are met: a diagnosis of a terminal condition, a determination that there is no treatment approved by the FDA that is adequate to treat the condition, and that the patient consents with knowledge of the possible consequences of such treatments.
The legislation is modeled on a measure developed by the Arizona-based Goldwater Institute, which has been advocating for the legislation around the country.
The FDA currently has a compassionate use provision, but Ohrenschall said only a few hundred such exceptions are granted each year while annually there are tens of thousands of diagnoses of terminal cancer.
"To me that is unacceptable," he said in testimony on the bill earlier this session.
Contact Sean Whaley at swhaley@reviewjournal.com or 775-687-3900. Find him on Twitter: @seanw801

RELATED STORIES
Gov. Sandoval signs bill allowing slot machines with skill factor
Bill calling for annual Nevada legislative session clears key Senate panel
Nevada Assembly kills 'campus carry' gun amendment
Assembly approves bill exempting high-earning school administrators from collective bargaining
Nevada Gov. Brian Sandoval's compromise tax plan gets guarded legislative reception
See all of our coverage: 2015 Nevada Legislature.