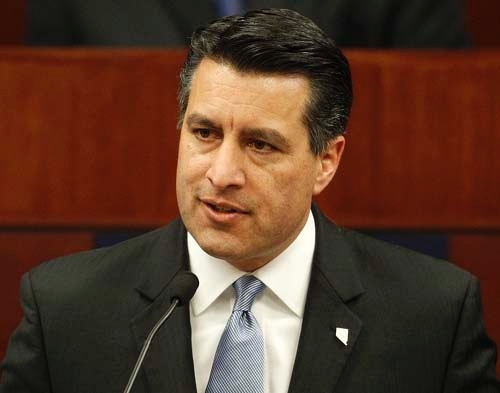 CARSON CITY — To no one's surprise, Gov. Brian Sandoval on Saturday vetoed the Democrat-approved redistricting plan, contending it diluted the power of Hispanics to win seats.
It appears that redrawing Nevada's congressional and state legislative districts is headed to court, as many legislators predicted all along.
Sandoval, the state's first Hispanic governor, said in his veto message that Senate Bill 497 violated the federal Voting Rights Act and common sense. He maintained the law requires the Legislature to "afford Hispanics an equal opportunity to elect representatives of their own choosing."
The governor noted the Republican redistricting plan would have given a Hispanic majority population to one of Nevada's four congressional districts.
Sandoval also argued that the Democrat's legislative redistricting plan was not fair because it crowds Hispanics "into as few districts as possible."
But all 10 Hispanic legislators are Democrats, and all voted for SB497.
Ten minutes after the veto message, Democrats released their response.
"The Republican Party's record on Hispanic issues borders between ambivalent and atrocious, so their sudden interest in taking up the mantle of minority voting rights must be examined," said state Sen. Mo Denis, the leader of the Hispanic caucus.
During floor debates on the bill, Denis, D-Las Vegas, had argued the Republican plan, not the Democrat plan, diluted Hispanic communities of interest.
The Republican plan created four Hispanic-majority state Senate districts and eight Hispanic-majority Assembly districts.
But Denis argued that Hispanic people and other minorities can and have won districts where they do not have the majority population.
He said the Democrat plan, with fewer Hispanic majority districts, offered minorities a greater opportunity to pick up more seats.
"History matters," he said in a statement Saturday. "Simply put, you don't let the fox guard the hen house."
All six African-American legislators, all Democrats, voted for the Democratic plan.
State Senate Democrats don't have the two-thirds vote needed to override Sandoval's veto so the bill probably will die there. The measure then would be referred back to committee to see whether a compromise can be reached. Although the Legislature is not scheduled to adjourn until June 6, it is doubtful the two parties ever will agree on a redistricting plan.
State Senate Minority Leader Mike McGinness, R-Fallon, and Assembly Minority Leader Pete Goicoechea, R-Eureka, both said last week they expect redistricting to be settled in court.
Separate court cases asking for judges to intervene have been filed in U.S. District Court in Reno and state District Court in Carson City.
Contact Capital Bureau Chief Ed Vogel
at evogel@reviewjournal.com
or 775-687-3901.
Gov Sandoval's veto letter
Democrats' response to Governor's veto