Sandoval will meet with legislative leaders on Las Vegas stadium proposal
September 22, 2016 - 5:45 pm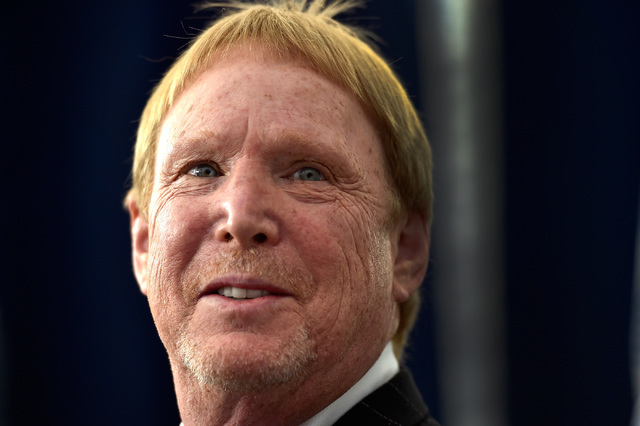 CARSON CITY — Gov. Brian Sandoval will meet with legislative leaders next week in preparation for a special session of the Legislature to consider room tax increases to fund an NFL stadium for the Oakland Raiders and improve the Las Vegas Convention Center.
The two-term Republican governor, speaking Thursday with the Review-Journal, said he's convinced the projects present an opportunity for Nevada to accentuate its standing as a global entertainment, convention and tourism destination.
Sandoval late Wednesday accepted the recommendations of the Southern Nevada Tourism Infrastructure Committee and said he will convene a special session sometime between Oct. 7 and Oct. 13 to consider the proposals.
The governor met with Raiders owner Mark Davis on Tuesday at his office in Carson City, where the two spoke for about 90 minutes.
"Prior to calling a special session it was important for me to meet with him eye-to-eye and ask him specifically his intent with regard to the Raiders coming to Las Vegas if this were to be approved," Sandoval said.
"I believe he is resolute in his intent to bring the Raiders to Las Vegas," the governor said.
Sandoval said that while he has had informal conversations with some lawmakers, "I'm not polling legislators."
The Review-Journal reached out to all 58 sitting legislators about the proposal on Monday and Tuesday. Of the 27 who responded, more than half said they are still gathering information and have not decided how they might vote. One lawmaker declared opposition.
Sandoval also said he has asked Steve Hill, executive director of the Governor's Office of Economic Development who chaired the infrastructure committee, to brief legislative caucuses at their request and answer questions.
The proposed legislation would increase Clark County's room tax rate to raise $750 million to finance general obligation bonds for the domed, 65,000-seat stadium. The deal would require the family of Las Vegas Sands Corp. Chairman Sheldon Adelson, Majestic Realty and the NFL's Oakland Raiders to pay the remainder of the construction costs for the stadium, along with any cost overruns.
Adelson has pledged to contribute at least $650 million, while the Raiders would pay $500 million.
The proposal would increase Clark County's room tax by 0.88 percentage points along the main casino corridor and 0.5 percentage points in outlying areas. The current rate is 10 percent to 12 percent, depending on location and type of lodging facility.
The stadium would also be used by UNLV's football team.
If the Raiders back out or NFL owners don't approve the team's move when they meet early next year, the room tax increase would be scaled back to finance a smaller, 40,000-seat stadium for UNLV, provided $200 million in private donations is raised.
"It's not just the Raiders," Sandoval said. Besides providing a new home for UNLV football, a stadium would provide a venue for large concerts and other events, he said.
As legislators prepare to debate the stadium proposal, two recent polls give conflicting views of public opinion on the issue.
A poll by Washington-based WPA Research said 62 percent of likely voters support building a stadium financed in part by an increase in the room tax, while 26 percent opposed it. Twelve percent were undecided.
The survey, which was paid for by Adelson, interviewed 500 likely voters on Sept. 12 and 13. The poll has a margin of error of plus or minus 4.4 percentage points.
Meanwhile, a KTNV-TV/Rasmussen Reports poll found 52 percent of Nevada voters oppose raising hotel room taxes to pay for a stadium. It said 32 percent favored the idea and 14 percent were undecided.
The poll of 800 likely voters was conducted between Sept. 16 and 18 and has a margin of error of plus or minus 4 percentage points.
Legislators will also consider a 0.5 percentage point increase in the county's lodging tax to help finance a $1.4 billion expansion and upgrades to the Las Vegas Convention Center.
"The convention center, that is incredibly important to the future of tourism and hospitality in Southern Nevada," Sandoval said.
A third measure, called the Clark County Crime Prevention Act of 2016, would authorize the County Commission to increase the sales tax rate by 0.1 of a percentage point to fund more police officers. The tax would generate an estimated $40 million annually countywide.
About 20 percent, or $8 million, would go to the Metropolitan Police Department to hire more officers for the Strip resort corridor. The stadium recommendation also includes annual funding of $4 million for law enforcement, bringing the total to about $12 million, enough to fund 90 additional officers for the resort area.
The rest of the sales tax increase would be distributed to other police agencies within the county.
Sandoval said he has not been approached about adding other measures to the agenda for the special session and he is not entertaining any outside proposals.
This will be the third special session Sandoval has called in as many years for lawmakers to approve economic development projects, which have been a priority for his administration.
In 2014 the Legislature approved a $1.3 billion tax incentive package to lure Tesla to Northern Nevada, where it is building a $5 billion lithium-ion battery factory in concert with Panasonic Corp.
In December, lawmakers were called to Carson City to approve $217 million in tax breaks for Faraday Future, which is building a $1 billion electric car manufacturing plant in Southern Nevada.
"I look at it as opportunities," Sandoval said. "We are investing in our state. We have invested in both the north and the south."
The upcoming session "is an opportunity to invest in our core industry, which is tourism."
Next month's special session will the 30th of the Nevada Legislature in its 152-year history.
The Review-Journal is owned by the family of Sheldon Adelson, chairman and CEO of Las Vegas Sands Corp.
Contact Sandra Chereb at schereb@reviewjournal.com or 775-461-3821. Follow @SandraChereb on Twitter.