Sen. Dean Heller opposes GOP health care bill, wants changes made
Updated June 23, 2017 - 9:27 pm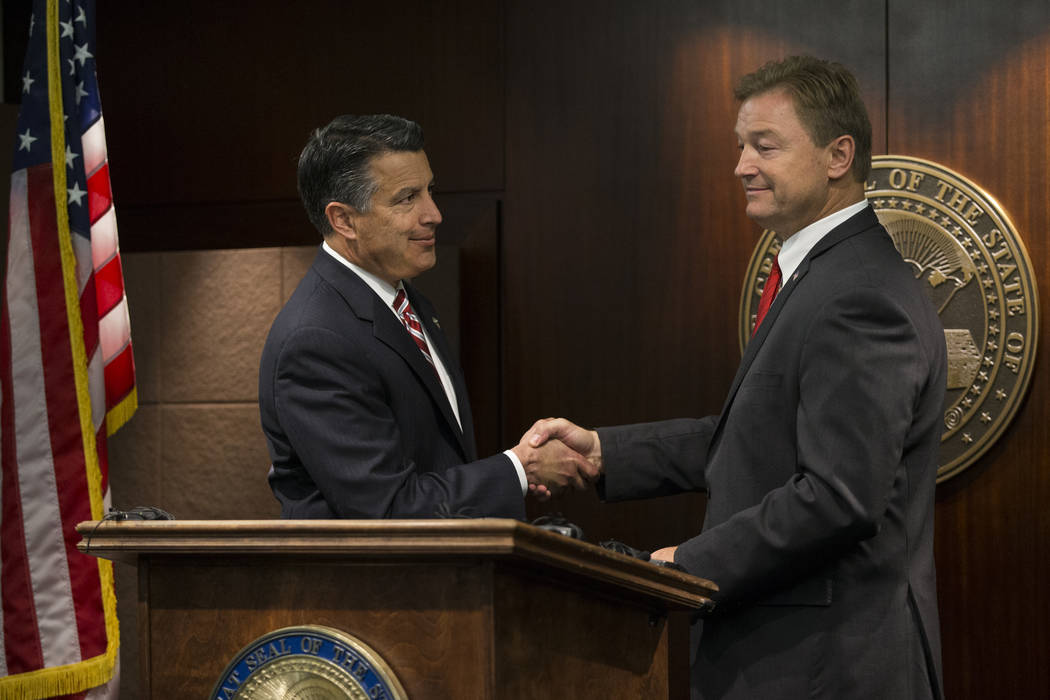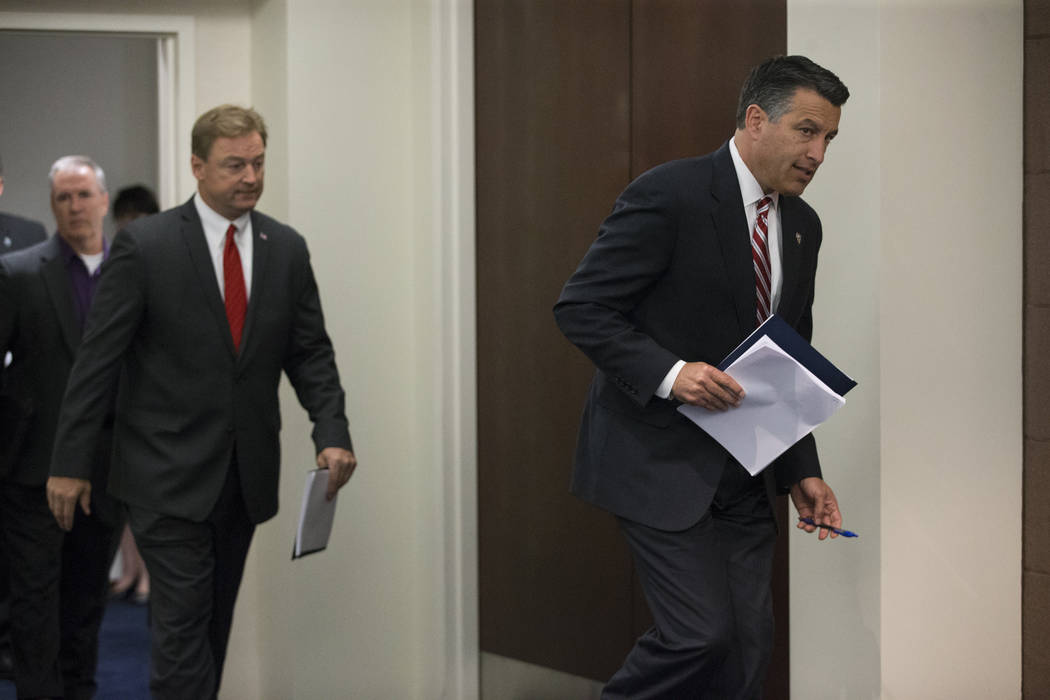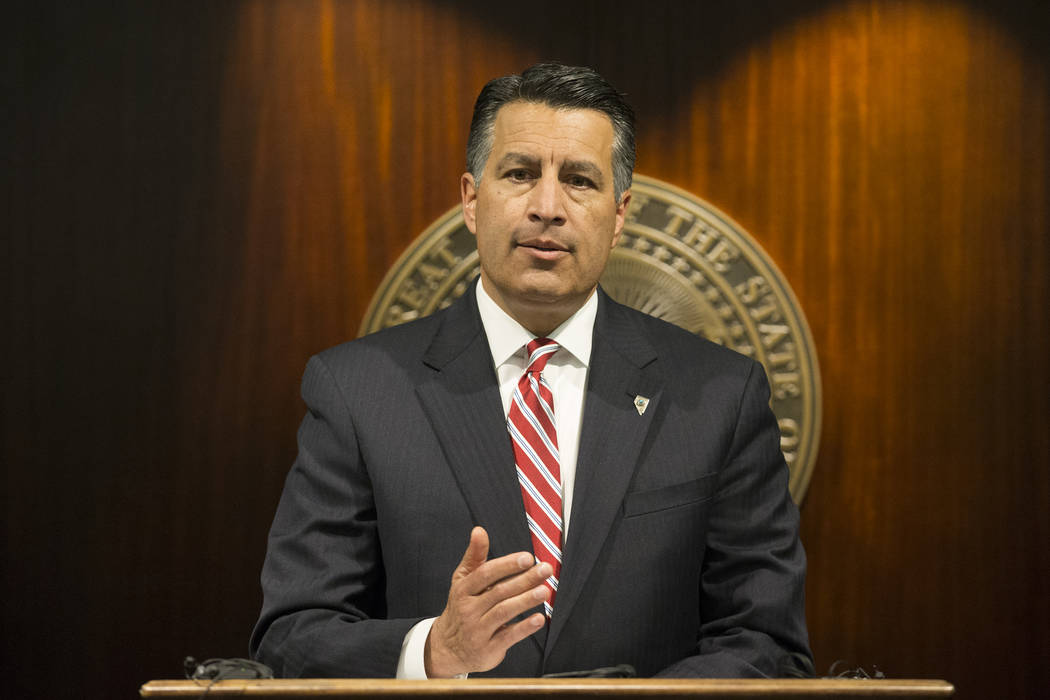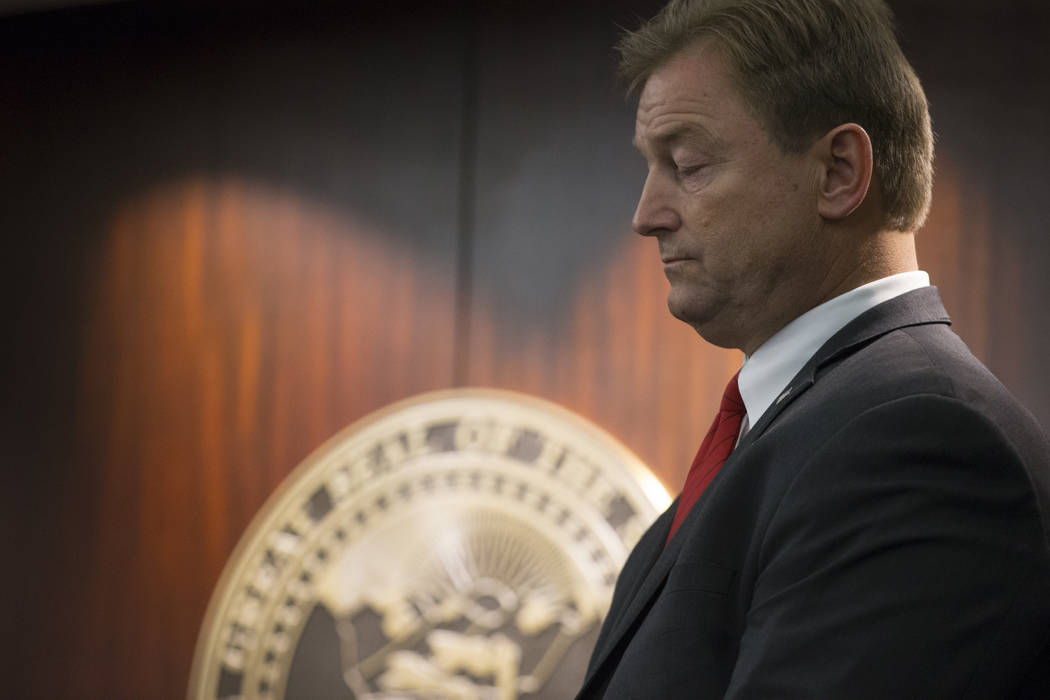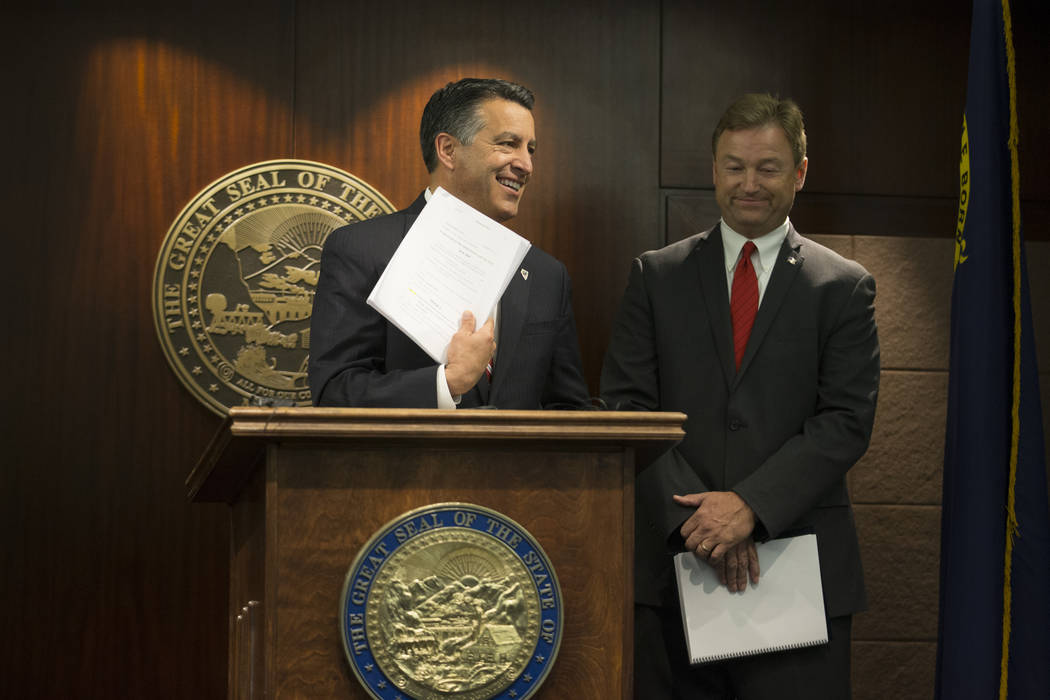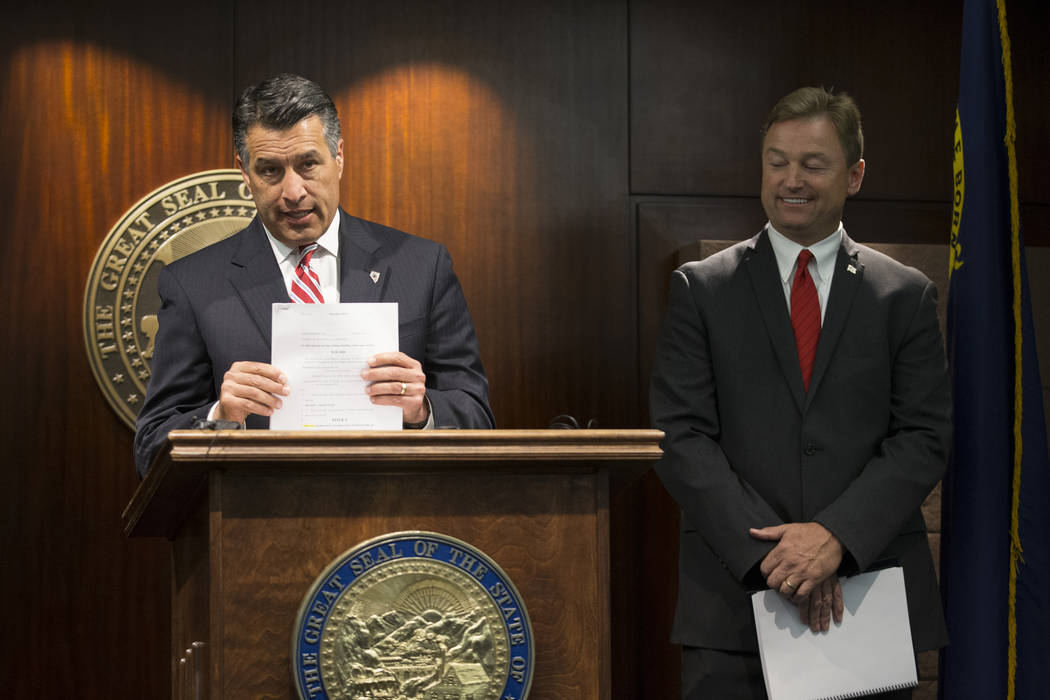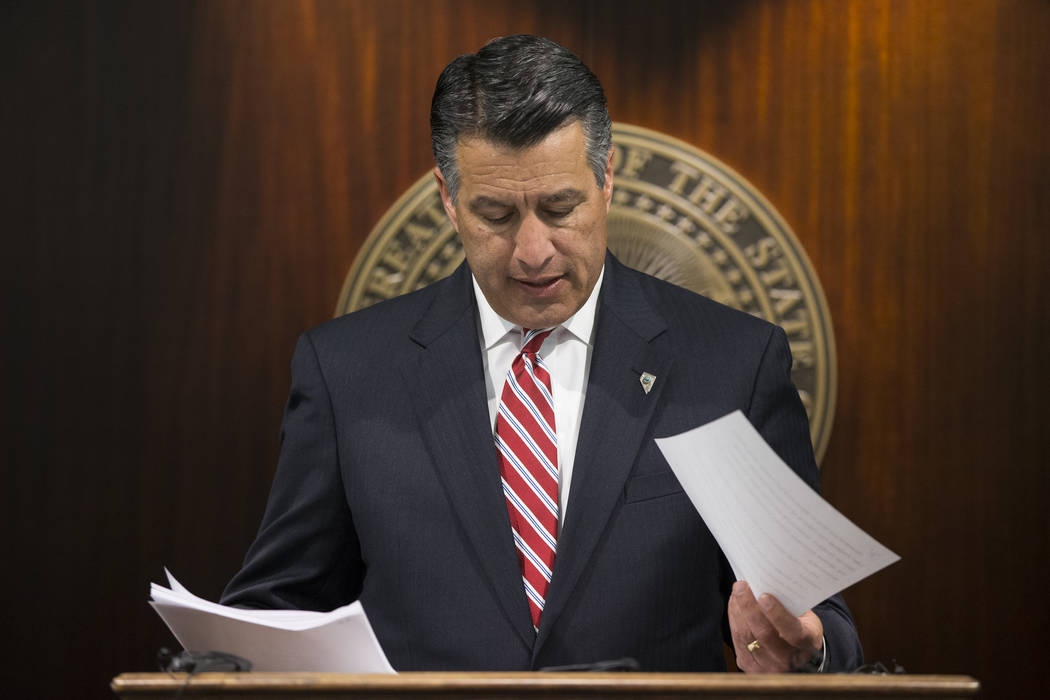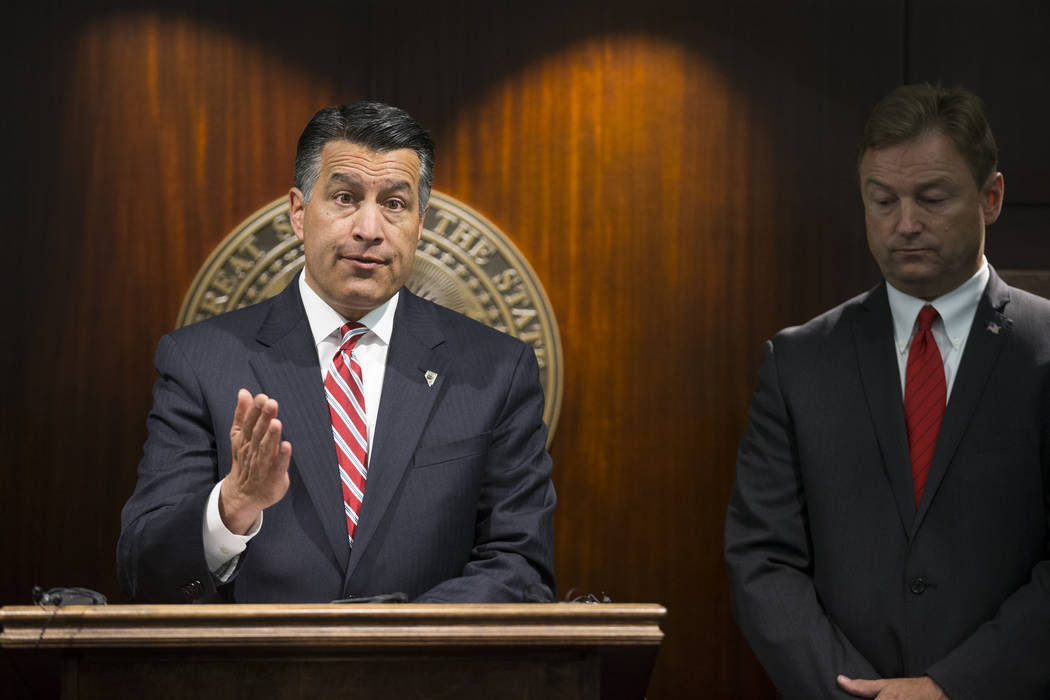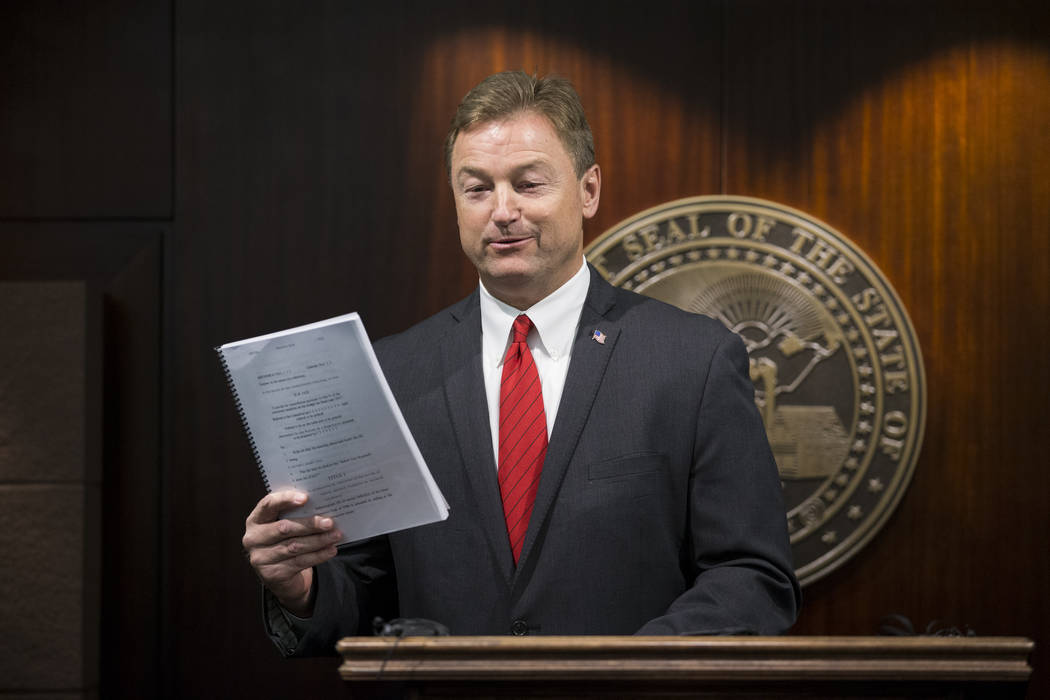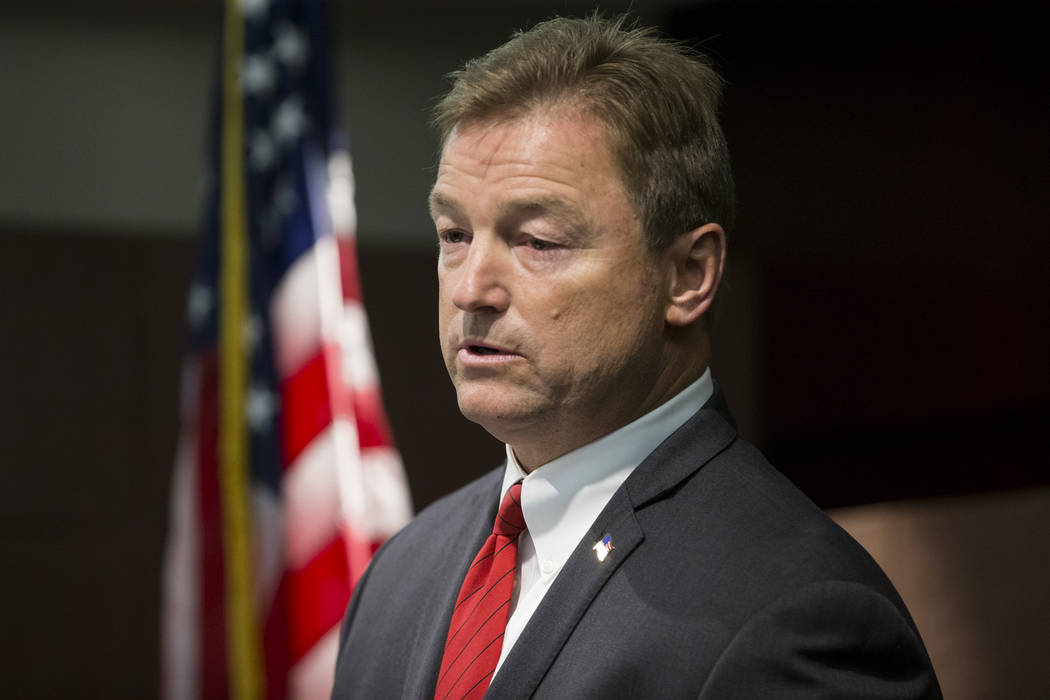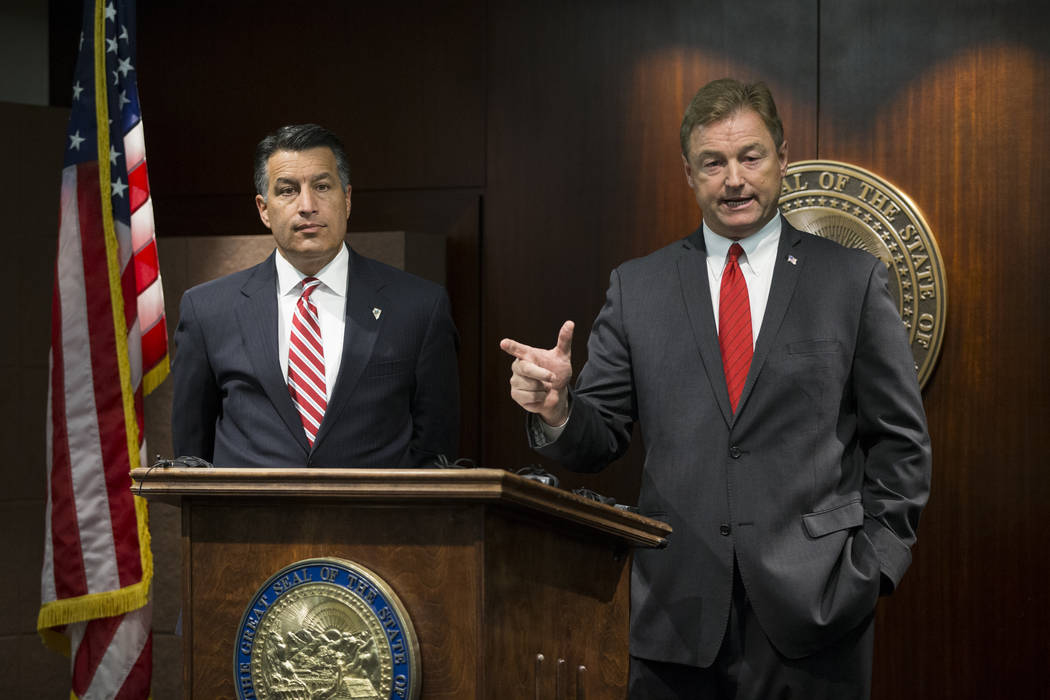 Nevada Sen. Dean Heller had a message Friday for Senate Majority Leader Mitch McConnell: If you want his support on the Republican health care bill, change it.
Otherwise, count him out.
That's essentially what Heller said in a joint press conference with Nevada Gov. Brian Sandoval at the Sawyer State Office Building in Las Vegas.
"It's going to be very hard to get me to a yes," Heller said. "I will not support it in this form."
Facing unanimous Democratic opposition, McConnell, R-Ky., must get yes votes from 50 of the 52 GOP senators to avoid a defeat that would be a major embarrassment to President Donald Trump and the Republican Party. He wants to put it to a vote by July 4.
Heller became the fifth GOP senator to announce opposition to the bill. Four conservative senators said Thursday they oppose the draft bill because it is too liberal and fails to fully repeal the Affordable Care Act, also known as Obamacare.
Though Heller cited a number of reasons for opposing the bill, there is no question that the major one was its deep reductions in federal support for Medicaid.
Under the proposed Senate bill, what now costs the state $121 million to cover 210,000 people on Medicaid would jump to more than $400 million by 2024 as federal support is phased out.
Under the Affordable Care Act, Sandoval expanded Medicaid three years ago, which translated to coverage for 210,000 additional state residents.
Nevada and 31 states and the District of Columbia expanded Medicaid under Obamacare, covering an additional 11 million people nationally.
'Not the answer'
Both Sandoval and Heller said it was virtually impossible for the state to pick up an additional $300 million yearly Medicaid tab. Without increased federal funding, that means those who had become insured would lose insurance.
"This bill will mean a loss of coverage for millions of Americans and many Nevadans," Heller said. "It doesn't protect Nevadans on Medicaid and the most vulnerable Nevadans."
The bill, he said, was "simply not the answer," noting that it does not decrease premiums for people, which he said is a "lie" perpetuated by supporters of the legislation.
Heller said the only bigger lie made in a discussion on health care was President Barack Obama's oft-repeated promise to Americans that they could keep their own doctor under the Affordable Care Act.
"There is nothing in this legislation that will lower premiums," the senator said.
Heller also said also he was not pleased with the bill's commitment for treatment for opioid addiction. He said his mother is now struggling with the problem following surgery.
McConnell has acknowledged that he's willing to change the health care legislation measure before it's voted on.
McConnell released the bill Thursday after weeks of closed-door meetings searching for middle ground between conservative senators seeking an aggressive repeal of Obama's statute and centrists warning about going too far.
'Worth fighting for'
In explaining why he took the opportunity to expand Medicaid, Sandoval pointed out that nearly a quarter of Nevadans were uninsured when he took office. That number has dropped to just over 10 percent.
"These are folks worth fighting for," he said. "There was a commitment made to them."
The Senate bill would cut and redesign the Medicaid program for low-income and disabled people, and erase taxes on higher earners and the medical industry that helped pay for the roughly 20 million Americans covered by Obamacare. It would let insurers provide fewer benefits, offer less generous subsidies than the Affordable Care Act to help people buy policies and end the statute's tax penalties on people who don't buy policies and on larger firms that don't offer coverage to workers.
Shortly after the 142-page bill was distributed, more than a half-dozen GOP lawmakers signaled concerns or initial opposition.
Sen. Susan Collins of Maine reiterated her opposition to language blocking federal money for Planned Parenthood for a year, which many Republicans oppose because it provides abortions.
When Heller was questioned about that part of the bill Friday, he said: "I want just to be very clear. I do not have a beef with Planned Parenthood. I'm not opposed to Planned Parenthood. What I'm opposed to is any group or organization or clinic, regardless of who they are, if they receive federal funds and perform abortions, I won't support it. That's my position."
Dawn Laguens, an executive vice president for Planned Parenthood, responded to Heller's comment:
"As Sen. Heller knows full and well, federal funding does not pay for abortions. Like other health care providers, Planned Parenthood receives Medicaid reimbursements for preventive care, including birth control, life saving cancer screenings, and HIV testing."
The bill would also bar using tax credits to buy coverage that includes abortions.
2018 election issue
The House approved its version of the bill last month. Though Trump lauded its passage in a Rose Garden ceremony, he called the House measure "mean" last week.
The nonpartisan Congressional Budget Office said that under the House bill, 23 million fewer people would have coverage by 2026. The budget office analysis of the Senate measure is expected early next week.
The Senate health care vote could be a central campaign issue in the 2018 midterm election in Nevada.
A likely Democratic challenger to Heller, Rep. Jacky Rosen, D-Nev., has called the Senate draft legislation "an assault on Nevadans' health care."
"Senate Republicans are rallying around a plan that will make health care even more expensive for Nevadans and with the deep cuts to Medicaid, entirely out of reach for some of our families," Rosen said.
Two major labor groups announced Friday that they would begin airing videos and ads targeting Heller and the health care vote.
The AFL-CIO is running ads on newspaper websites and digital billboards in Nevada, Ohio, West Virginia, Alaska and Maine, encouraging Republican senators in those states to reject the Senate bill.
"Working people are demanding that their senators reject this terrible bill that would take away health care for tens of millions of people and drive up costs," said Richard Trumpka, AFL-CIO president.
In Las Vegas, The Culinary Union and the Progressive Leadership Alliance of Nevada released a video asking Heller to protect Nevadans and Medicaid.
Contact Paul Harasim at pharasim@reviewjournal.com or 702 387-5273. Follow @paulharasim on Twitter. Gary Martin contributed to this report.
Comparing congressional health overhaul bills by Las Vegas Review-Journal on Scribd
RELATED
Senate Republicans unveil Obamacare replacement, but run into opposition
Ads target Dean Heller, other GOP senators to sway vote on health care bill