Senate candidate Jacky Rosen reports $2.6M in fundraising
Updated April 9, 2018 - 5:23 pm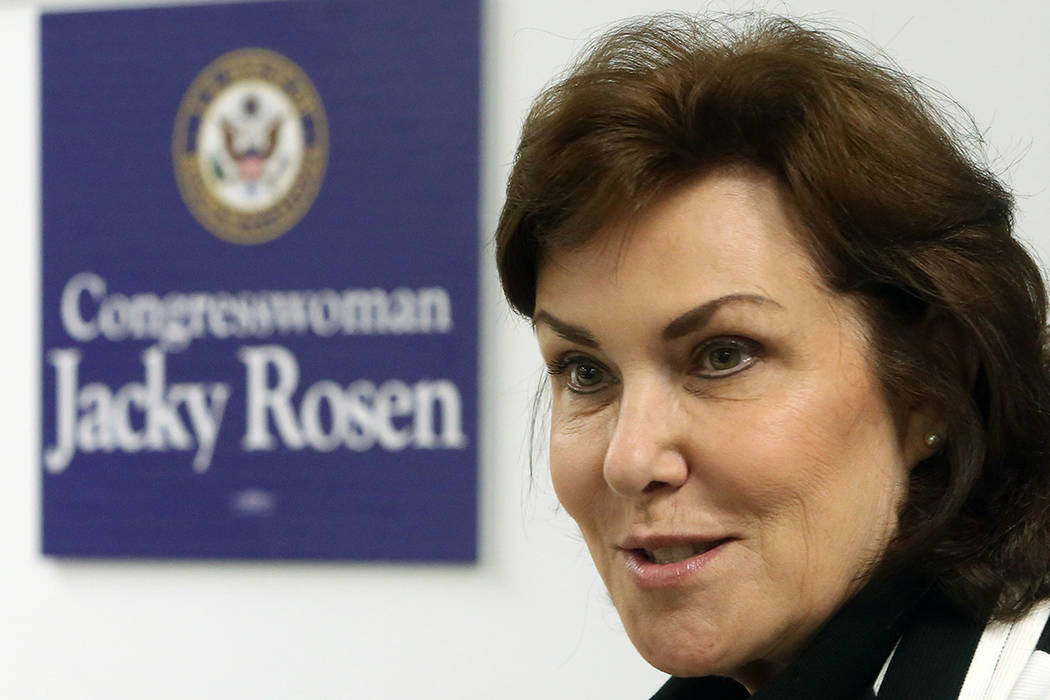 U.S. Rep. Jacky Rosen, D-Nevada, has raised a record-breaking $2.6 million in the last three months in her bid to unseat U.S. Sen. Dean Heller, her campaign reported Monday.
Rosen's first-quarter fundraising tallies give her more than $3.5 million on hand. Campaign manager Danny Kazin said the campaign received more than 77,000 donations, and more than 90 percent of those contributions were $100 or less. The campaign's average contribution is $69.
"We are overwhelmed by the growing grass-roots support for Jacky, and it's clear that the momentum is on our side to flip this Senate seat in November," Kazin said. "While Sen. Heller is caving to party leaders, corporate CEOs, and his wealthy campaign donors, Jacky Rosen is fighting to put hardworking Nevada families first. Our strong fundraising will help ensure we have the resources to share our message and win this race."
Rosen's campaign said her fundraising haul represents the most ever raised in the first quarter of a U.S. Senate race in Nevada. The $2.6 million raised by Rosen is $1 million higher than she hauled in during the final quarter of 2017, Kazin said, and the campaign nearly doubled its cash on hand.
Heller's campaign has not released its quarterly fundraising totals. In the last three months of 2017, he raised $820,687. Heller's campaign spokesman Keith Schipper could not be reached for comment Monday.
But Heller could soon get a boost when Vice President Mike Pence makes his second trip to Nevada on April 13 to campaign for Heller.
Contact Ramona Giwargis at rgiwargis@reviewjournal.com or 702-380-4538. Follow @RamonaGiwargis on Twitter.