Senate confirms Trump's pick for No. 2 at Energy Department
August 3, 2017 - 11:11 am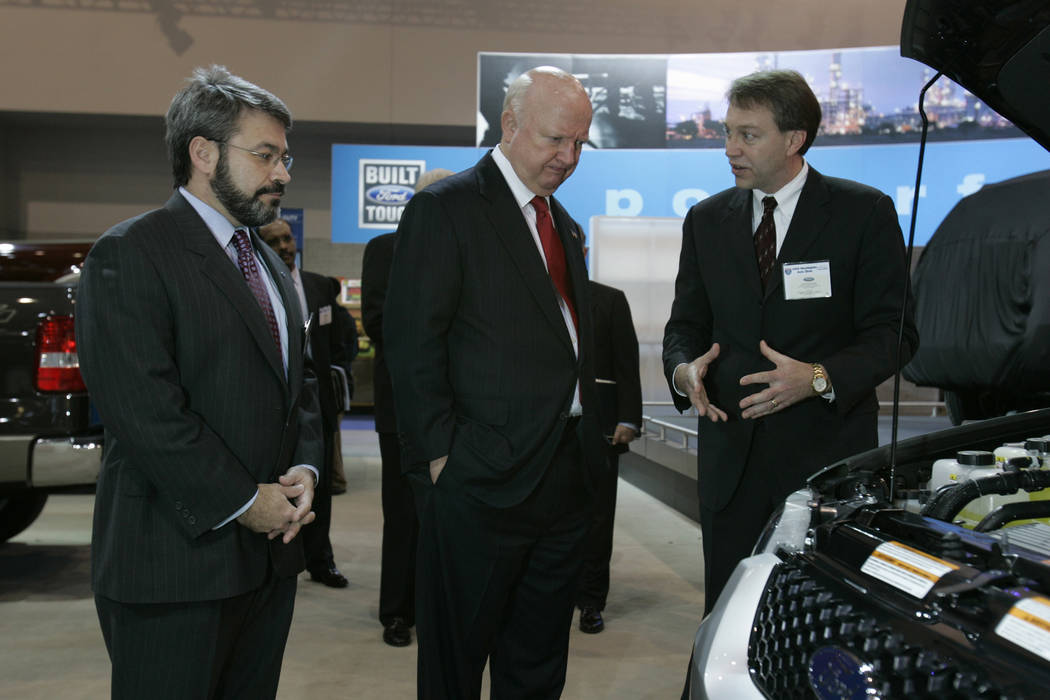 WASHINGTON — An official who will play a key role in any effort to revive the nuclear waste repository at Yucca Mountain was confirmed overwhelmingly by the Senate on Thursday, despite opposition from Nevada's two senators.
Dan Brouillette, nominated by President Donald Trump, was confirmed 79-19 to be the deputy secretary at the U.S. Department of Energy.
Sens. Dean Heller, R-Nev., and Catherine Cortez Masto, D-Nev., both voted against the nomination over concerns that DOE and the Trump administration are moving forward with plans to revive the Yucca Mountain site.
Heller said he is concerned not only with what he called the DOE's disregard for public safety and environmental threats of reviving Yucca Mountain, but also "its dismissal of consent-based approach as a viable solution to our country's nuclear waste problem."
"Because Nevada overwhelmingly rejects bringing nuclear waste to our state, I could not support this nomination," Heller said.
A spokesman for Cortez Masto, Rey Benitez, said the senator "has a fair share of concerns about Dan Brouillette's statements on Yucca Mountain and that is why she voted against his nomination."
Despite the opposition by Nevada lawmakers, Brouillette was easily confirmed with bipartisan support.
Sen. Lisa Murkowski, R-Alaska, chairwoman of the Senate Energy and Natural Resources Committee, said Brouillette had the experience and knowledge to oversee the DOE laboratories and programs.
Brouillette served in the Energy Department under President George W. Bush. As deputy secretary of the department under Trump, Brouillette will play a key role in this administration's plans to revive the licensing application for Yucca Mountain, which was stopped under President Barack Obama.
Trump included $120 million in his budget blueprint for fiscal year 2018 to revive Yucca Mountain, designated by Congress in 1987 as the site for permanent storage of nuclear waste from energy-producing plants nationwide.
The House has rubber stamped the president's spending request. The Senate has not included Yucca Mountain licensing funding in its spending bill for the department for 2018. Differences in the two bills are expected to be ironed out by a House-Senate conference panel.
Heller demanded to know where Brouillette stood on Yucca Mountain proposals before the confirmation vote. "Nevadans need to know where he stands on Yucca Mountain."
Despite Heller's demand, the Senate Energy and Natural Resources Committee in June advanced Brouillette's nomination to the full Senate for confirmation on a 17-6 vote.
Brouillette will serve under Secretary Rick Perry. Brouillette will oversee offices within the department that will carry out the licensing application before the Nuclear Regulatory Committee, which will determine if the Yucca Mountain facility is viable to permanently store nuclear waste.
The DOE under Bush started the licensing process in 2008. The DOE license application for Yucca Mountain before the NRC was withdrawn in 2010 under the Obama administration.
Yucca Mountain is located 100 miles northwest of Las Vegas in Nye County.
Although Nye County and Rep. Mark Amodei, R-Nev., support the licensing process, Gov. Brian Sandoval, the state's two U.S. senators and congressional lawmakers from the Las Vegas area all oppose the project.
Sandoval and Nevada Attorney General Adam Laxalt have vowed to spend millions in state funds to legally challenge the licensing of Yucca Mountain.
There are more than 200 challenges by the state to the license to store 77,000 metric tons of nuclear waste at Yucca Mountain.
Brouillette has a background in energy, working for DOE under Bush as an assistant secretary for congressional and intergovernmental affairs. He later worked as the staff director for the House Energy and Commerce Committee.
The House Energy and Commerce Committee has historically sought development of Yucca Mountain since the site was identified by Congress in the 1980s as the designated location to store nuclear waste.
Before confirmation he served as senior vice president for the United Service Automobile Association, or USAA, in San Antonio.
Contact Gary Martin at 202-662-7390 or gmartin@reviewjournal.com. Follow @garymartindc on Twitter.
Dan Brouillette
— Nominated by President Donald Trump to be Energy Department deputy secretary.
— Senior vice president and head of public policy for USAA financial services, San Antonio.
— Former Ford Motor Co. vice president
— U.S. House Committee on Energy and Commerce chief of staff.
— Energy Department assistant secretary for congressional and intergovernmental affairs.
— U.S. Army veteran.
Source: White House