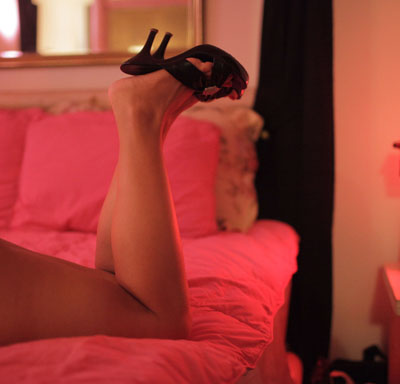 CARSON CITY — Patrons who visit Nevada's 25 legal brothels won't be handing over an extra $5 to cover the costs of a state tax on sex.
The Senate Taxation Committee on a 4-3 vote Thursday killed Senate Bill 369, which would have imposed the first state tax on services performed by prostitutes.
Supporters had estimated the $5 tax would bring in $2 million a year based on a Nevada Brothel Association estimate that 400,000 exchanges of sex for money occur each year in legal brothels.
"It's a controversial bill, but it would raise $4 million (over two years) for the general fund," said Chairman Bob Coffin before the vote.
But Coffin, D-Las Vegas, could secure only the support of Mike Schneider, D-Las Vegas, and Maurice Washington, R-Sparks.
Schneider noted the brothel industry wanted to tax itself and he would not oppose that request. He said prostitution is condoned in Las Vegas, even though it remains illegal there.
"Drive Spring Mountain Road and see all the massage places," Schneider said. "I don't see a dragnet to clean it up. We get morally high on these things, but just turn our heads. Look at the billboards on trucks advertising girls to your room. I am not naive in thinking what 'girls to your room' means. But we are going to be very moral and say, 'I will not impose a tax?' We don't have the courage to vote it in or shut it down."
Washington, a minister, said he supported the tax only because some revenues collected would have gone to create an ombudsman for sex workers. That person would have helped prostitutes secure jobs outside of prostitution.
"I have worked with some of the (sex) workers who made the choice" of prostitution, Washington said. "When they come to me, their request is whether there is someone who can help us with new employment and to re-emerge in society."
But Sens. Terry Care and Maggie Carlton, both D-Las Vegas, Randolph Townsend, R-Reno, and Mike McGinness, R-Fallon, voted against the tax. They made few comments on their reasons for opposition.
McGinness said he opposed the bill because it represented a new tax on services.
Care objected to Schneider's comments that prostitution is condoned in Clark County, noting law enforcement going back to the 1980s has made efforts to prevent it.
In a Tuesday hearing, Care said prostitution may be legal in some parts of Nevada, but that did not make it a respectable business.
Opponents included prostitution researcher Melissa Farley who termed the bill "an act of legislative pimping"
At that hearing, Moonlite Bunny Ranch owner Dennis Hof expressed support for the tax, saying passage would bring "respectability and acceptability" to the brothel industry.
"This bill would do it," Hof said. "It would show we are giving back to the state."
That was one of the reasons Gov. Jim Gibbons cited for his opposition to the bill. Besides opposing all tax increases, Gibbons said he did not want to legitimize the industry.
The hearings on the prostitution tax were "a complete waste of legislative time," said Daniel Burns, Gibbons' communication director.
"At $125,000 a day we cannot afford to waste time. We don't need national publicity like this."
Since 1971, Nevada has allowed rural counties to decide whether to legalize prostitution.
Most brothels are in rural areas, but several owned by Hof are in Lyon County, less than a 10-minute drive from the state capital.
Nevada and Rhode Island are the only states with legal prostitution.
Contact Capital Bureau Chief Ed Vogel at evogel@reviewjournal.com or 775-687-3901.