Senate passes prevailing wage exemption bill
February 16, 2015 - 3:43 pm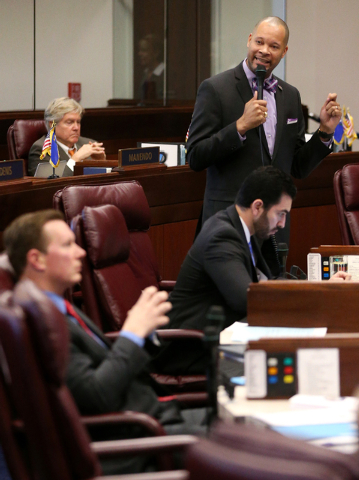 CARSON CITY — The Senate on Monday passed a divisive bill along party lines exempting school and university construction projects from prevailing wage laws after a passionate floor debate over working families and stretching taxpayer dollars.
Senate Bill 119 also allows school districts to roll over bonding authority for school construction, a provision that had bipartisan support among Republicans and Democrats and was supported by Gov. Brian Sandoval in his State of the State address.
But excusing school construction projects from prevailing wage laws angered Democrats and labor groups. Republicans argue prevailing wages artificially inflate building costs and that removing the requirement would stretch taxpayer dollars.
Opponents counter prevailing wages ensure quality construction and decent pay for construction workers.
Sen. Ben Kieckhefer, R-Reno, said SB119 will allow more schools to be built with taxpayer dollars.
"Our prevailing wage law drives up costs," Kieckhefer said, adding the bill will "ensure we maximize our very limited public resources."
Kieckhefer in an earlier committee hearing said some studies show that savings on public projects could amount to 30 percent, while others suggest it could be as low as 5 percent. But the Washoe County School District says it needs $500 million to build new schools. Kieckhefer said a 5 percent savings would mean $25 million more toward that effort.
The measure passed the Senate 11-9. It now moves to the Assembly.
An amendment proposed by Sen. Joyce Woodhouse, D-Las Vegas, to separate the bonding authority from prevailing wages failed along a party-line voice vote after a debate punctuated by accusations of political gamesmanship.
"It's a shame to see a good idea get bogged down in partisanship," Woodhouse said.
Republican Sen. Greg Brower of Reno took exception to the characterization, calling the bill a compromise. "We are not trying to gut the entire prevailing wage scheme," Brower said.
He said if Democrats are interested in finding a way to build much needed schools, "Well, I've got a bill for you — SB119."
Democratic senators said prevailing wage laws ensure out-of-state contractors do not underbid Nevada firms by bringing in unskilled workers. They also said the bill targets the middle class and jeopardizes quality and safety.
"We heard overwhelming testimony against gutting the protections in our laws," said Senate Minority Leader Aaron Ford, D-Las Vegas.
He said the bill will "drive skilled laborers out of state to find work elsewhere" and runs contrary to Sandoval's push to attract higher paying jobs and skilled workers.
But Republicans disagreed. Sen. Mark Hammond, R-Las Vegas, noted that quality was not an issue because building codes and workplace safety standards must still be met.
Jim McIntosh, chief financial officer for the Clark County School District, has said the bonding rollover provision of SB119 would allow the district to raise $850 million very quickly to address school construction and renovation needs. Over 10 years, the measure would generate $3.6 billion, just over half of the $7 billion in estimated need, he said.
The district would begin by building 12 new schools, add capacity to 40 existing schools and replace two of the oldest elementary schools — Bell and Lincoln — McIntosh said. Many other renovations and technology needs would also be addressed.
Sen. Becky Harris, R-Las Vegas, said her district needs at least nine schools. "It is difficult to provide a quality education with limited resources. It is impossible to provide an education without a classroom," she said.
Contact Sandra Chereb at schereb@reviewjournal.com or 775-687-3901. Find her on Twitter: @SandraChereb.